The Lynden Skateway was introduced to me when my daughter was in preschool. I had been in Bellingham for years without knowing that you can roller skate indoors, under a disco ball, no matter what the weather has to say about it. The Skateway is a hidden gem offering inexpensive fun for the whole family and has a great history to share.
I had the chance to sit down with the owner and manager of the Lynden Skateway to talk about its history and how they have kept this family business alive for over 40 years. Brenda VanOrnum began roller skating at the age of six and went on to compete in artistic roller skating from 1956 – 1963, and again as an adult for 16 years. She even met her husband, Pete VanOrnum, at a roller skating rink.
Brenda and Pete moved to Lynden in 1976 when they purchased the Lynden Skateway & Bowl. The original building had a bowling alley in the basement with a roller skating rink on top and was built in 1946. That building was burned in a fire in 1994, but the Van Ornums rebuilt it as the Lynden Skateway in 1996. The new building has been keeping roller skaters happy for over 20 years in the heart of downtown Lynden.
Brenda and Pete raised their three children in Lynden and fell in love with the town. Their youngest daughter, Terri Johnson, is now the manager of the Lynden Skateway. Terri has worked in the family business her whole life and her own daughter began skating very shortly after she started walking. This family is passionate about roller skating! Brenda believes you should, "do something you really like to do," in life. Roller skating rinks have been slowly disappearing as property prices rise but for Brenda and her family, this business is not about the money.
Terri and Brenda really enjoy working together and finding new ways to keep the fun rolling at the Skateway. They offer a variety of skating sessions every week tailored to different ages and skill levels. For $5-$8 you can rent skates (or bring your own) and enjoy all the activities in each skate session.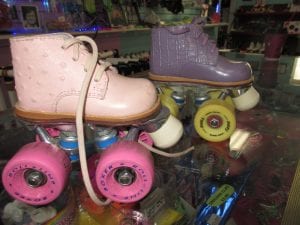 Learn to Skate
Saturdays, 11:00 a.m. – 12:30 p.m.
Geared towards children ages seven and younger, this morning session is for beginning skaters and a great time for children to try out roller skating at a slower pace. Parents are allowed to walk out on the skating floor. Cost is $5.50 per skater.
Play Date and Skate
Second Friday of every month, 10:30 a.m. – 12:00 p.m.
Geared for children in preschool and younger. This special session allows you to roller skate or bring your own scooter, balance bike or other riding toys. Cost is $5 per child.
Home Schooler Skates
Second Thursday of every month, 1:30 p.m. – 3:30 p.m.
Cost is $5 per skater.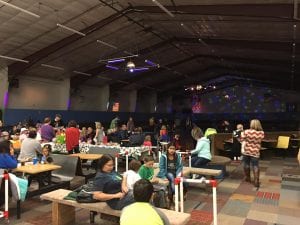 Discount Skate Night
Wednesdays, 6:30 p.m. – 8:30 p.m.
This session is open to all ages. Cost is $6.50 per skater.
Weekend Skate Time
Friday Night Skate, 7:30 p.m. – 10:00 p.m.
Saturday Afternoon Skate, 1:00 p.m. – 4:00 p.m.
Saturday Night Skate, 6:30 p.m. – 9:30 p.m.
Sunday Afternoon Skate, 1:00 p.m. – 4:00 p.m.
Please check the website for prices and schedule changes.
Roller Derby
Maybe you need a little more speed in your life? The Bellingham Roller Betties and The Subdued City Rollers roller derby teams both skate out of Lynden Skateway.
Special Events
For holidays and other special occasions, the Lynden Skateway has special guests at certain skate sessions. For Halloween they host a tiny tot party for kids to wear costumes while they roller skate, get faces painted and play games. There are also special guests in Learn to Skate sessions coming soon! A Christmas Princess will make an appearance in December and Anna and Elsa will be skating by to say hi. The Lynden Skateway Facebook page is a great way to get updates on special events and skate sessions.
Another fun option is to have a birthday party at the Lynden Skateway. My daughter did this for her sixth birthday and everyone had so much fun! There are party option for tiny tots all the way to adults. You get a reserved seating area that is decorated and some options include food and drinks from the snack bar.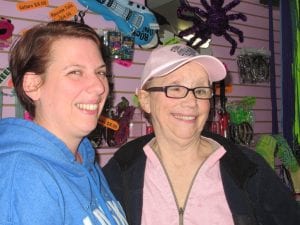 I hope you get a chance to put on some skates and feel like a kid again. The VanOrnum family at Lynden Skateway would love to see you.
Lynden Skateway
421 Judson Street
Lynden, WA 98264
360-354-3851
http://www.lyndenskateway.com