I have been floating through the luxurious halls of Mount Baker Theatre (MBT) since it opened in 1927. Everyone calls me Judy. I wouldn't really say that I 'haunt' MBT. I'm more of a friendly spirit. I like puttering through the dressing rooms and balcony, people-watching the interesting visitors and enjoying the more than 400 events they host each year.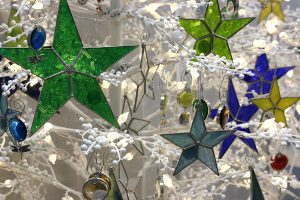 I especially love the holiday season. Because of the variety of MBT and community-based holiday shows presented, I can share in the holiday warmth and excitement from lots of different angles with hundreds of merry visitors. I get to sing and dance along with my old favorites and also experience brand new imaginings of holiday traditions. Each show offers something different. I hope you'll pick the shows that are just right for each of the friends and family on your list and give them the gift of experience with me this year at MBT.
Old Traditions and New
This year feels more special than ever. MBT is honoring old holiday traditions while boldly adventuring into some new ones.
I am so excited for their first annual Holiday Lighting Celebration on Friday, December 1, a free event in front of the theater. The whole community is invited to participate and I get to be there to witness it, just like I witnessed the construction of this glorious building back in 1927 and every renovation since. They say the lighting will happen around 5:30 p.m. and there will be music and activities right on up to the showing of one of my favorites, A Charlie Brown Christmas at 7:00 p.m. The classic animated television special originally aired in 1965 but in this special production all its memorable characters will burst onto the stage and remind me of the true meaning of Christmas.
I'll also get a healthy dose of my favorite holiday carols and adorable child performances at Holiday Magic on Sunday, December 10. They'll have choral music featuring local children's choirs and holiday carols performed by student musicians. My beloved Whatcom Chorale will also present a special piece composed by Scott Henderson. The best part: hot cocoa and marshmallows for the kids at intermission! I'm still a kid at heart so I'm hoping to sneak just a taste.
Although rock and roll arrived after my time, I've grown to appreciate the wild excitement and energy of the genre. That's why I'm excited to experience Christmas in a new way with SiriusXM's Brian Setzer Orchestra's 14th Annual Christmas Rocks! Tour. Their four holiday albums combine rockabilly, big band and swing performed by one of the world's greatest living—and three-time Grammy Award winning–guitarist, songwriter and vocalist. Because their show is on Thursday, December 28, I'll be able to stretch my holidays all the way to New Years.
The Beauty of Ballet
Holiday music is definitely a big part of the fun, but the season wouldn't be right without classical ballet. I always wanted to be a dancer you know. Thank goodness MBT has me covered, and in spades.
A couple of local ballet schools and companies will share their holiday programs at MBT. I can see Opus Performing Arts' Winter White on December 2 and 3 with parts of the classics like La Sylphide and Sleeping Beauty plus original contemporary ballet works accompanying Big Band music of the 30s and 40s.
I also get to see The Nutcracker not just once, but performed by three different area ballet schools. This classic first premiered when I was just a young woman, in 1892. I never get tired of this enchanting story of Clara and her nutcracker prince. I can't wait to see them all. I'll get to kick off the season with Harper & I's production on the weekend of November 24 then watch Ballet Bellingham's version with students and area performers on Thursday, December 21. Then I'll get to see the Northwest Ballet Theater version on three different days beginning December 22 and performed with backdrops painted in Russia and costumes made in New York City!
Approaching the Holidays from New Angles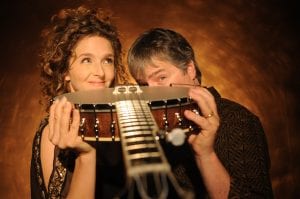 One of the things I love most about MBT is that there's always something new and extraordinary, even after floating around this place for 90 years!
On Sunday, November 26, I can explore the holidays through folk music. The husband and wife duo Béla Fleck & Abigail Washburn described by NPR's All Things Considered as "two monsters of the banjo," will bring their multi-genre music to MBT. Béla Fleck is a 16-time Grammy Award winner and Abigail Washburn is a singer-songwriter and clawhammer banjo player. Their debut took home the 2016 Grammy Award for Best Folk Album!
I'll also get to see two shows on Saturday, December 9 of Mostly Magic with John Walton: A Holiday Tradition. This award-winning Bellingham musician is back again to perform his humorous magic show for the whole family. I wonder if I can convince John to let me be his assistant.
Then I'll keep those laughs rolling with O Christmas Tea: A British Comedy on Tuesday, December 19. The three-time Impresario Award-winning comedians James & Jamesy tell a tale of catastrophe at the Christmas tea party. I'm told their show is a triumph of physical comedy with hints of Monty Python, Mr. Bean and Dr. Seuss. I can't wait to see the funniest side of the holidays.
Although I love Thanksgiving, I'm ecstatic about the upcoming holiday shows at MBT. Every one will celebrate family, friends and holiday cheer in their own unique way and I just can't wait to see them all!
Mount Baker Theatre
104 North Commercial Street
Bellingham, WA  98225
Phone:  360-733-5793
Tickets:  360-734-6080
www.mountbakertheatre.com
Sponsored