My husband and I are not particularly fitness-minded people. We do not belong to a gym or run in races or play organized sports. We do, however, have our own ways of keeping fit and healthy, both mentally and physically. I like to put on my running shoes and head out the door to jog on the dike along the creek. He likes to grab a pair of pruning shears and head out to the woods and clear brush. My sanctuary is a yoga pose, his is the steep hill behind our house. I like to focus on myself, he likes to accomplish something. Either way, we manage to stay happy and able bodied.

As the seasons change and we settle into autumn, I am feeling the need to ramp up my own exercise routine. Gone are the long days of effortless workouts like swimming with the kids and hours-long hikes across our property. With winter comes more time spent indoors where we tend toward a more sedentary life. We also tend toward baking more bread, cookies and cakes. And eating them.
My husband loves the arrival of colder weather and rain. He never has a problem getting outside and moving around. I, on the other hand, need a little push out the door and into the cold, damp day. So I've made a decision to mix it up this year and find some running alternatives to actively embrace the seasonal shift. Here are some options I've come up with to stay fit for fall in Whatcom County:
Indoor Soccer:
I played soccer competitively from age ten through high school. My strong legs and gift of endurance made me a natural midfielder. I could run up and down the field the entire game, never subbing out. That was 20 years ago. In the two decades since my senior year, I've  played an organized game of soccer maybe ten times. But I bet I'm still pretty good, considering. Maybe it's time to find out.
The Bellingham Sportsplex adult leagues offer competitive skill-level-based games. The registration is by team, which means a player/manager organizes a group of players and applies for the league based on their skill level. They offer Men's Open, Over 30, Over 40, Women's Open, Over 25 and Co-Ed divisions.
Sportsplex Indoor Soccer League
1225 Civic Field Way
Bellingham
Iyengar Yoga:
With a trio of young children at home, I do not venture to many group yoga classes these days. My home practice is coming along quite well, but I would definitely benefit from some professional guidance.
There are countless yoga practices to choose from, which can be overwhelming and confusing. I have tried several. My preference is Iyengar, which is a dynamic and rigorous form of yoga that focuses on balance, strength, stamina, flexibility and relaxation. But what I most appreciate is the emphasis on alignment. Yoga Journal refers to Iyengar as "the practice of precision." When following the Iyengar school of yoga, you pay close attention to anatomical details and the alignment of each posture. And if this sounds simple, easy or boring, my description does the practice an injustice. It is a challenging and rewarding form of yoga that is as therapeutic as it is strengthening.
Ingela Abbott, the founder and director of Yoga Northwest in Fairhaven, has assembled quite possibly the most highly trained, certified group of yoga instructors in the greater Pacific Northwest.
Yoga Northwest
1440 10th Street, Suite 101A
Bellingham
Swimming: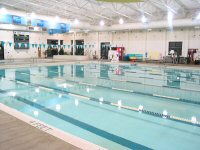 I've recently enrolled my kids in swimming lessons and now spend a couple hours a week sitting poolside watching children of all ages divided up into the lanes. One day I thought, "Why am I not in diving in?" After many, many years of pounding the pavement, swimming seems like a soothing activity for my joints. I've never been an avid swimmer and I don't know any specific strokes, but I can make my way from one end to the other at least a few times without stopping. And you've got to start somewhere.
There are several indoor pools in Whatcom County with lap swim times sure to fit into anyone's busy week.
Arne Hanna Aquatic Center
Bellingham Athletic Club
Whatcom Family YMCA (Bellingham and Lynden)
Group Fitness:
A new concept for me is the idea of group training, which adds a bit of socializing and accountability into a workout. I used to lift weights regularly but it has been over five years since I had any sort of routine. And I'm a safety freak. I won't venture into a high-intensity, competition-driven situation where I'm vulnerable to injury. I want a high-energy, thoughtful workout detailed to my needs.
And I have found the perfect place. It's called Trailhead Athletics.
I spoke with Nicola Mann at Trailhead and she explained that their philosophy is a holistic approach to fitness training that involves cardiovascular and muscle conditioning, balance, flexibility and nutrition. At Trailhead, you schedule your workouts. And, for me, this means I will go. If I schedule and pay for a session you can bet I will show up—even on a cold, drizzly day.
In addition to group workouts, Trailhead offers personal training or a combination of both. Whatever your fitness level, beginner or seasoned athlete, Nicola stresses that the ultimate goal of Trailhead is to provide not only a qualified staff of trainers but a safe, calculated fitness schedule to encourage positive results.
Trailhead Athletics
909 Squalicum Way, Suite 108
Bellingham
Now I'm not saying I'll get out and do all of these things each week, or each month, or at all. But it is nice to have options. The easiest choice for me will most likely remain my trusty running shoes, always at the ready to the right of my front door for when I get those 45 free minutes to be alone, moving and thinking just for me. And even as the autumn days get shorter and colder, I will just find myself running faster.