Stephanie Murillo is the owner of Snap-EZ, a home-based business that creates cloth diapers in a range of sizes, from a child's 2T to size 44" adult. The mention of cloth diapers can sometimes create images of cotton fabric, safety pins and leaky plastic pants. However, the concepts of yesteryear are nothing like the cloth diapers of today, and Stephanie knows exactly what it takes to produce the absorbent product in her Blaine home.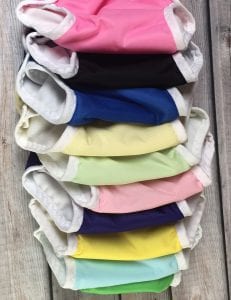 Stephanie has owned the company since March. She produces the cloth diapers with the highest quality materials and all of her supplies (excluding the elastic, snaps and hemp fleece) are made in the USA. Snap-EZ has an array of products to meet all their customer's needs, offering the Pocket Diaper, Stuffable Brief and the All-In-One Training Pant. The Pocket Diaper is as described, consisting of a pocket at the back where an insert or pre-fold is put into place for absorbency. The inner layer next to the skin consists of soft knit polyester microfleece to keep the wearer dry. The outer waterproof material is sewn with latex free swimwear elastic which can last up to years of use.
The Stuffable Brief is made with the same concept and fabrics, except with a plush fold over the elastic, making the brief similar to underwear that can be taken on and off with ease. The All-In-One Training Pant is equivalent in child and youth sizes. All of the diapers are made with multiple rows of snaps for comfort and for allowing the best fit for the leg, hip and waist. Removing the insert can also create a swimwear product. Size charts, cleaning and washing instructions are on her website at www.snap-ez.com.
Stephanie is focusing where the need is most and is concentrating on modernizing the company and making it more affordable. Using cloth in lieu of disposable may be an individual choice or an economic one. Estimating that a person can go through an average of two to six diapers per day, switching to cloth could be monetarily beneficial, not even considering the green or allergy advantages. Physically challenged and/or adults with incontinence issues may also benefit.
Stephanie packs and ships the items herself, clarifying there is no outside mention of diapers on the packages or boxes, as some customers – especially adults – appreciate the discretion.
"I love being able to help people with something that works," Stephanie explains.
She especially understands that her adult customers need a product that does the job, while providing the utmost freedom without the swish, swish of a noisy disposable diaper. As such, Snap-EZ has perfected their merchandise. The company even offers regular-rise (for overnight), and low-rise (for daytime use). With approximately 60 percent of her clientele being adult men, Stephanie is focusing on masculine colors like black and dark green for the mature line. For her child and youth products, she is leaning towards brighter, fun colors and has even delved into a pre-order print line that is popular. The company does not offer preemie or sizes under 2T, as Stephanie feels that this market has been filled. "There are so many other companies that make those sizes," explains Stephanie.
Snap-EZ employs three part-time seamstresses and three more in training. This is currently a perfect part-time opportunity for stay-at-home moms.
During my interview with Stephanie, every so often the bustle of activity from her home-schooled children seeped into the living and kitchen areas. It was apparent that this home is a well-run organization. It must be for it all to work.
Periodically, her small children approached Stephanie with requests like a quick homework check, assistance finding a toy, to simply be held or, during the noon hour, requests for food. Her eldest son helped by walking into the kitchen and making lunch. Competently and independently swirling pasta on a hot stove and serving his siblings, it is evident that the care that has gone into raising her children has ultimately spilled over into her company.
It is the same service, quality and care that goes into each one of the diapers her business creates. Believing in a product, constantly striving for efficiency and continually studying ways to make it more affordable all meld together to form a thriving local business.
For more information, contact Stephanie at customerservice@snap-ez.com.