In early October, costumed gamers line the alleyway outside of Best Buds Gaming Lounge as they eagerly await the grand opening of Fairhaven's newest venue. Wafts of the delicious aroma of melted mozerella and chicken wings can be smelled and thundering echoes of World of Warcraft can be heard amidst cheers from the employees inside. The lounge is bordered by sleek wood — each piece hand-stained with great care by the owners — luxurious leather couches, board games and, of course, giant televisions and gaming consoles as far as the eye can see.

This is newlywed Hugh and Alex Newmark's first business venture together. Hugh and Alex's love of gaming was a big inspiration for wanting to create this business, Hugh says, as gaming has always brought them together. "This is a place for all gamers to unite," Alex says.
Best Buds is in the heart of Historical Fairhaven, in the underground McKenzie alley. Although this area has long been zoned the entertainment district of Fairhaven, Best Buds is one of the first establishments to be open late at night. "That was what really drew us to want to open in Fairhaven," Hugh explains. "It previously had almost no nightlife appeal and we saw how we could help develop that."
Best Buds is one of the only places in the world that hosts a full-service console arcade, restaurant and bar, Hugh says, all at an affordable price. Not only can you play one of 1,805+ games (and counting) on 22 different platforms, but you can also enjoy mozzerella sticks, chicken wings and locally brewed beer at the same time.
Making Best Buds a reality was a creative endeavor, Alex says. She and Hugh hoped to do as much of the work as possible, to save money as well as to give it a truly unique feeling. Alex explains that when they first were given the keys, the venue was barren, with cement floors and walls and little individuality.
Today, the space is warm and inviting – elegant for a gaming lounge. The wood working and custom bar are pristine and flawless. You can tell that attention has been given to every last detail. "When we aimed for high-end, we never pictured that this would be where locals would come when they wanted to go somewhere fancy, but it is," Hugh laughs. "Every detail is meticulously thought through to make it the best possible gaming experience for everyone."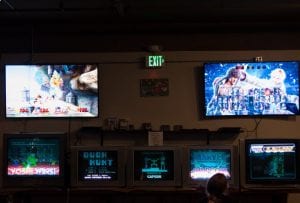 "We wanted this to be a place that everyone could feel at home," Alex says. Best Buds is focused on creating a welcoming, positive environment. Gaming is often considered to be a solo activity, but that's the beauty of the lounge. Best Buds provides a place where people can come together and play the games they love.
Best Buds focuses on celebrating diversity within the community and being an accepting and welcoming place for all, Alex explains. "The environment is different every night. You'll see a married couple out on a date night and before you know it, there's a ten-year-old asking if he can play Mario Kart against them," Alex laughs. "There's really something for everyone here."
"Even my Rabbi loves to come in and play Super Smash Brothers," Hugh says with a smile. They are hoping to affectionately rename this corner of Fairhaven, "Nerd-haven," with the help of neighboring Moon Base Games and Comics, another McKenzie alley establishment.
By day, Best Buds provides a space for all ages to come and play games. At 8:00 p.m., the venue changes to being 18+; one of the only places in Fairhaven to provide entertainment for those under 21.
There are hourly and daily passes available at an unbelievably affordable price, ranging from $5 to $15. For the most avid players, there is a monthly $45 membership, providing them with 10 percent off food and drinks, as well as guest passes.
The lounge also welcomes games and donations in exchange for membership credit. "All of the money spent on memberships goes directly back into buying new games or powering our incredible power bill, as well as making it possible for us to host release parties down the road, or having themed pajama movie nights," Hugh says.
"One of the most rewarding parts about running Best Buds is our ability to give back to the community," Hugh explains. Already they have donated $1,000 in memberships to the Bellingham Police Department to help raise money for the K-9 units bulletproof vests, as well as $2,000 to the Bellingham School District.
Best Buds will be hosting a Halloween costume party on the evening of Saturday, October 28 and the lounge is now booking private events and parties. Come early, Hugh says, as the venue fills up quickly.
Hugh and Alex are already looking toward the future of Best Buds, hoping to soon add Dance Dance Revolution pads to the mix. Best Buds is something they will continue to pour their heart and soul into, as it is both their passion and their business. "The most rewarding part of this experience is having an amazing wife as a business partner," Hugh says. "We continue to learn from each other every day. We did this though constant hard work and determination, and that's the most rewarding part."