Ulli Schraml is the Associate Director for International Programs (IP) at Whatcom Community College (WCC). Back in 2001, as part of his commitment to expose IP students to American culture, he thought they might enjoy the experience of Trick-or-Treating.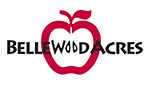 To avoid the logistical nightmare of directing them to go from house to house ringing neighborhood doorbells, not to mention the confusing looks that a college-aged person would surely evoke from the homeowner, he reached out to several administrative and department offices on the WCC campus that were in different buildings. Each office committed to provide candy to the students. (Candy is always appreciated no matter what age you are, right?)
That first year, the students went office to office, stopping at each with baskets to collect candy. Some offices stepped it up a bit further, with staff dressing up and decorated workspaces. The early years also included a pumpkin carving contest.
"The event provided a safe alternative to general trick-or-treating for all staff, students, faculty and their families," said Marisa Ellis, Public Information Officer. "Basically, anyone who was part of the campus community in some way was invited."
Lucas Nydam, the Office of Student Life Coordinator, spoke of the goals of this year's event. "For the past few years, The Office of Student Life participated in the event by judging the participants in the decoration competition. This year, Student Life is fully hosting the event. We hope the students and the campus community will feel a sense of belonging and have fun."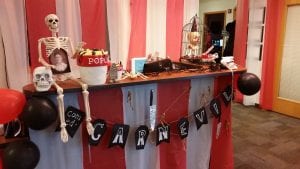 Marisa added, "It also provides a unique opportunity for students and staff to engage in a really different way. People get so creative. We find hidden talents and they make all their decorations by hand, typically out of paper. They bring items from home and repurpose materials from previous years. It's very impressive."
In the past five years, the decoration competition has reached a whole new level, with the winning decorated office receiving a pizza party for their staff. The pizza party is but a fraction of the value of bragging rights. For some staff members, this competition is serious business.
Every department and administrative office in the college is invited to be a trick-or-treat location and/or be part of the costume and decoration competition. Rumblings of early planning and Halloween strategy can take place well before October. Themes and decoration ideas are held as top secret by competing departments.
Each office decides their own theme, topic and costumes, and the creativity is expressed from Community Ed to the Business office, to Registration and Advising.
Rachel Myer has been Program Coordinator with Community & Continuing Education (ComEd) since February of 2015. "Halloween is my favorite holiday, so I was excited to find that we have a few other Halloween fanatics in the office with a penchant for competition! In 2015 we went for a general 'spooky' Halloween theme and received an honorable mention. In 2016 we decided upon a carnival theme and transformed the office into our ComEd CarnEVIL complete with circus tent, ticket booth, ring of fire, house of mirrors and mystic reading room. Last year a lot of planning and effort went into the decorations and we were very proud of how it turned out. We were even more excited to be recognized as the winner!"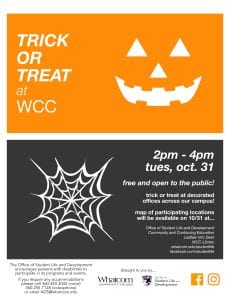 I asked Rachel if she was willing to divulge any plans for this year. "We'll be defending our title, so the stakes are high. I cannot reveal any secrets about our theme this year." You'll have to stop by to find out!
In the past only students, faculty, staff and their families were invited to see the decorating and visit all of the Trick-or-Treat participants. The good news for the public is that this year, the Trick-or-Treating and decoration viewing experiencing is open to the public for the first time. Visit from 2:00 p.m. to 4:00 p.m. on Tuesday, October 31. A list of the offices and departments will be available online at the Student Life website or on their Facebook page. They will also be available in person at the Office of Student Life and Development, Community & Continuing Education, Laidlaw Information Desk and the WCC Library.
Bring your own bag to collect your Trick-or-Treats. All ages welcome!