I have a lot of trouble with at-home medical triage. I mean, I know when to call 911, but there are all those illnesses that cause super-high fevers and wheezing coughs in my little girls. Then there are the accidents that result in a deep, blood-gushing cut on my husband's hand or a clean, inch-long gash on my toddler's forehead. My medical knowledge is nil and I often find myself oscillating between, "It's nothing," and, "It's catastrophic internal bleeding."
But what am I supposed to do when so many of these illnesses and accidents seem to happen either on weekends or after business hours when the doctors' offices are closed? And, really, when your finger has been mangled by an immersion blender in the middle of making dinner are you going to calmly call your doctor's office to see if they have an opening, like, NOW? No. You are not. You are going to dash out your door and quickly find someone to sew it up.
Luckily, that someone will be ready for you at the PeaceHealth Same Day Care Clinic, a walk-in clinic that focuses on same-day needs such as general illnesses and minor injuries. Rather than an hours-long wait at a hectic ER after your husband has power-drilled through his thumb, or a few-days wait for an opening at your primary care doctor for your unmitigated ear pain and sinus pressure, you can simply walk in and be seen by an experienced medical team of doctors and nurses. And if your situation requires further treatment, the Same Day Care Clinic, as part of PeaceHealth, is in the unique position to get you headed to where you need to go more quickly. If you need to see a specialist, they can make that call.
From my point of view, the most compelling reason to use the Same Day Care Clinic is to avoid an ER at all costs. An ER visit is expensive and time-consuming. And if it's not an emergency, why go there? For the most part, people seek out the emergency room because they do not realize there are other options for immediate care. Dr. Susan Kranzpiller, one of the care providers at the Same Day Care Clinic, jokingly considers the clinic one of the best-kept secrets of Whatcom County—and she would like that to change. She highlights that the clinic is open to the public, not just PeaceHealth patients, and treats everybody from newborns to the elderly without an appointment.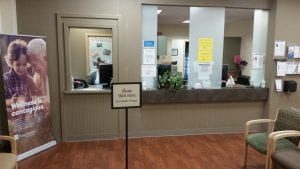 Sara Wells, a family nurse practitioner at the clinic, stresses the convenience of same-day services. "People work," she says forthrightly, pointing out that not everyone can take off a day – or in some cases even a few hours – from work to visit their primary care provider during normal business hours. The Same Day Care Clinic fits better into working people's schedules. Starting in early October, the clinic will be open Monday through Friday 8:00 a.m. to 8:00 p.m. and Saturday and Sunday 8:00 a.m. to 6:00 p.m. With these expanded hours, the clinic provides easy access to care for people who do not feel their best.
But what, exactly, is the line between a visit to the emergency room and a visit to the Same Day Care Clinic? PeaceHealth has created a very useful document for this exact quandary. To help with your at-home triaging, please see their Scope of Services.
I have consulted it several times. I think maybe I'll just tape a copy to my fridge.
Medical Office Plaza (clock tower building)
3015 Squalicum Parkway, Suite 140
Bellingham
360-788-8420
Sponsored