Bellingham Arts Academy for Youth (BAAY) has been helping kids of every age find their passion since it began as children's choir about 11 years ago. Now, from their arts-focused preschool to EduArts after-school enrichment in elementary and middle schools, to their theater production experiences for students 5 to 17, BAAY makes sure to offer each of their students opportunities to learn lessons that last a lifetime. Executive Director Ian Bivins recently completed his first year at the helm of this incredible non-profit community organization that teaches confidence, focus, channeling impulse and connecting with others. Bivins' broad experience, connection with the community and child-centric approach promises to lead BAAY and its students with zeal into theatre and life.

Although BAAY's programs center around the performing arts, they assert that they are really serving a much larger, more important goal that transcends stage time, elaborate dance numbers or sumptuous costumes. "We're working to provide an experience for young people and the goal of that experience is to enrich their lives," explains Bivins. "It's really about giving them experiences that help them grow and change. I look at it as teaching life skills as much as it is about putting on a play."
Bivins and his team of dedicated instructors teach those skills one day at a time, leading by example as role models and mentors. "There are no small roles in a play. Everyone is an important piece of the puzzle. We teach the idea of ensemble. The kids see how our staff works together to solve problems. Even when they have only two lines in a show, they are back stage hustling to support a part of the performance," adds Bivins. "Our alums and professional instructors mentor the students at every level from the first day of auditions to the end of the closing cast party. It's not as much about the result, but more about the experience—the enrichment."
A Rich History
Around 2006, BAAY got its start as a simple children's choir in a church basement organized by founder David Post. "Gradually, a dance component was added and then they began to perform actual plays and then musicals," explains Bivins. "Now BAAY has evolved to encompass dance, choir and the visual and performing arts. It's not just one thing."
Thousands of kids have benefited from some aspect of the program over the years and that doesn't even include the experience of children who have simply watched their peers pull off a performance. A 5th grader may watch an older student or instructor in action and imagine themselves in those shoes someday. Seeing a performer you've met and know accomplish that feat makes the aspiration an attainable goal.
Post shaped and grew his vision of BAAY before passing the reigns to Bivins in 2016. But BAAY knew Bivins well before he became their new Executive Director. He's worked there as a volunteer, guest director and set builder in collaboration with Post.
Bivins brings a broad theater education background to BAAY that informs his teaching on a daily basis. Originally from Helena, Montana, Bivins earned a degree in Theatre and Dramatic Arts at Western Washington University. Much of Bivins' experience before BAAY has been as an instructor of professional actors from around the globe, teaching Margolis Method workshops in Upstate New York, Barcelona and Bellingham to name just a few. "Most of my history is working with professional actors from diverse places, diverse backgrounds and cultures," notes Bivins.
His work with youth has also included improvisational acting and performance with Lummi Youth Academy and with high-schoolers in the Minneapolis, MN school system.
BAAY also works hard to be inclusive. They extended the equivalent of more than $34,000 in scholarships in 2016 and are on track for even more this year. Their program also focuses on each of the more than 1,500 students they serve as individuals. Everyone gets a role, even if that means there will be two full casts for a production. The revenue generated by some of their larger, more flashy productions like Cats allow them to offer other classes that might otherwise be too expensive to offer alone. BAAY uses that synergy to enrich in areas of greatest interest to its students.
BAAY Programs
BAAY is composed of three branches: the BAAY Preschool for ages 2.5 to 5, an EduArts After-School Enrichment Program in elementary and middle schools for ages 5 to 14, and theatre performing arts programs for ages 5 to 17.
The BAAY Preschool offers 2-day, 3-day and kindergarten readiness options that allow flexibility for wherever each child is developmentally. Their focus includes art experiences, gross and fine motor free play and circle times with music, movement, stories and social development. Local visual and musical artists are brought in to add depth and breadth to the experience. BAAY's preschool is on-site, using the building while older children are in school. That means preschoolers have access to the stage environment each day.
EduArts brings its talents to students in their elementary and middle schools at an affordable price. Making it easier for parents, kids stay after school for one to three hours a week. The program offers flexibility, working with parent organizations to enrich students with the art forms they are most interested in. A large team of instructors are managed by BAAY's Juliette Machado to bring fiber arts, 3-D sculpture, mixed media and performing arts instructors directly into area schools throughout the school year.
BAAY's Theatre Performing Arts programs uses its space and instructors efficiently, like a well-tuned machine that encourages kids to explore and challenge themselves. Pixie Theatre Performers (ages 5 to 8) perform short adaptations of familiar shows with their own unique flair, such as Aristokittens and Pixie Grinch.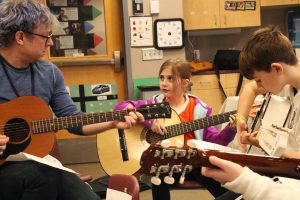 BAAY Juniors, kids 9 to 12, perform shows that range from one to two hours in length. BAAY recently performed a production of an adaptation of School of Rock and last year did Pippi Longstocking. But BAAY doesn't limit itself to the classics. Their recent original work, East of the Sun West of the Moon, was partially developed and written by the students. Students collaboratively created every aspect of the show from blocking to dialogue and set design.
BAAY Seniors is for ages 13 to 17 and takes the same model used for Juniors but to the next level. Students stretch themselves and explore the arts on top of their already busy lives as students and athletes.
If that wasn't enough, BAAY Pro offers further opportunity for accomplished young performers that are around 16 and 17. BAAY will bring in directors and other professionals to tackle more complex material or focus on specific advanced skills. Last year BAAY Pro went after the complex Les Miserables, a Broadway hit based on the 1862 Victor Hugo novel.
A robust calendar of children's theater events is offered throughout the year. Programming includes classics, adaptations and even original works written, choreographed and designed by the students themselves.
Leading Them on a Journey
BAAY also has a place for kids who don't need or want to be the center of attention. Costume and set design, lighting and sound, and other behind-the-scenes roles are filled by students eager to learn and contribute.
Bivins says that what happens after the show is evidence of their true success. "Predictably, after almost every show, at the cast party there are some tears. It's because they build this tight little ensemble family and deep friendships. They feel safe. They feel respected, listened too. I think they feel loved," adds Bivins. "That environment means they can stretch themselves and build confidence."
Bivins also emphasizes the role of parents in the programs. "Not only are they paying tuition, they are volunteering countless hours to assist with set building, costume, hair and make-up design, and other essential behind-the-scenes support that BAAY couldn't function without," notes Bivins.
Many BAAY alums go on to study and work in the arts with a greater confidence, readiness and marketable skill set than those that haven't had the exposure. A handful of alums return as instructors and teachers. Most BAAY instructors have been with the organization for many years because they love their work and BAAY's culture of inclusiveness and acceptance. "I am so proud of the talent and dedication of our staff," adds Bivins.
Looking to the future, Bivins would like to continue to build relationships and collaboration in the Whatcom County arts community. "I'd like to work more with the Lummi Nation and Nooksack Indian Tribe on future projects," explains Bivins.
With a solid foundation, BAAY will continue to help grow the next generation of artists and community members and foster the evolution of BAAY's diverse programs. "Our mission is to enrich the lives of children through exploration of the arts and through the cultivation of character, confidence, creativity and community," adds Bivins. "Those four C's are the root of our programs."