When Rick and Jenny Meyer took over ownership of the Lynden toy store Bumblebees Kids in 2012, they were excited to own a store that had been a part of Lynden for so long. They also saw a lot of potential.
They began making changes as they settled into their new business. First, they rebranded Bumblebees Kids' logo to give it a more modern and fun feel to freshen up the store's vibe. Then, they relocated to the Fairway Shopping Center and set up shop right next to Surroundings and The Woods Coffee. They saw an increase in traffic immediately and have enjoyed the new location.
"It's great having Surroundings next door. Moving to this location brought in some more traffic and about doubled our floor space which allows us a lot more variety in what we carry," says Rick.
That wasn't the only perk. Jenny adds, "I love being next to Woods Coffee. It's nice to have coffee next door. It's the greatest thing!"
Both rebranding and relocating were good moves for Bumblebees Kids. The other big change came in the types of toys, games and clothes they chose to carry. According to the Meyers, choosing what products to carry is one of the most fun aspects of owning a toy shop. For guidance, the Meyers continuously seek wisdom and insight from their grandchildren. "We have our grandkids look through and mark our toy catalogs to tell us what they think would be fun and neat to sell at Bumblebees. We figure kids are a good resource for deciding what kids would like best," says Jenny.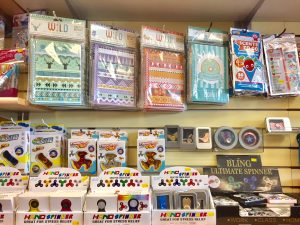 They also decide by talking with their customers, especially those seeking a particular product that may not yet be carried in the store. On some occasions, they've even found great products just by keeping their eyes open and seeing kids playing with something they don't yet carry. For example, while at a wedding, the Meyers saw a little boy playing with a toy called Automoblox during the rehearsal. They ordered them soon after and continue to carry them in the store today.
Rick adds, "We want our selection of toys and games to be unique, well-made and fun focused. We also want to carry what our local customers want. Our goal is to save folks from having to leave Lynden to find a gift."
The Meyers have really enjoyed owning a small business and a lot of that seems to be because Lynden is such a tight-knit community. Rick mentions the fact that there are many community-focused events right around where their shop is located. These include the Lighted Christmas Parade and Fairway Center Date Night in the winter and the Northwest Washington Fair in the summer. There's always something fun coming up to look forward to.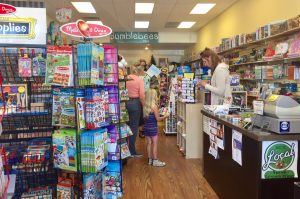 It's easy to sense that the aspect the Meyers most enjoy about owning and operating Bumblebees Kids is the customers they serve. "The people of Whatcom County are great people to have as our customers. We're really glad we get to have a store like this in a town like this. They're good people," says Jenny.
The Meyers are thankful for their community and for the strides Bumblebees Kids has made thus far. Currently, they're looking forward to the new supply of toys and clothes they have coming in for this summer season.
To find out more about Bumblebees Kids you can visit their Facebook page at www.facebook.com/bumblebeeslynden or just stop by at 1758 on Front Street in Lynden and say, "Hi!"