In Bellingham, historic houses await new and veteran home-buyers. And often these home-buyers remodel the vintage bathrooms and kitchens in the Craftsman, Victorian and mid-century homes. While some home owners slap on white paint and cover the wood floors with gray carpet, Certified Master Kitchen and Bath Designer Jan Hayes shows up with color swatches to get home owners to think outside of the box. She asks them to be bold and splash darker colors on their walls.

When I visited Hayes' home where her Domistyle Design business is located, she mentioned that gray is her least favorite color. Hayes inspires her clients to brave the color spectrum. "We love color. And we use color. It's not uncommon to come into a situation where the clients have three examples of off-white."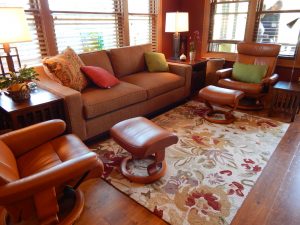 Her living room features reds, browns and a blue accent that appears on the hearth. As far as materials, Hayes said that granite is on its way out and quartz and quartzite are trending. And for the budget-conscious homeowner, Hayes mentioned that laminates provide substitutes for wood and stone. Most people can't even tell the difference between laminate and the natural materials.
Hayes' design team includes Thea Stephens, who Hayes has worked with since 1982, and Anne Carmichael who came on board in 2016 by way of a design school in Denver. During my interview with Hayes, Carmichael worked on her design in the downstairs office—soft jazz wafting in the background. The basement office afforded an expansive view of the foothills and forest where Happy Valley intersects with the Chuckanuts. This setting no doubt inspires the rustic and vintage designs associated with Domistyle.
Hayes relocated to Whatcom County 35 years ago. She worked for Sash and Door and A-1 Builders/Adaptations Design Studio before launching her own residential building design firm. In addition, she brought her expertise to her own homes, including her latest 2,300 square foot residence.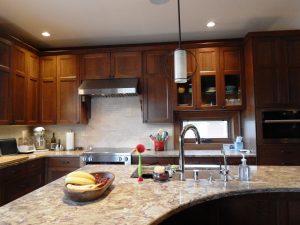 "My first house was designed together with my husband in my early 20's. We then built and designed two more houses with a break to remodel one 1910 house," says Hayes.
Hayes relocated to Happy Valley from a 4,000 square foot Silver Beach home that overlooked Lake Whatcom. While she misses the lake views, a current view from her kitchen and deck overlooks a greenbelt that stretches toward the foothills.
And across the street from her front door, the Larrabee Elementary School provides a historic landmark of Bellingham's past. While Hayes designed her current home from scratch (Moceri Construction built the house), it possesses a vintage or classic look. And it fits like a hand in a glove with the Craftsman and Victorian homes that pepper Happy Valley. It's no wonder that Sustainable Connections selected Hayes' home to appear in the Sustainable Connections Home and Landscape Tour for 2016.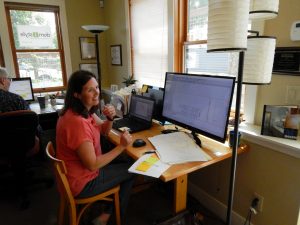 And while the publicity from the tour provides a boon, Hayes and her design team keep on their toes as they experience a steady flow of clients. "We work with an average of 15-20 clients at any one time. Some only require one to two meetings, others require months of meetings, technical drawings, engineering and specifications," says Hayes.
The clients range from age 35 to 80. And no matter the age of the client, Hayes designs for aging in place—a popular concept both with residential building designers and architects. The clients come from as far away as Hong Kong and England. And many of the clients come from a listing on Houzz—a competitive directory for the design and construction trades.
"Houzz represents perhaps 10 percent of our clients at present. The work requested can be for design work for a new house, additions and remodeling existing space – often involving kitchens and bathrooms. Interior and exterior color consultations are often requested. We do not hire contractors. We can provide many types of materials that relate to this design work, from surface materials for countertops and floors, fabrics and window treatments, light fixtures, cabinets and furniture," says Hayes.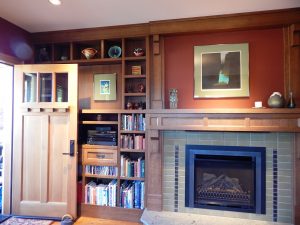 While Hayes has her eye focused on retirement, she said that the design business is in capable hands with Stephens and Carmichael for when she retires. As we watched Carmichael work with the CAD program on her large screen, Hayes mentioned that she still prefers designing by pencil as opposed to design software—not that any clients are complaining.
Hayes' designs are turning heads and changing minds, especially around imaginative colors used in the interiors of Pacific Northwest homes. And for the time being, Hayes enjoys coming up with solutions for homeowners. "I love spatial puzzles. The 3D considerations of residential design are what make it fun for me. The payoff is the satisfaction the results give our clients."