My husband and I have three little kids. We do a lot of fun things with them. We take them out for ice cream, bring them to the playground or spend a few hours at the beach. We skate at the roller rink, fish on the lake or go to the movies. We frequent birthday parties and barbecues, libraries and museums.
All this fun can get expensive, so we reserve a lot of our outings as special treats. In the meantime, the kids practice entertaining themselves. Experts say boredom is good for creative development and I agree. But sometimes I get stir crazy. Sometimes I get really tired of the fighting. Sometimes I just want to go somewhere that is fun for all of us for an extended period of time.
And then I remember that there is a place we can go. There is someplace we can spend the entire day and everyone will be happily entertained—and maybe even learn something. And we can do all this for less money than a short trip to the movie theater.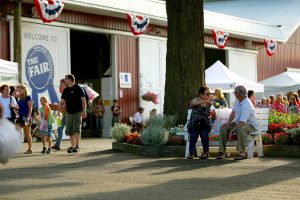 We can head to Lynden for the Northwest Washington Fair which runs from August 14-19. Our kids are all under the age of five, so the grand total for a full day of entertainment for our entire family is just $26. It's an amazing value that is worth so much more.
The price of admission at the Northwest Washington Fair includes everything you've come to love from the livestock barns and craft displays to the wool show and the photography exhibit. My kids especially love the Small Animal Experience where they can pet and even hold animals they dream of raising themselves. There are friendly kids from local 4-H and FFA chapters to answer all their questions and help acquaint them with the livestock.
In addition to the many booths and barns full of animals and information, there are shows virtually all day long included in the price of admission. Two times a day Tuesday through Friday at 12:00 and 5:00 p.m. and Saturday at noon only, you can catch a horse show in the grandstand. And new to the Northwest Washington Fair this year is X-Treme Air Dogs, a competitive dock diving national championship for seasoned pros and first-timers. Dogs and handler teams will be judged in five divisions and four sports. The event promises to be extra fun for both participants and spectators alike.
Also included in the price of admission is all-day stage entertainment featuring a hypnotist, a comedian and a magician. The very popular group The Timbenders are returning as part of the music lineup. If you can't get your kids to stay in one place long enough to watch a stage show, there are interactive acts wandering around the fair all day long. My kids cannot resist a clown with a balloon animal.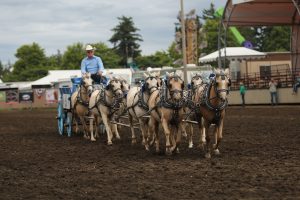 Also back by popular demand this year is the Wenatchee Youth Circus known as, "The Biggest Little Circus in the World." The performers practice all year long to dazzle you on the high wire and flying trapeze and amaze you with fire acts and aerial acts. You and your kids may actually be inspired to run away with the circus.
I've been asking pretty much everyone I know if they went to the fair as a kid. Every single person has said yes. And most people added that they still do. It's been a part of my life as long as I can remember and I have made it part of my kids' lives. It is an affordable respite for me and an exciting adventure for my girls. But mostly, it's a day of pure family fun.
Northwest Washington Fair
1775 Front Street in Lynden
www.nwwafair.com
2017 Fair Hours, August 14-19
Gate Hours: 9:00 a.m. to 10:00 p.m.
Carnival Hours: 11:00 a.m. to 11:00 p.m.
Vendor Booths: open at 10:00 a.m.
Gate Admission Prices
Adult (13-61 years): $13.00
Senior (62+ years): $11.00
Youth (6-12 years): $8.00
Children 5 and Under: Free
Carnival Prices
Carnival Wristband: $33.00
Sponsored