The Supplemental Nutrition Assistance Program (SNAP) offers nutritional assistance to millions of low-income individuals and families across the country. In addition to reducing food insecurity, SNAP benefits – also known as EBT or food stamp benefits – provide economic benefits to communities.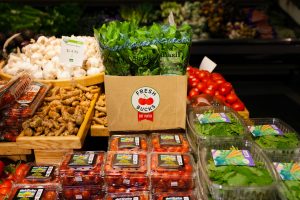 There are approximately 11,000 recipients of SNAP benefits in Whatcom County today. In 2015, the Community Food Co-op, Opportunity Council, Bellingham Farmers Market, Sustainable Connections, Whatcom Community Foundation and Whatcom County Health Department were jointly awarded a three-year grant through the USDA Farm Bill to expand the successful Fresh Bucks program piloted in 2014 by the Bellingham Farmers Market.
About Fresh Bucks
The goal of the Fresh Bucks program is straightforward: Provide better access to fresh, local and healthy foods to everyone in Whatcom County. SNAP recipients are able to maximize their benefits by taking advantage of matching funds for fresh produce.
"Food insecurity is growing, so we're trying to expand access for people," shared Community Food Co-op Outreach Manager, Adrienne Renz. In 2016 $65,000 in Fresh Bucks benefits were awarded across Whatcom County. "People just love local farms and this grant gives us a great opportunity to make sure that everyone has access," Renz said.
How to Use Fresh Bucks at Community Food Co-op
"Recipients can use their EBT benefits to spend $10 on fresh fruit or vegetables and get a matched $10 in produce with Fresh Bucks," said Renz. Any EBT cardholder with $2 or more in SNAP dollars on their card is eligible to match those dollars at a participating farmers market or farm stand. Plus participants are eligible for up to a maximum $10 Fresh Bucks matching credit per day. This allows more consistent access to fresh foods. "It's a great opportunity because it helps make those dollars go farther," said Renz.
If you receive SNAP benefits and want to shop at Community Food Co-op, simply follow these easy steps.
Choose some delicious fresh fruit and vegetables in the produce department.
Present your EBT card to the cashier at checkout. They will enter the last eight digits of your card number and your credit match will be applied to your produce purchase.
Take your produce and enjoy!
EBT cardholders can also take advantage of Fresh Bucks at the Bellingham Farmers Market and other local markets.
Sponsored