Whatcom County is fortunate to be the home of an active, diverse artist community. Many live, create, exhibit and sell their work in Fairhaven. Some local artists have successfully collaborated with Fairhaven businesses to expand Art Walks in Fairhaven from just twice a year to a regular monthly event, dubbed the Fairhaven Fourth Friday Art Walk. On the fourth Friday of each month from 5:00 to 8:30 p.m., with the exception of December, the art walk will celebrate the unique character of Fairhaven with local art, appetizers, drinks and, in some cases, live entertainment.
A Little History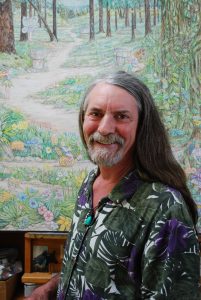 Traditionally Art Walks have been held in Fairhaven just twice a year. For many years, the Summer Solstice Art Walk each June and the Holiday Art Walk in November have been well attended. Their organization has been led by Erica Hume, Manager of Artwood, a cooperative gallery in Fairhaven of fine woodworking artists.
The success of these events and of the Downtown Bellingham Partnerships' First Friday Art Walks led Fairhaven artist Rick Bulman of Bulman Fine Art to ask why Fairhaven wasn't hosting similar monthly events.
Bulman has lived and worked in the Fairhaven area for more than 25 years. "I started painting at 14, I think I was selling by 15 and so I've been selling my work for over 40 years," notes Bulman. His work currently appears in galleries in Everson and Monroe, WA and Atlanta, GA. About two years ago, he joined the Whatcom Art Guild (WAG), a non-profit supporting the work of more than 100 Whatcom County visual artists since 1964. WAG artists have access to permanent exhibition and sale of their work at Fairhaven's Whatcom Art Market (WAM), a co-op gallery in Fairhaven for over seven years. Bulman's paintings, rock etchings and custom jewelry are for sale there along with the work of more than 45 other artists.
As part of his service to the co-op, Bulman joined WAM's Promotional Committee. With significant help from other WAM artists, including a relative newcomer to Fairhaven, artist Scott Ward, co-owner of Fairhaven's Current and Furbish, Bulman made his idea a reality. "Although it was initially my idea, so many people have kicked in and made it happen," explains Bulman. "We've had such a great response from businesses, it's been a true community effort." Bulman and his team, along with the Historic Fairhaven Association, have worked tirelessly to make the Fairhaven Fourth Friday Art Walk a regular monthly event.
The Fairhaven Experience
The Historic Fairhaven Association has worked hard to stay connected to its small roots. The Village of Fairhaven is made up of many of the original brick and stone buildings that were among the first built in the area in the late 1800s. Most have been beautifully restored and maintained, highlighting the original architecture. They are situated close together around historic Harris Avenue and 12th Street. That proximity makes walking between businesses a leisure and an accessible experience.
Participating Businesses
More than 18 Fairhaven businesses have signed on to participate and the list continues to grow. Each business will bring their own personal touch to what they'll offer customers. That might include free samples of their products, special discounts on services, tasty treats and so much more. Each month will be different, meaning patrons can have an entertaining new experience each time they attend.
Some of the participating businesses include Artwood Gallery, Blessings Salon Spa, Current and Furbish, Fairy Godmother's Unlimited, Good Earth Pottery, Lovitt Restaurant, Stone's Throw Brewery, Mambo Italiano Cafe, Scandi Butik, Tony's Coffeehouse, Harris Avenue Cafe, Village Books and Paper Dreams, A Lot of Flowers, Morgan Block Studios & Galleries, Whimsey, Cooper Lanza Gallery, Mount Bakery Cafe and Whatcom Art Market.
The list continues to grow. Businesses can join in the fun by contacting Scott Ward at artwalk@fairhaven.com or at 206-­696-­2671.
Fostering Student Creativity
Bulman and WAM's Promotional Committee took one step further. They reached out to Fairhaven Middle School's Art teacher, Natasha Brodie. Students in her 7th grade art classes made and submitted posters for Fairhaven Fourth Friday Art Walk. "At first we considered a contest but then we decided that we'll try to display all of the student's posters in the participating Fairhaven businesses," explains Bulman.
The Village of Fairhaven was already a cozy, walkable neighborhood full of locally-owned artisan galleries, enticing restaurants and dedicated businesses. The Fairhaven Fourth Friday Art Walk is a perfect monthly addition that will engage and benefit local artists, business owners and art lovers alike.