Every day hordes of hungry brunchers line up to get a seat at The Mount Bakery's downtown location. On a weekend, the wait could be up to an hour but owner Vince Lalonde aims to change all that with the opening of their new location in historic Fairhaven. Open throughout the week from 8:00 a.m. to 3:30 p.m. and sporting an expanded version of the full menu featured at the downtown location, Lalonde and his team seek to solve the ever-growing problem of empty stomachs, one eggs benedict at a time.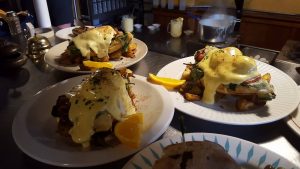 The menu features crepes, Belgian waffles, homemade quiches, scratch baked croissants and, of course, their famous eggs benedict. It's only fitting that a place with such a tour de force of a menu would provide the ideal annual viewing location to watch the Tour de France.
Before Lalonde purchased The Mount Bakery 10 years ago, former owner Olivier Vrambout came up with the idea of holding viewing parties for the Tour de France every summer. A Belgian, Vrambout was avid about cycling. When Lalonde took over ownership in 2007 he knew he had to keep the tradition alive.
"It's a great tradition, nobody else in town had really put on the Tour de France and Bellingham has a huge cycling community," Lalonde says. "Usually, we would just cart in four TVs every year and set up two inside the restaurant and two outside at our Downtown Cafe."
This year it will be a bit different. Lalonde is moving the viewing parties to the newly expanded Mount Bakery Fairhaven location, and will not be showing this year's race at the downtown location. Lalonde says the reason for this is two-fold. There are summer-long building renovations going on at The Mount Bakery's downtown location and he also wants to show off Fairhaven's new full menu cafe.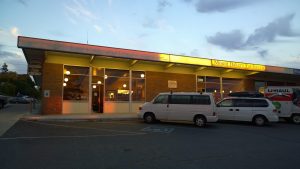 "It's funny, this spot has almost the same number of seats as we have downtown but it has double the  square footage," Lalonde says. "When we would show the Tour de France downtown, people would be spilling out into the streets but our new space will allow everyone to stay inside and watch it together."
The idea for the Fairhaven café hatched shortly after Lalonde took over the lease on the 800-square foot space next to the old Trek Video store in 2011. Initially, the plan was to have a new, small location to take care of The Mount Bakery's baking needs. It was getting crowded at the downtown location as their popularity grew because of their well-loved brunch.
Lalonde saw this new venture as a way to establish a foothold in Fairhaven. He dreamed of one day turning the new bakery into a café with a full brunch menu.
His dream became reality in 2014 when Trek Video's owner decided to retire the business and Mount Bakery took over the lease. After that purchase, it was time for the real challenging work – renovations. Lalonde hired Bellingham-based architect Marcus Johnson of Marcus M. Johnson Architects and designer Shannon Maris of Light Source Residential Design to help put together the plan that would be permitted and buildable. Project manager David Owen came in and really got the project underway once the designs were finished. Then Vince's good friend Marvin Otter, who almost single handedly built most of the Mount Bakery's Downtown Cafe, came in to oversee most of the finish work and to build from scratch many of the counters and cabinets that really give the new cafe its finished look. Lights and refurbishable cabinets were also incorporated from the Re-Store, Mount Bakery's 1st go to spot for any needed materials and furniture.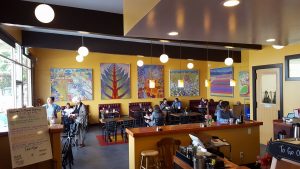 Lalonde's new Fairhaven location is now big enough to support all the baking needs for both Mount Bakery locations while still retaining a full brunch menu. Although both of his cafés have much the same menu, each will continue to choose their own specials, adding some variety between the two restaurants.
Lalonde looks forward to the upcoming Tour de France viewing parties and is excited to host them at the new location for the first time. The race runs from July 1 to July 23 and during this time the Fairhaven Mount Bakery will have slightly different hours than its downtown predecessor. Instead of opening at 8:00 a.m. the Fairhaven café will open at 6:00 a.m. to serve coffee and pastries as the race begins. At 7:00 a.m. the kitchen will open and the full menu will be available. The restaurant will still close at its normal time of 3:30 p.m.
"The race usually runs until around 9:00 in the morning and as soon as they cross the finish line for the day we begin shifting back into our normal cafe mode," Lalonde says. "We sometimes have a little bit of a back up as the race ends and the non-race patrons begin to show up after 8:00 a.m. This year if you don't want to deal with the final hour of a packed house watching the Tour de France, you can just go to our downtown location where there will be no TVs for the first July in 12 years."
In addition to being one of Bellingham's favorite eateries, The Mount Bakery displays an impressive amount of fine art. An avid painter himself, Lalonde jumps at the chance to feature fantastic art shows at his bakeries. Currently on display is the work of former University of Washington Art Professor Edward Praczukowski. Lalonde is a deep admirer of Praczukowski, who happens to be the father of his best friend since childhood. He says he is thrilled Praczukowsi's show will be on display at The Mount Bakery's Fairhaven location during Fairhaven's Fourth Friday Art Walk on July 28 from 5:00 p.m. to 8:30 p.m.
So whether you are in the mood for some Tour de France camaraderie, a remarkable art showing or just some exceptionally delicious food, The Mount Bakery 's new cafe in Fairhaven has you covered.
Sponsored