The door swings open as the squeaky hinges lightly announce the next customer at Wally's Barber Shop on Holly Street. The eight, soon to be nine, black leather barber chairs rotate men, women and children anxious for a step back in time. A return to the days when a quality cut and a close shave were synonymous with masculine pampering, Wally Whaley prides himself on quality work with a true touch of craftsmanship.
Whaley's attention to detail, quality work and service is a winning combination that's kept his door swinging open all day long. "I'm easy to get along with, a good person to work for, but when it comes to quality, I'm a real stickler. I won't settle for second best. It's got to be top of the line," Whaley says. If someone asks where to get a good hair cut in Bellingham, rest assured, Wally's is the place.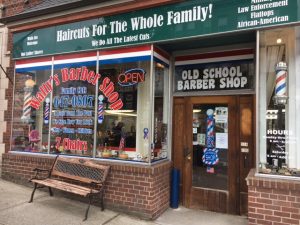 Wally and Renate Whaley have been married over 50 years and raised four daughters, one of whom has worked side by side with her parents at the barbershop for the past decade. His granddaughter is next in line to work in the family run business with just 100 more hours of cosmetology school before she's licensed. After 56 years of being a barber, the family's legacy will continue and Whaley professes he won't retire until he has to. "I still provide an old fashioned service and haircut the same way it was given when my dad got haircuts," he shared.
Hot lather shaves around the ears, trimming the eyebrows, ears and mustache, hair down the neck, followed by a massage, are all the little things that may not be offered in a standard salon or quick cut business. Whaley still provides the shine and the authentic level of care that keeps some of his customers returning well into their 90's.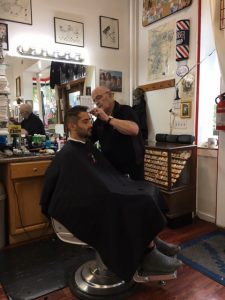 A good shave shouldn't make a man's face burn. "We do what they call a 'rest facial,'" says Whaley. Just like women receive in a spa, this facial is slightly shorter but just as satisfying. After a shave, a lemon crème is applied with cocoa butter, lanolin and aloe vera. "When they get out of the chair their faces feel like a million bucks," attests Whaley. If you snore after your treatment, don't worry, it's happened before.
For a lot of younger people who've never had a comprehensive cut and shave, "It's not about the shave, it's about the experience," Whaley adds. Whaley is teaching the next generation of men that there are benefits to a deep state of relaxation and self-care. While there are those who still remember and grew up going to an old fashioned barber shop, many of Whaley's clients are Western Washington University students who are discovering his service for the first time.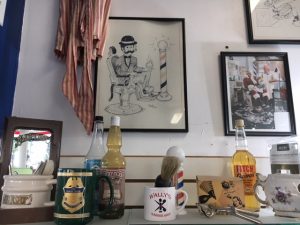 Whaley grew up locally and went to school at Mt. Baker, later meeting Renate in the Air Force while stationed in Germany. He trained as a security policeman in special investigations and, after his military service briefly considered going into law enforcement. "Looking back, I stayed with trimming hair because you get to meet a lot of nice people, unique and different people, from all walks of life," he says nostalgically. "Now that I've been doing it for so many years, you get to cut these little kids' hair and you get to watch them grow up and that's special, to make really good friendships." Lollipops and cookies sit on a low coffee table in glass jars awaiting any kiddo who needs a little coaxing before getting their first snip.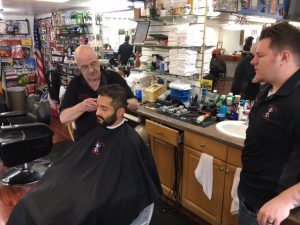 Renate sits in the center of the YMCA's cozy brick and mortar building expertly navigating a steady stream of appointments and walk-ins. She's kept the books at Wally's for many years. The Whaley's have been in their current location for 14 years and need seven barbers going full time to keep up with their loyal clientele. Before that, Wally managed several barbershops as an independent contractor and on military bases throughout the state. While managing a shop in Bellevue, he used to cut Steve Ballmer (the ex-CEO of Microsoft) and his two boys' hair. Dave Niehaus, the voice of the Seattle Mariners, was also a client. In Whaley's words, "He was a really wonderful person."
The old-fashioned popcorn popper wafts a smell of fresh kernels and butter through the room as Whaley invites his next customer to make himself comfortable in his swivel chair.  His apprentice, John Schindler, is never far from his side. He's been shadowing Whaley for a few months now, aspiring to the trade and learning from a master.  When most barber schools can cost a student $15,000-$25,000, Schindler's paid internship is like being given golden shears. Whaley teaches the things that aren't taught anymore in a traditional school setting.
Whaley tells the college students who frequent the shop, "You have to work all your life, so if you get into something you don't like, get out of it and get into something else." For Wally Whaley, he got it right the first time.