Submitted by: Village Books and Paper Dreams
Village Books and Paper Dreams celebrates changes to its 50-person staff this month. Milestones include the retirement of 10-year employee Jonica Todd, the 20th anniversary of book buyer Joan Terselich, the promotion of bookseller Lauren Sommer to book buyer and the hiring of 12 new employees – including Marketing Director Mary Vermillion – who will carry on Village Books and Paper Dreams tradition of personally connecting customers with books they love to read and gifts they love to share.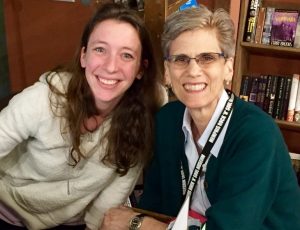 Jonica, who started at Village Books in 2007, retired May 13 as a valuable member of Village Books book buying team. Lauren, who has been with Village Books since 2014, will succeed Jonica in her book buyer role.
"Another chapter is closing here at Village Books – Jonica Todd has left us after working here for 10 years," said co-owner Sarah Hutton. "Jonica has previously held the positions of new book buyer, used book buyer and consignment buyer. She'll be spending more time with her family, including an adorable new grandson, and devoting more time to her creative pursuits including art and fashion. We will miss her keen wit and her amazing recommendations for poetry, art and science fiction that kept everyone turning the pages. We wish her all of the best as she goes forward."
Events coordinator Claire McElroy Chesson added, "Jonica is an example of someone who was in this business because of a true, deeply rooted love of books and I found this inspiring every day that I had the privilege to work with her."
Book buyer Joan has worked at Village Books since 1997. She was a recipient of author James Patterson's Holiday Bonus in 2015. Continuing a tradition started by Village Books founders Chuck and Dee Robinson, she will receive an all-expense-paid trip of her choosing to celebrate her 20th anniversary at the store.
"We are incredibly fortunate to work with Joan," co-owner Kelly Evert said. "As a book buyer, she personally selects titles that will appear on Village Books' shelves. Her longevity at the store and in our community means she has an excellent eye for books that will interest and challenge local readers. Her intellect, kindness and devotion to the book industry make her a wonderful co-worker and a terrific resource for our customers. Thank you, Joan!"
Mary Vermillion joins Village Books and Paper Dreams as its marketing director. She will work directly with owners Kelly Evert, Sarah Hutton and Paul Hanson to develop strategies that further connect Village Books with the community and raise awareness of the store's programs and services.
"We're excited to welcome Mary into the Village Books and Paper Dreams team," Paul said. "We've known her for many years because she is an avid reader and writer who is actively involved with community organizations Village Books supports. The grace, wisdom and experience she brings will help us to expand our community building efforts."
Newly hired booksellers connecting customers with Village Books carefully curated collection of books and gifts are Emma Bachmeier, Candee Blanc, Kelli Terpsma, Jenni McDowell, Lauryn Paoli, Lauren Sherwin and Clarissa Williams, who are students at Western Washington University; Hannah Emory and Sofia Bouma of Lynden; and Adam Kane and Etta Morris of Bellingham.