Comcast NBCUniversal employees from Bellingham, Burlington and Oak Harbor joined forces on April 22 for the 16th annual Comcast Cares Day, a huge volunteer project in which the company's employees and their families give back to the community. This year more than 100 volunteers helped build a new garden for Northwest Youth Services' We Grow Garden project, a vocational program for at-risk and homeless youth.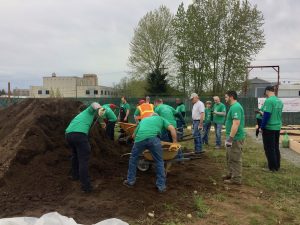 Local and regional Comcast NBCUniversal employees built a deer fence, 32 raised beds and a market farm stand for selling produce. Comcast also provided fencing materials, SilvaStar donated lumber for the raised beds, Patricia Lenssen from The Philbin Group volunteered to create the landscape design and RAM Construction provided irrigation, soil and labor.
"This is our day of giving back to the community and helping local nonprofits," shared Jennifer Zwick, Administrative Assistant with the Comcast Bellingham office. "I always walk away from this with such a great feeling after seeing all of my coworkers out here working so hard. It makes me proud to work for Comcast. It always amazes me how much work we get done."
The We Grow Garden project was one of about 30 Comcast Cares projects that happened throughout Washington state on April 22. In addition to the many adult volunteers busily building garden beds, fences and the farm stand, dozens of children volunteered by painting bird houses and helping with other small tasks. "We try to make this a family event," said Zwick. "I'm here with my mom and my daughter."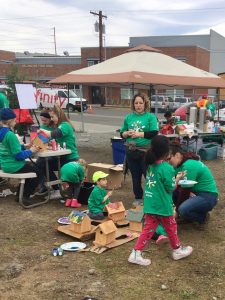 "My mom is here," shared Heather McGuinnes, Community Relations Coordinator for Northwest Youth Services (NWYS). "She volunteers in our garden throughout the year."
"This is amazing," said McGuinness' mom, Kathleen. "It's just so fast! We were working at the table and turned around and they'd made ten more beds!"
NWYS provides housing and wrap-around support services to youth age 13-24 in Whatcom and Skagit Counties. Their mission is to collaborate with at-risk, runaway and homeless youth to foster self-reliance. Their vision is that all young people have a place to belong: to be safe, heard and valued.
The We Grow Garden project is part of NWYS' Vocational Readiness Program. The program currently operates in a garden next to the nonprofit's office on State Street but the organization needed to rehome the garden to make way for the 22 North Housing Development breaking ground this fall in partnership with the Opportunity Council. Northwest Youth Services was able to come to an agreement with the City of Bellingham to lease the plot of land at 1815 Ellis Street, right across the street from the Bellingham Food Bank, for a nominal fee.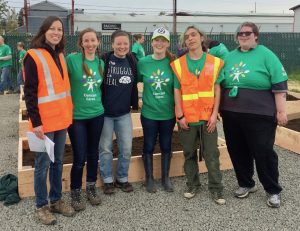 "The garden is an opportunity for young people to come build job skills and to have paid work," explained McGuinness. Youth participants build skills like communication, problem-solving, teamwork, responsibility and customer service, as well as sustainable gardening practices and healthy eating. They also gain resume-worthy experience and references, a valuable opportunity for youth who may not have previous work experience.
"The program employs youth to come plant, grow and harvest fruits, vegetables and flowers, and then they get to sell what they grow at the farm stand and to a couple local restaurants," McGuinness said. "Leaf & Ladle has been really great to work with."
We Grow is offered in partnership with the Washington State University Extension Master Gardener Program and Growing Alliances. In addition, the garden will share what's harvested by donating to Bellingham Food Bank.
"We are so fortunate to have the support of our local Comcast team," said Bonnie Schultz-Lorentzen, Vocational Coordinator at Northwest Youth Services. "Because of this support, homeless and at-risk youth will be able to participate in developing a positive, skill-building and beautiful garden for years to come."
"It's a great program," said McGuinness. "We love it and the community loves it."
Sponsored