Whatcom County-based CAZ Energy Services (CAZ Energy) recently underwent a Sustainable Connections' Toward Zero Waste audit. By implementing recommendations and techniques provided in the audit, CAZ was able to divert more than 50 percent of its business waste from the landfill. This affordable program is available to other area businesses through Sustainable Connections' Sustainable Business Development program.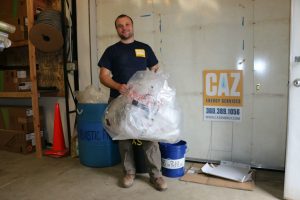 Disposing of waste is an increasing problem. Much of it goes into landfills that take up usable land area and concentrate harmful chemicals for centuries or even millennia. In Washington State alone, we generate around 17 million tons of waste per year. In the U.S., $200 billion is spent on solid waste management and lost energy resources from disposing of trash. It's clear that solid waste represents wasted resources, energy and money. But Bellingham-based Sustainable Connections is doing something about it.
"A recent Northwest Washington Waste Characterization Study revealed that organic or food waste is the number one waste product we're sending to landfills, followed by paper and then construction and demolition debris," explains Sustainable Connections' Sustainable Business Manager, Mark Peterson. "There is a lot of opportunity for us to change that because we have the programs and infrastructure to compost, recycle and reuse those materials to keep them out of the landfills."
Since 2002, Sustainable Connections has helped locally-owned and independently-run Whatcom County businesses thrive through sustainable business practices in support of a strong local economy. Their programs focus on promoting business practices that contribute to a healthy environment and include Food & Farming, Sustainable Business Development, Think Local First, Green Building and Smart Growth and Energy Efficiency and Renewables.
The Sustainable Business Development program seeks to help businesses improve their economic, social and environmental bottom line by implementing meaningful sustainability practices and programs. The Toward Zero Waste campaign is just one of the ways they are putting these goals into action.
In addition to the free Toward Zero Waste audit, the program also includes the creation of a waste reduction plan, employee education and scouring for every waste reduction and savings opportunity.
In the Fall of 2016, CAZ Energy agreed to be a case study for the campaign. They received a free waste audit by trained Toward Zero Waste Campaign specialists. "It seemed like the right thing to do for business and for the community," explains Dan Dunne, CAZ Energy Manager of why they participated in the program. "There was a real chance of reducing the cost of disposing of our waste with fewer trips to the dump and fewer solid waste pick-ups, while contributing in a positive way."
CAZ Energy is an insulation and weatherization company serving Whatcom, Skagit, Island and San Juan Counties since 2010. Their services include installation of ductless heat pumps; attic, wall and floor insulation; air sealing; duct sealing and insulation; home ventilation; energy assessment; blower door testing and thermal imaging. Their work supports The Opportunity Council and the Community Energy Challenge. Much of their work occurs in residential homes built before 1970.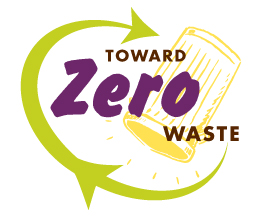 As a result of the audit, CAZ Energy implemented many of the recommendations with free technical assistance from Sustainable Connections. With time and effort CAZ was able to accomplish these diversions from the landfill:
Separation and recycling of scrap metal from wiring, flashing and ducts
Cleaning and recycling more than four cubic yards of plastic sheeting each month from crawl space vapor barriers
Recycling and reuse of wood pallets
Recycling of cardboard at a rate of about 50 pounds per week
Recycling of paper products
By putting these recommendations into practice, CAZ Energy reduced its waste sent to landfill by more than 50 percent. That has translated not only into positive feelings about stewardship of the environment but also lower costs for waste disposal.
The Toward Zero Waste Campaign has enlisted the partnership of local governments and more than 400 local businesses. "It's been around since 2009 and is one of our most requested programs," notes Peterson. "Our goals include reducing volume and weight of waste headed to landfills, increasing reuse and recycling, and increasing purchase of recycled and environmentally-preferable products."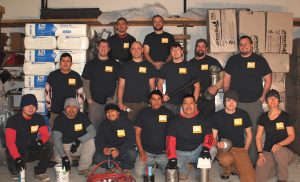 "While a lot of construction and demolition debris recycling has focused on builders and contractors, construction subcontractors like CAZ Energy hold a lot of opportunities to reduce waste sent to landfill," explains Peterson. "Our local governments have been very supportive of this program and we're excited to help more and more businesses like CAZ Energy jump in to sustainable business practices and move 'Toward Zero Waste!'"
CAZ Energy Services
4801 Northwest Drive
Bellingham
360-389-1056
dan@cazenergy.com
www.cazenergy.com
Sustainable Connections
1701 Ellis St. Suite 221
Bellingham
360-647-7093
www.sustainableconnections.org