I've been floating through the ornate halls of Mount Baker Theatre (MBT) since it opened in 1927. Everyone calls me Judy. I wouldn't really say that I 'haunt' the Theatre. I'm more of a friendly spirit. I putter through the dressing rooms and balcony and especially love seeing the joy and wonder of the children who visit.
I wander the office halls so I know that MBT educational programs help more than 17,000 kids every year. They come from Whatcom, Skagit, Island, San Juan and upper Snohomish County's public, private and home school communities. For the kids who scramble into our beautiful MBT, it's more than just a field trip. The shows let these kiddos explore different subjects, other cultures and alternate points of view in our safe, fun and memorable environment.
Mesmerizing Shows
The shows especially for kids are part of the Wade Bennett King Education Series. That program makes school curriculum better and gives kids cultural experiences through early exposure to professional live performances.
Mufaro's Beautiful Daughters comes to us in February. Mufaro lives in Zimbabwe with his two daughters who are very different. I am so looking forward to hovering next to the kids while they watch his daughters take a journey across the African continent. The authentic African drumming, choreography and original music will make them bounce in their seats.
And what could be more exciting for a kid than puppets? Tears of Joy Puppet Theatre will come in March from Portland to present The Toad Prince in the more intimate Walton Theatre within MBT. The kids will be in awe when they see this revival that uses the vintage puppets of one of the company's first shows.
Skippyjon Jones Snow What, the musical adaptation of Judy Schachner's book, comes in April. I can't wait to see that quirky Skippyjon Jones. He's a bi-lingual Siamese cat who thinks he's a Chihuahua. He's always spinning off into another adventure in his imagination, this time into a mixed up version of Snow White and the Seven Dwarves.
In May we'll show Junie B's Essential Guide to School, based on Barbara Park's popular book series, Junie B. Jones. Kids love Junie B because she isn't perfect but knows everything! She's not afraid to share the tips, tricks and mix ups she's encountered during her extensive one-and-a-half years of experience in school.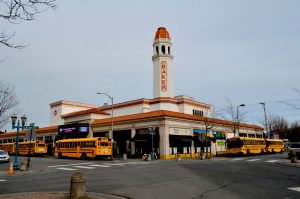 I can't wait to feel that wild energy of the middle schoolers who will get a taste of our cultural history with Wings of Courage. It's about Eugene Bullard, the first African-American fighter pilot during World War I in France. He wasn't allowed to be a fighter pilot in the U.S. so he traveled to France with a minstrel show. While there he ended up in the armed forces and became a fighter pilot. Later, when he returned to the U.S., he wasn't allowed to fly anymore. It's a fascinating story that needs to be told. I'm so excited for the kids to see it. I just hope I don't accidentally burn out the light bulbs in the chandelier.
We don't leave out the high school students either. We'll have Seattle Shakespeare Company's, Romeo and Juliet for the second year in the row. I heard that all the 9th graders read it in our area school districts. When you see Shakespeare on stage, you can understand it way better than just reading it. It's so romantic and tragic it makes me swoon.
Once in a Lifetime Experience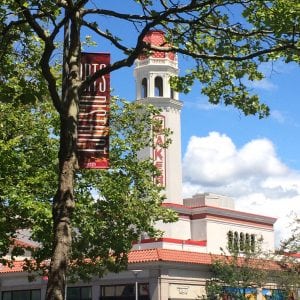 I like to think a live theater experience carries forward into their lives. You really never know the impact it will have long-term. Seeing a show might make them want to learn more about the world beyond, or learn a musical instrument they saw on stage, or try to sing or dance themselves. They might come away with just a little more compassion than they might have gotten from their usual classroom experience.
For many of the students I watch, it's their only exposure to the performing arts. The look on their faces when they see all the splendor that surrounds our incredible stage is priceless and comes at only a small cost to the schools. I might help our guests enjoy the shows just a little bit more. Perhaps I'll send them a few goose bumps or a flutter in their stomach. They won't even know it's me.
Mount Baker Theatre
104 North Commercial Street
Bellingham, WA  98225
Phone:  360-733-5793
Tickets:  360-734-6080
www.mountbakertheatre.com