Walking into the ABCDance studio, you can see right away that this space was designed for dancing and having a great time. Tabetha Clark, owner of ABCDance, is passionate about the art of dance – ensuring that her students get an immersive experience, learning history and rhythm as well as technical dance instruction. The classes take place on her custom-made sprung maple hardwood floors so her dancers can maximize their experience. Her studio is warm and welcoming and you can see that she is excited to be teaching students of all abilities.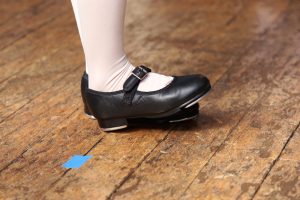 "I wanted to create a dance program with flexibility so you could live your life," Tabetha says. "It's what working adults and even kids need with busy and changing schedules." Adult students can decide on their level of dedication and reasons they want to pursue a study in tap, jazz and swing. Some students come for the enjoyment of a group activity while others are ready to dive deep and grow themselves as a dancer and a musician.
Tabetha created her dance studio to cater to working adults who need flexibility and want to learn different styles of dance.  A drop-in friendly studio, ABCDance has a large adult program featuring Jazz dance, Swing dance and three levels of Tap Dance.
Encouraging drop-ins is one unique aspect of the studio which makes it a great place for busy people and families. ABCDance also has a class card system for adult classes with multi-class purchase options that allow for participation in all the classes so students can experience the varieties of dance offered. "The Toddler Moves class is drop-in friendly as well because, as a mother, I understand that 1-3 year-olds may not be ready to commit to a weekly class but I feel it's so important for young children to be exposed to dance, music, and fun!"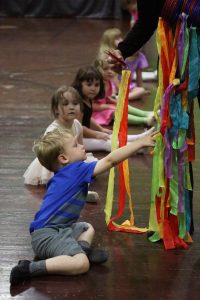 "I've always wanted to own my own studio," says Tabetha of ABCDance. "Dance is my passion and I've always taught. It's something I love." As her studio grows in size, Tabetha focuses on diving in and having a whole culture of involvement in jazz and tap, not as widely offered in the city as ballet. She enjoys teaching everyone in the community – from young children to students at WWU, working adults, all the way to retirees. Everyone is comfortable at ABCDance.
Although her passion for dance lies mostly with tap and jazz, Tabetha is trained to teach most forms of dance including ballet, lyrical and modern. Beginning her education at the University of Central Oklahoma, she was exposed to a variety of dance styles which even further enabled her to incorporate different types of dance into her educational offerings. After moving to San Diego, Tabetha went on to obtain additional dance training and ultimately her Associates Degree from Grossmont College in San Diego and danced with the California Rhythm Project, learning historic pieces that date back to the early 1900's.  While in San Diego, she also completed her certification in tap and jazz with Dance Masters of America after an intensive four years of training.
More recently, she spent nine days in New York City at an intensive training with the American Tap Dance Foundation. Only 22 people are accepted into the certification program. Tabetha has completed her first level and has already been accepted into Level 2 next summer. "I love that I'm able to bring what I learn back to class," says Tabetha of the training. "It gives students a deeper understanding of what we do here." Tabetha is well versed in the history of tap and jazz and likes to integrate this knowledge with her dance instruction so her students become well rounded in the art of dance.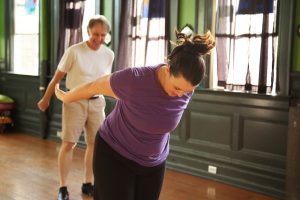 While the lessons are steeped in history, the feeling at ABCDance studio is relaxed. "I want people to come here, and feel like they are part of a family," Tabetha says. Her approach to the kids' dance program allows for flexibility based on participation, while still teaching respect for the art of dance. Her combo class format consists of half creative movement, ballet and jazz basics and the second half builds a foundation of tap, rhythm and appreciation for jazz music.
Classes are tailored for each age group so it is easy to understand and still remains fun and exciting. Mr. Fred, as the ballet bar is named, has a personality that takes on a life of its own during class. Tabetha describes how bringing Mr. Fred into the class teaches respect for people and items to the young students, along with the understating that tap is learning an instrument that just happens to be on their feet.
"I approach every class and every student with a fresh start," says Tabetha. "All kids should be able to jump in, have fun and experience dance. All children learn in different ways so it's important to me that I approach each student as an individual and incorporate a wide variety of presenting material to students such as games, "follow me instruction", dissection of material and most importantly fun!"
Each year, ABCDance presents shows to the community. Last holiday season, the event was held at the Bellingham Senior Center, which received all of the collected donations. The spring show highlights the kids' program by featuring tap dance. Last year ABCDance also hosted the Children's Art Walk. "It's such a great way for our students to entertain and show the community what they've learned," says Tabetha.
Tabetha's involvement in community dance extends beyond her studio. Upon arrival in Bellingham, she became involved with the Bellingham Repertory Dance Company as a dancer and as a tap choreographer at Mt. Baker Theater's production of "The Producers". Now, she is working with Brie Mueller on the show "Sugar-A Valentine's Cabaret" as the Choreographer and Assistant Director. The show will be held at the Underground on Valentine's Day.
With the support of her family, the owners of Love to Move StudioZ and the great dance studio space, ABCDance provides dance instruction with fun, flexibility, and experience. Drop in soon to try out a class or two!