For some women, fashion can feel like wearing a straitjacket. Ever since Twiggy came on the scene during the Swinging Sixties, women's clothing sizes have shrunk, despite actual waist and hip sizes increasing with American women. Local clothing creator Teresa Remple sews, manufactures and sells elegant fashions for women whose bodies recall Venus of Willendorf or sometimes referred to as a goddess figure.
The tagline for Teresa's boutique, Texture reads, "Clothing with a Conscience." When I asked Teresa about this brand, she listed off the ethical practices associated with her clothing line and shop.
"We care deeply about women and want to support women in feeling positive about their bodies. And one part of this is to make clothing that fits a curvier shape. We create as many local jobs as possible (garments are constructed in Bellingham and Seattle). And we use as many scraps as we can, so that we send less to the landfill."
I met with Teresa at her boutique on North State Street where we sat on a cozy couch and discussed ecologically-sound fashion. Hailing from Vancouver, Canada, Teresa began playing with fabric in 1999.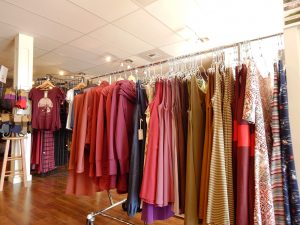 "I've always been interested in textiles and when I learned about hemp fabric I invested in a whole roll to play with along with old chenille bedspreads that I found at Value Village. I hand dyed both of those fabrics and combined them together to make skirts and apron tops. I just really like natural fabrics. They are comfortable, they decompose and they can be grown and manufactured in sustainable ways."
This led Teresa to create the market skirt and four other items which she sold at farmers markets throughout the region.
Teresa recalls, "We started selling at the Farmer's Market in Bellingham in 2001 and added Ballard (and for a short while, Edmonds) to our Farmer's Market presence."
Ten years later, in 2009, Teresa opened her boutique Texture at the North State Street location, one block away from another garment-centered business, Ragfinery (which opened in 2014). One can't help but notice the soft fabrics in eye-catching colors as they walk through the shop door—clothing created from organic cotton and hemp fabrics.
And while her boutique is local, most of her customers reside in Seattle, Portland, and other urban areas in the Pacific Northwest. During the interview, Teresa mentioned that she currently has around 90 wholesale customers which include mostly boutiques and two online companies.
Teresa met the wholesale buyers at clothing conferences over the years. In the past, she traveled as far as the District of Columbia and Chicago to promote her clothing lines, but since that involved too much travel, Teresa currently sticks to regional conferences.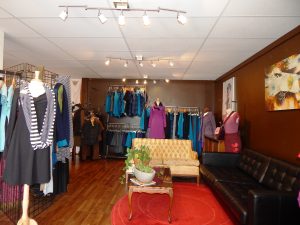 Since she works with high-end and ecologically-friendly fabrics, she tends to attract customers who enjoy the Pacific Northwest fashion which combines soft and flowing with the urban outdoor look (think JCrew with curves). Her dresses look equally well with sandals as they do knee-high boots, as modeled by her local customers.
She begins planning for a season 10 months in advance. This includes taking orders from wholesalers, sketching the clothing line, creating samples, and then sending those samples to regional seamstress shops.
Teresa has expanded from creating clothing lines from two to four seasons. Her clothing ranges from extra small to extra large, with the exception of the Comfy Skirt which also comes in extra-extra large.
Besides the boutique, Teresa still promotes at crafts fairs. "We have also been vending at street fairs and craft shows. We are still vending at the Urban Craft Uprising in Seattle and Crafty Wonderland in Portland. But we did the Green Festival Circuit (SF, DC, Chicago and Manhattan), the Renegade Craft Show, Folklife, Bumbershoot, and many more," says Teresa.
Teresa features other regional clothing designers with a conscience at Texture, including Prairie Underground (Seattle), Nancy LaHatt (Bellingham), Sown Designs (Bellingham), Lynzee Lynx (Portland), Betsy and Iya (Portland) and Flipside Hats (Portland).
While many of us would love to buy local and still keep the cost of clothing affordable, Teresa mentioned the sales rack in the back corner of the store. A colorful array of skirts, dresses, and other items range from 30 to 80 percent off for those money-conscious fashionistas.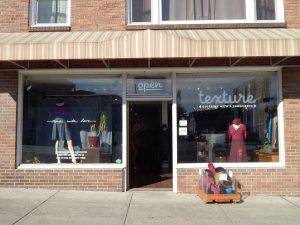 Teresa's future aspirations revolve around designing new fabric and playing more with stripes. Ultimately, like any true business woman, she designs with the customer's preference in mind. She won't be creating any haute couture.
"I have sketches here and there. But if you want to be successful, you have to listen to the customer and design what they want to buy," she emphasizes.
For now the color of the fabric and width of the stripes matters most, along with designing curves with a conscience.
Texture
1425 N. State Street in Bellingham
360-733-3351
Open Monday – Saturday from 11:00 a.m. – 6:00 p.m.