Fear not the cold and flu season.  In Bellingham, we are fortunate to have herbal healers among us. It's where ancient traditions meet with the modern hectic world. And we're reminded of our connection to our beautiful natural surroundings.
Michele Sanger, local herbalist and owner of Living Earth Herbs, brings her years of expertise, training and her plant wisdom to the local community. With her shop tucked into the northeast corner of the Public Market, Michele provides an array of plant-based medicines including, flower essences, tinctures, sprays, oils and dried herbs for teas. She sources only the most pure dry herbs and products for the shop.
Michele says that sourcing these products has become easier. "As more and more folks in our country have come to value organic farming, coupled with the explosion of folks who prefer natural remedies over pharmaceutical ones, there are more excellent sources of certified organic and locally-organically-grown farms of large and small scale available."
With cold and flu season on our tail and the change of seasons, Michele reassures us that we don't need to succumb to misery.
"Getting sick is optional. Just because your partner or housemate is sick, doesn't mean that you have to come down with it. We have proven this over again. We have many tools in the shop for boosting the immune system, including a beautiful array of herbal teas, tinctures and essential oils," says Michele.
When we require help with a health condition, we can rely on Michele's expertise as an herbal healer. Her employees complete an apprenticeship with Michele before starting work at Living Earth Herbs. "I try to teach my apprentices that herbal-ism is an art form, even though science has come along giving us scientific validation. The best way to approach herbal medicine is to use a blend of knowledge, experience and intuition," explains Michele.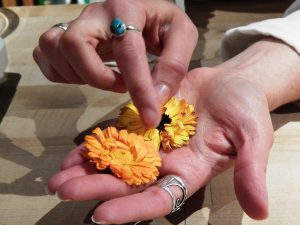 As far as, Michele's journey into the world of healing plants, she began studying flora when she decided to become a vegetarian at the age of 16.
"My mother challenged me to research how to be an adequately nourished vegetarian, since neither of us really knew much about this. Every book and magazine I got on the subject seemed to include information on using herbs for health too, so I really became introduced to herbal-ism as a side topic."
Eventually, Michele signed up for her apprenticeship to learn about the healing power of plants.
"After years of self-study, I did an intensive one-and-half year apprenticeship with Howie Brounstein in Eugene, Oregon, in 1996. After that, I continued taking classes with every teacher that I could access. One year, a group of herbal students organized Susun Weed (known for her Wise Woman series of books), to come out from the East Coast for a weekend long seminar."
The journey into plant medicine led Michele from Santa Cruz to Eugene, and then eventually to Bellingham. "My husband, daughter and I moved here from Oregon nine years ago, after we had spent a year in Chile."
She originally opened shop on Bay Street near the Upfront Theatre and then she received an opportune invitation. "We are in our second location and it's a great improvement. Stephen Trinkaus, the owner of the Public Market talked us into expanding to being open every day."
Living Earth Herbs is a family shop that serves the local community. While Michele features products from outside the community, she also carries products by regional vendors in the shop. The quality of the products (made with love), provide the healing power.
Michele shares her healing philosophy. "Herbal-ism helps strengthen a person no matter what they're going through. There is a botanical remedy for every situation to support a personal journey back to health."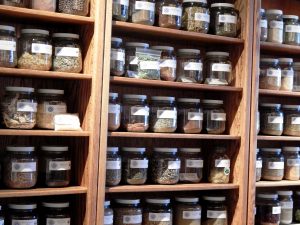 In the event that herbs would counteract a pharmaceutical product, Michele says, "It's safe to take a flower essence with any pharma drug," which isn't always the case with other plant-based medicines.
While anyone can learn about healing with plant medicine and seasonal herbal supplements fly off the shelf, it never hurts to consult with an expert.
Michele welcomes newcomers and veterans to explore her offerings.
"We encourage people to come in to the shop when they have time to check out the various herbal remedies to see which ones will be a good fit for their lifestyle. We have a remedy to fit every budget, taste bud preference or any other concern!"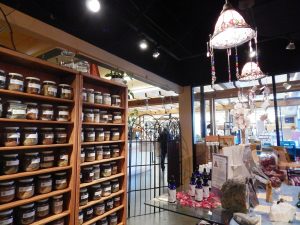 This cold season turn to Living Earth Herbs' bounty for relief.
Living Earth Herbs
1530 Cornwall Avenue (Public Market)
Open: Monday – Saturday from 10:00 a.m. – 6:00 p.m.
Sunday from 12:00 p.m. – 6:00 p.m.