I never thought of myself as someone who needed a life coach. I'm pretty organized. I'm mostly successfully juggling multiple jobs and roles as a writer, mother, teacher, business and home owner. I give myself pep talks when I'm having a bad day. I'm learning to say no more gracefully and making time for theatre and outdoor hobbies. So when my friend, Stephanie Williamson, offered me a taste of the services she offers in her Life and Leadership Coaching business, Steph Will Inspire LLC, I reluctantly accepted. I figured I could recommend it to my friends who really needed it. But as you might have guessed, I discovered that virtually everyone can benefit from the wisdom, motivation, and no-excuses approach that Stephanie employs with her coaching clients.
Stephanie grew up in the suburbs of Sacramento and then studied acting at California State University, Chico. After graduation, her pursuit of a professional acting career brought her to Washington State. "Because Chicago was too cold, New York too big, and L.A. was too high strung, I chose Seattle. It seemed like the perfect city for me," remembers Stephanie. While acting at Skagit Valley's Shakespeare Northwest, she met her husband Bennett Williamson, who is also an actor and was working Bellingham as an engineer.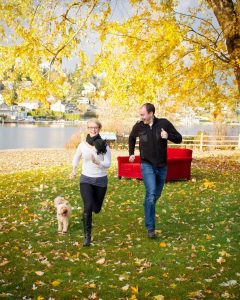 Stephanie moved to Bellingham in 2012 and she and Ben married the following year. Both continue to act in local film and theatre including many productions with Bellingham's iDiOM Theatre. Stephanie worked as a personal trainer for a couple of years before shifting to coaching. "I liked helping people work toward their goals as a personal trainer, but the focus of a coach is to support people to live the rest of their lives, without me," explains Stephanie of how she became a coach. She completed the Accomplishment Coaching training program and is currently working hard to earn her credentials from the International Coaches Federation.
After a free initial coaching session, most of Stephanie's clients do weekly phone or video conversations for several months. We kicked off our coaching experience with an introductory video chat. A couple of weeks later we had an "essence conversation" that is a guided chat meant to help me discover how I operate in my daily life and whether or not that helps me be my true self, my essence. The foundation of Stephanie's coaching is the idea that if you can live in your essence or real you more often, you'll be more content. That sounded a little 'woo woo' to me at first, but as our conversation went on, it confirmed many things I already knew, like that I keep myself too busy, and I identified new areas in my life that I could change if I wanted. For example, I could spend more time savoring small accomplishments, like making a great meal or finishing an article.
During our conversations I jotted notes in a journal as we covered my deepest fears, defense mechanisms, feelings, and emotions and how I usually behave with strangers, co-workers, family, and friends. We also developed a list of my strengths and talked about what's inside and outside my comfort zone. Just going through the process of thinking and talking about it helped me see patterns and themes about how I felt about and interacted with everyday life including family, money, love, friendship, and work. Going into the conversation, I didn't really think there was anything Stephanie would be able to help me with, but afterward I felt invigorated, ready to take actions, and ready to think about things in new ways.
The new discoveries that came out of those one-hour conversations were small, simple, and specific, but also pretty profound when taken together. About half way through our chat I realized her coaching isn't for people who need it. It's for anyone that wants to enjoy being more real. And who doesn't want that?
Stephanie explained that her role as a Life and Leadership Coach is to help people do the work to get closer to living their essence every day, rather than living in the masked version we generally present to the world. "The base of coaching is shifting from living in fear and defensiveness to living your life by your own design," explains Stephanie. "It's getting everything you want from your power, your confidence, your gut, yourself."
Of course, a coach wouldn't be convincing if they didn't walk the talk. Stephanie was her authentic self during our sessions full of frank, confidential conversation spiced with her humor and spunk, plus an occasional swear word or two. Stephanie doesn't beat around the bush and her no-nonsense attitude made me feel relaxed, accepted, and more accountable for the things I want to change.
The follow up weekly e-mails and her blog posts were also inspiring and a great reminder to stay on track. She wrote about the weight of the word "should" and not accepting your own excuses for inaction. She also included her own life as examples, like being courageous about going after new public speaking engagements and taking a leadership role as facilitator of Whatcom Young Professionals (WYPS) weekly networking coffee meetings they call The Buzz.
Apparently, I'm not the only one who noticed Stephanie's professional drive because she was nominated in September 2016 for 'Emerging Leaders: Top 7 Under 40,' a recognition awarded by a partnership between WYPS, Bellingham Whatcom Chamber of Commerce, and the Bellingham Business Journal.
Stephanie says some people confuse life coaching with therapy. "Counseling helps you look at the past. Coaching helps you look at the present and take action moving forward. Powerfully choosing how you want a transition to go. Choosing positivity in a situation, getting clear, letting go of judgment and stories and getting to the facts. Choosing who you want to be and how you want to relate," explains Stephanie with gusto. Wouldn't the world be a better place if we could all get closer to that?
Many of Stephanie's clients are young professionals pursuing their dreams and goals but almost anyone can benefit. She also does small group coaching called Lady Leaders, for women tackling major goals, as well as Team Transformation for business teams that want to develop their vision, communication, and culture. "I'd like to work with people and businesses who are already doing great things but who are ready to take it to the next level," notes Stephanie. "The real work happens during the week between our calls," she adds. "They don't need my help, they want it. I'm a partner in calling them forward into who they want to be. I challenge them to challenge themselves."
To learn more, visit Life and Leadership Coach Stephanie Williamson at www.stephwill.com.