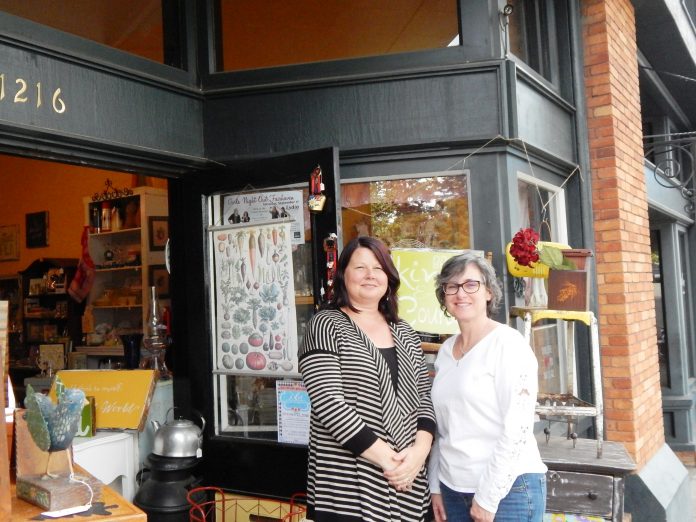 Intriguing boutiques appear throughout Bellingham. And a plethora of one-of-a-kind shops pepper Old Fairhaven. We find unique gifts, gently worn high-end clothing, and eye-catching furnishings within walking distance. Tourists and locals alike enjoy spending lazy afternoons exploring vintage and consignment shops in Fairhaven.
While the Fairhaven Antique Mall closes its doors in October, two new vintage shops recently opened for business on Harris Street. In fact, a stroll down Harris features Something Found (1216 Harris Avenue), Current and Furbish (old Fairhaven Pharmacy building, 1115 Harris Avenue) and Southside Trends (910 Harris Avenue, #107). And a quick jaunt onto 11th Street brings you to the high-end consignment shop Serendipity (1201 11th Street, #102).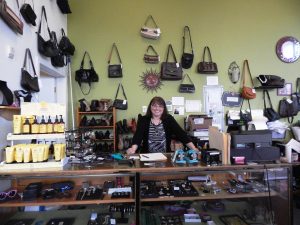 When I was on my way to Village Books, I noticed refurbished tables, dressers and colorful glass items spilling out onto the sidewalk. I wandered into Something Found thinking the shop was aptly named. Co-owned by long-time Southside residents Helene Fellows and Jamie Schwindt, the shop's mission neatly fits on a business card. And browsers do find vintage, upcycled, jewelry and handmade wares in the shop.
The co-owners make good use of the small space without cramming treasures into every corner. With enough space to walk through, no one will knock over a glass vase with an unruly backpack or large purse. Glassware and ceramics make up the bulk of items. However, upcycled goods created by local artisans catch the eye as do a collection of glass hens located at the front of the shop.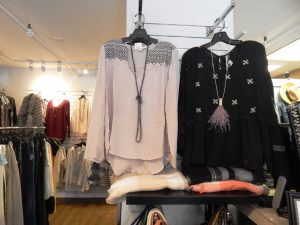 As far as the location that once housed a record store, Helene and Jamie attract foot traffic. They have chosen just the right furnishings and vintage wares to place on the sidewalk to lure in wanderers. And on my visit to the shop, I watched customers delight in their purchases. One woman purchased a large ceramic tray that she planned on using for upcoming holiday parties. The shop fits in with current trends revolving around buying local and transforming old objects into fascinating centerpieces.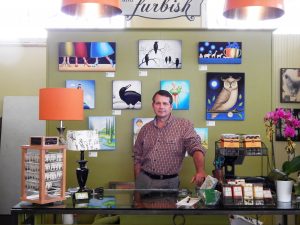 Cross the street and visit Current and Furbish for a similar experience. Artist Scott Ward and his partner Cameron Vail also sell one-of-a-kind items. While Scott and Cameron sell refurbished dressers and tables, the shop also functions as a gallery displaying Scott's paintings throughout. The shop provides plenty of leg, purse and backpack room so it's easy to browse without knocking over an expensive blown glass vase.
A collection of pewter crabs caught my eye as did the pink vanity tucked away in the far corner of the shop. The shop provides both luxury items as well as tourist fare in the form of postcards and knick-knacks. And the shop's concept works well with the Fairhaven Pharmacy built in the late 1800s. The new occupants of the space also provide shoppers with a sense of whimsy without the prescription drug refills.
For those folks searching for high-end fashion at affordable prices, head to Serendipity. Situated next door to the Karibou Salon and across the street from Village Books, the shop's emphasis is on contemporary bohemian or chic ethnic. Similar to Something Found, this shop drew me in with its sidewalk display. Designer jeans range from $10 to $50, which leaves some shoppers with extra funds to purchase unique jewelry, hats or shoes. Or what about one of those ethnic skirts to go with a mod bohemian or urban hippie look?
Lisa Lee founded the consignment shop in Kirkland approximately eight years ago and then opened another Serendipity shop in Bellingham two years later. While the clothing is carefully displayed, the shop has little elbow room. Yet the shop's ambiance offers a pleasurable shopping experience. And while the shop appeals to locals and tourists, I only encountered summer tourists the handful of times I visited the shop. On one of my visits, two shoppers from Northern California seemed delighted to splurge on consigned shoes.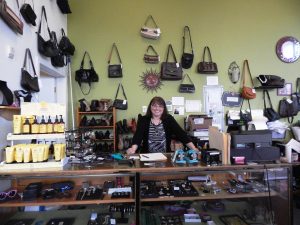 And for those on a clothing shopping frenzy, head down Harris Avenue to Southside Trends. This consignment shop owned by Kathy Lee (also the organizer for the annual Steam Punk Festival) features new and consigned sportswear and casual wear. Kathy Lee says that her biggest seller is clothing by Eileen Fisher. Kathy originally opened a shop in the Fountain District then she opened her shop near Bellis Fair Mall prior to landing in Fairhaven.
All the shop owners enjoy their Fairhaven locations as well as, fitting into current trends, which seems to be moving toward an eclectic mix of vintage and new. Something Found and Furbish and Current sell art by local artists and upcycled goods by artisans who transform something old and used into attention-getters. And the saying goes, someone's loss is someone else's treasure.