Seattle native-turned-Bellinghamster McKenzie Temple grew up playing in the mountains.
"Skiing is nearest and dearest to my heart," McKenzie says. "That's how I grew up, skiing every weekend with family and meeting life-long friends along the way."
Those early ski trips shaped McKenzie into who she is today — an active outdoorswoman and regional director for two outdoors non-profit organizations. She's managed to accomplish what many of us hope for by turning her dreams into reality. In McKenzie's case, that means turning a lifetime of mountain adventures into a rewarding career.
"It took me a while to figure out how to play as much as I wanted, but I also put in my time in the corporate world at a desk," McKenzie says. "That's where I would dream up adventures that I somehow always made a reality."
McKenzie first moved to Bellingham three years ago, after a trip up to Mount Baker Ski Area for the Legendary Banked Slalom. She fell in love with Bellingham. "It was exactly what I was looking for," McKenzie explains. "Not a big city, but still close to mountains, water and my Seattle-based family. How can you not love Bellingham? You can mountain bike to work!"
Before moving to Bellingham, McKenzie was working at Crystal Mountain Ski Resort near Mount Rainier. During her time at Crystal Mountain, she met the crew from SheJumps, a non-profit organization whose goal is, "To increase the participation of women and girls in outdoor activities." McKenzie initially got involved with the organization five years ago as an event attendee and volunteer. Today, she is the Pacific Coast Regional Director of SheJumps.
Founded in Salt Lake City, Utah in 2007, SheJumps has gone nationwide in its efforts to get girls outdoors. Programs are available for ladies of all ages and operate in several distinct regions throughout America. And with the Pacific Coast Regional Director based here in Bellingham, we can expect to see some local events soon.
"Our Youth Initiative Program is called Wild Skills and is led by the amazing Wild Skills Director, Christy Pelland," McKenzie says. Christy was also responsible for a recent Mount Rainier fundraising climb, in which more than $25,000 was raised to expand programming. McKenzie explains, "Eight ladies signed up to climb and fundraise, and it was a smashing success. Now we can use that money for more programs, like in Bellingham!"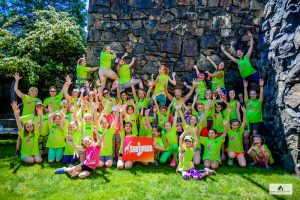 The next Bellingham Wild Skills program will take place August 27 at Whatcom Falls Park. "Wild Skills is a day for young girls to learn the skills they need for outdoor adventuring," McKenzie says. "Our goal is to see girls learning, having fun and connecting in an encouraging environment with amazing instruction and support."
SheJumps offers programs for adults, too. They recently held a mountain biking event at Stevens Pass called "SheShreds Stevens." To welcome riders of all abilities, local lady instructors provided downhill bike lessons for beginners. McKenzie explains, "We have some of the best female riders right here in Bellingham. They are always excited to volunteer their time to help with free skills clinics, or just show the ladies around the trails." Keep an eye on the SheJumps calendar for more local events throughout Washington and the Pacific Coast.
The weekend of August 27 will be a busy one for McKenzie. In addition to SheJumps, McKenzie is also the Northwest Events Director for 5Point Adventure Film Festival — another non-profit with big Bellingham plans for the last weekend of August.
5Point is an outdoor adventure film fest like no other. The festival originated in Carbondale, Colorado nine years ago, and has since expanded to Bellingham and two other regional locations. Built on five "points" — Commitment, Humility, Purpose, Respect, and Balance — the festival is all about inspiring adventure and building a sense of community. According to McKenzie, "If you have not experienced a 5Point event, it will change your life."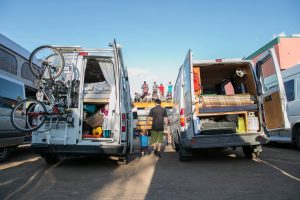 Attendees can expect all things outdoors during the three-day festival in Bellingham. More than just a film fest, 5Point offers up a Van Life rally, live music, yoga, community parties, beer, food, family, and much more. McKenzie has been working hard on the Bellingham 5Point Film Festival all summer and is excited to share the event with our community.
"We have tied in the SheJumps Wild Skills to this event, so the kids can go from Wild Skills to an adventure film program and then to a family party in the street," McKenzie explains. Check out the event on Facebook for more info.
When asked what she most enjoys about her work, McKenzie's answers are as colorful as her various roles and skills. Her meetings take place on an afternoon ride at Galbraith, on a chairlift, or over a local microbrew. She plans events for the benefit of others, and also to learn new skills herself. "If I want to learn how to do yoga on a paddle board, I plan an event and get my friends to come learn and hopefully meet some new people to play with," McKenzie says.
And her life philosophy? McKenzie sums it up in a single sentence: "Life is about having fun, so let's all have fun together!"