Submitted by Bellingham Farmers Market
When Chef Andy Nguyen started his restaurant career, the ingredients he worked with came off a truck. "You called up to say I need half a pig, strawberries, salmon, whatever, and then it would show up on the next delivery," he recalls. Now, Nguyen sources ingredients from farmers and producers who live 10 minutes away from his Whatcom County home and the Drizzle Lynden kitchen where he is turning out simple, creative dishes inspired by the abundance of local farms.
In Whatcom and Skagit counties, "I have everything I need at hands' reach," Nguyen says. Starting this month, the chef will share his enthusiasm for local food and farmers by appearing each week at the Fairhaven Wednesday Market from 1:00 p.m. to 3:00 p.m. to answer questions, share recipes and provide inspiration for home cooks. Look for him next to Terra Verde Garden's booth on the Fairhaven Village Green. The Wednesday market is open noon to 5:00 p.m. Wednesdays through August.
"Chefs are really important," says Skuter Fontaine, who owns Terra Verde with his wife, Amy. "They can give us the best feedback. Someone like Andy who is a regular customer gives us really excellent feedback. Selling directly to chefs also fills out farmer market sales and helps the farmers market as an organization. When someone eats at a restaurant that features local produce, it helps people get familiar with what's grown locally and how to prepare it." Fontaine hopes visitors to Nguyen's Wednesday market booth will try something new and then return with a recipe to share.
Nguyen sees the Wednesday market appearances as one more way he can support local farmers. "No one gets to see how hard they work," says Nguyen, who lives with his wife and two-month-old son in Everson. "It's easy to get up on a Saturday and buy radishes at the market. Because I visit them at their farms, I see them in their boots and tank tops with their farmers' tans." Or, their pajamas. Once when Nguyen was in an early-morning rush, a farmer friend harvested produce for the chef before he had even had time to change out of his pajamas.
Nguyen, who regularly shops the Bellingham Farmers Market both downtown and in Fairhaven, adds, "It's gratifying to see dollars going back to support them and the community."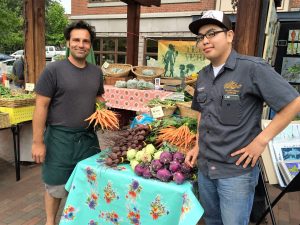 The 26-year-old chef was born and raised in Whatcom County. When he started out, cooking was "just a job." The culinary school at Bellingham Technical College changed that. Instructor Chef Michael Baldwin "pushed me to go somewhere, to learn and to make a difference," Nguyen says. With Baldwin's encouragement, Nguyen moved to a restaurant in Sun Valley, Idaho, and then to the W in Seattle. "At the W, here we were in the middle of the city, and people would be walking in the door with amazing mushrooms" and other locally sourced foods, he says. "I began to truly appreciate where our food comes from."
To be closer to home, Nguyen left the W to work at Chuckanut Manor on Chuckanut Drive. There, with the support of owner Pat Woodcock and the inspiration of general manager and former Willows Inn sommelier Eric Bemis, he added new life to the historic roadside restaurant with a seasonal menu that drew heavily from Whatcom and Skagit county farms, including his legendary Wednesday farm-to-table dinners sourced from the Fairhaven Market.
Now at Drizzle Lynden, that commitment continues. When Drizzle owners Ross and Dana Driscoll decided to expand by opening a store on Lynden's Front Street, they recruited Nguyen as chef and asked him to craft a menu to showcase their vinegars and olive oils. It's the continuation of a partnership that began when — to build their brand and familiarize local shoppers with their olive oils and vinegars — the Driscolls hired the young chef to create six-course pop-up dinners at the shoe-box-sized space of the original Drizzle location. "They gave me a shot," he says. Thanks to that experience, Nguyen adds, "I can cook anywhere. I think them every day for the experience. I was able to practice and to learn."
All that experience is on display at Drizzle Lynden where Nguyen's menu features produce and products from 20 local farmers and producers in rustic sandwiches, salads, pastas and desserts. The Drizzle Boards are gorgeous palettes of meats, terrines, fruit and artisan cheeses paired with the chef's homemade pickles, olive relish and chutneys. Nguyen uses Drizzle vinegars to pickle local vegetables such as carrots, zucchini, onions, beets, radishes and rhubarb. The chef and his four-person crew make up small batches of salads and other dishes so that each order is as fresh as possible, ensuring diners experience the vegetables and other ingredients at their peak. "It's just as it should be," Nguyen says. "The food you see is the food you get. How simple is that?"