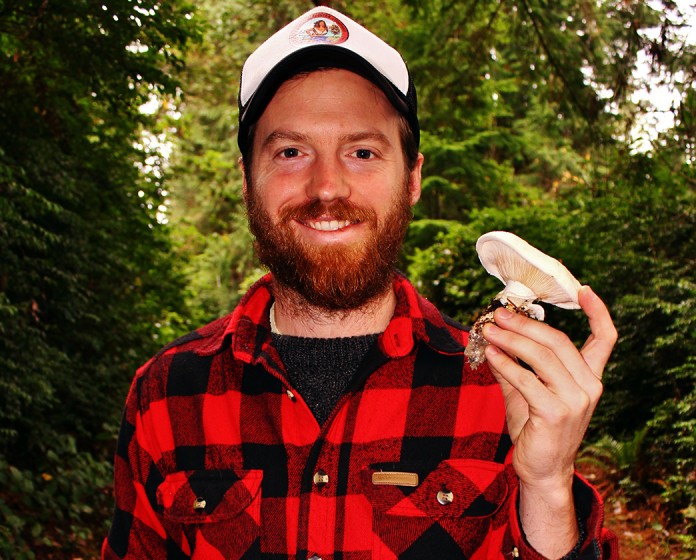 Mushrooms and fungi have fascinated Cascadia Mushrooms founder, Alex Winstead, since his childhood. Growing up near Seattle, his family would vacation on the Olympic Peninsula where they would come across a variety of mushrooms growing along side trails where they would explore. While he was interested in the fungi, his curiosity was met with disclaimers from his parents to be cautious.
"A friend introduced me to mushroom hunting again when I was a little older," Alex said. "It was so fun, and it led to an interest in growing them."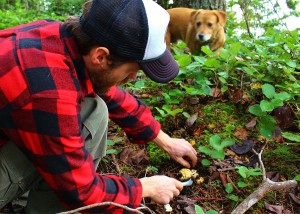 Alex moved to Bellingham in 2005 after graduating with a degree in mycology from The Evergreen State College. He established his first mini mushroom farm in the basement and garage of his rental home.
"I grew enough mushrooms to do the farmers market," Alex recalled. It turns out that Alex's basement-grown mushrooms were a hit. He quickly sold out of what he had produced on that micro scale and knew right away that he was going to need a bigger growing space. Cascadia Mushrooms was popular in part because it stood out. "There was nothing quite like it here."
What began as a tiny operation at home has since grown into a full-time farming business. In 2009, Alex was able to take advantage of a loan program through the USDA to procure the 2.5-acre property Cascadia Mushrooms now calls home. They produce a mix of fresh mushrooms, mushroom kits, and compost, and offer workshops for the public.
Cascadia Mushrooms has 7,000 square feet of insulated growing space, allowing for year-round efficient production of a variety of mushrooms for markets, CSAs, and restaurants, including Shiitake (their most popular variety), Blue Oyster, Gold Oyster, Lion's Mane and the adorable Pioppino, among others. Alex and his team of five part-time employees harvest mushrooms often — and lots of them.
"We produce between 300 and 400 pounds of shiitake mushrooms each week, and probably another 100 to 150 pounds of other mushrooms in addition to that," Alex explained. "And they're all Certified Organic."
What does indoor mushroom production involve? It all starts with Certified Organic alder sawdust from a local mill, mixed with a bit of organic barley and wheat bran. This mixture is steam sterilized before introducing the mushroom spawn for incubation.
"The incubation room holds about 9,000 mushroom grow-bags, all in different stages of incubating mushrooms," Alex explained. The sealed plastic bags are dated as they get introduced to the incubation room, and they spend a couple weeks or a couple months—depending on the species—in the climate-controlled environment until the logs are ready to be freed from their bags and moved to the grow room. "Each bag ends up yielding about three-quarters to one pound of mushrooms."
Mushrooms grow from the tops and sides of the sawdust logs, perched on rows of shelves. Once the fungi have been harvested, the logs are broken down and turned into compost. This compost is rich in nutrients and perfect for garden use, but because of their current set-up at the farm, it's not generally available until later in the growing season. Alex hopes to be able to offer compost to the public on a more regular basis in the spring of 2017.
The farm's fresh mushrooms and mushroom growing kits can be found locally at the Community Food Co-Ops in Bellingham and Skagit Food Co-Op in Mount Vernon, Bellingham Farmers Market and Terra Organica. You can taste their delicious mushrooms when you're out for a bite to eat at Mount Bakery, Rock n Rye Oyster House, D'Anna's Cafe Italiano, Boundary Bay Brewery, Adrift Restaurant in Anacortes, The Oyster Bar on Chuckanut Drive, and Cliff House.
Cascadia Mushrooms also offers a variety of workshops in the spring and fall, including growers workshops for people who want to learn more about growing the tasty morsels at home, and mushroom foraging classes to learn how to safely find mushrooms in the wild — the skill that inspired Alex to start his business to begin with.
Cascadia Mushrooms is located in North Bellingham. Visit Cascadia Mushroom's website or give them a call at 360-714-8859 to inquire about tours, apply for a wholesale account, or sign-up for one of their seasonal workshops.
Sponsored