Long-time Bellingham-area resident Cayley Schmid has made folk music the central focus of her life — through teaching, performance and organizing area festivals and clubs — while sharing that love of music with the Whatcom County community.
Schmid moved to the Bellingham area at the age of 5 from Vancouver, B.C. and has lived in Bellingham and Ferndale ever since. Schmid's parents, also residents of Whatcom County, have always supported her music education. Her father, Rob Schmid, works as a local builder and her mother, Zynet Schmid, works for the Whatcom County Library System.
As a child, Schmid traveled and performed competitively throughout the Pacific Northwest, Canada, and even Australia in Scottish highland dancing with Bellingham's Clan Heather Dancers. "I danced to Scottish music, but would hang around after my lesson to watch the Irish dancing class and that was my first introduction to Celtic music. My parents had Chieftains and Natalie MacMaster records and took me to see Riverdance," explains Schmid of how she found Irish music.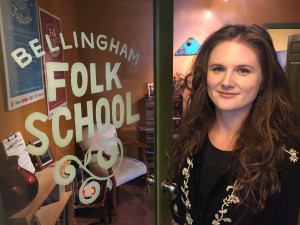 "When I was 12, my aunt gave me a fiddle that my cousin didn't want anymore. I took six months of classical violin and then my dance group performed at Mount Baker Theatre with Anna Schaad, who lived in Bellingham for at least 20 years. Anna had this long velvet gown, and a smoke machine, and an electric violin playing Irish tunes and it was the coolest thing I'd ever seen," explains Schmid. "I took lessons from her and she was a great teacher and so inspirational."
Throughout middle and high school, Schmid took lessons from Schaad and, after graduating, she was invited to perform with Schaad on fiddle and a little bodhran (Irish hand drum). "Looking back, I had no idea how special that was, and I feel so much more comfortable now as a performer because of that experience," note Schmid.
After attending Western Washington University for a year, Schmid landed a job as a professional musician at the American Music Theater in Pennsylvania. "At 19, I'd never been away from home for more than three days until then and suddenly I was on stage two shows a day, six days a week for two-and-a-half months," remembers Schmid. "It whipped me into shape and got me over any jitters I had. I learned so much."
But coming back to Western just didn't feel right so Schmid made a new plan—a plan to take workshops to expand her experience and immerse herself in the folk scene. Meanwhile, Schaad chose to leave Bellingham and in the process, needed someone to take on her large group of music students. Schaad chose her protégé and Schmid accepted the challenge. "All of a sudden I stopped taking lessons and I was teaching them—lots of them. That's when I realized I could do it and that I really enjoyed it. But I felt like I needed to keep taking lessons so that I could give them," explains Schmid.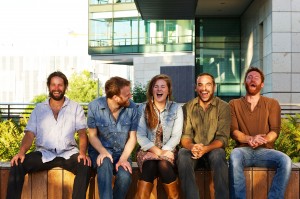 Schaad introduced Schmid to Bellingham cello player, Clea Taylor. The two clicked over their mutual love of Irish music and began attending folk workshops together. Those workshops and camps had a huge impact on Schmid and the role of music in her life. "I love that people from all different livelihoods, age groups, and background knowledge can come together and learn something together and really connect," explains Schmid. "Seeing that made me think it was possible to do something like that in Bellingham."
To create a local opportunity for her students and others in the community, Schmid created the Bellingham Folk Festival. The festival is held in January each year and includes three days of inspiring workshops by local and visiting teachers plus performances, dances, and jams for all ages and abilities. "I hear from the elder community how happy they are that we're introducing this history to a younger audience. It's also a great opportunity for young people to see their peers into to the same thing and bringing people together," notes Schmid.
After she got the festival rolling, Schmid realized she wanted it to happen more often than a single weekend each year. "The Bellingham Folk School came about because I wanted to start teaching group lessons on a drop-in basis without a lot of cost. We want kids to come try it and see how much fun it is," explains Schmid. Three different levels of children's classes are available as well as one for adults. Located next to Allegro Strings on Cornwall Avenue, just down from The Leopold, the Bellingham Folk School is also available for use by other Whatcom County music teachers and performers.
While Schmid's performance experience has focused on Irish music, her teaching experience has broadened, with a range of styles within the folk genre including Scottish, American, and Swedish tunes. "I feel passionate about preserving and respecting the history of the music while also being open to learning new, fun tunes. That history can inform you but it doesn't have to rule you," adds Schmid.
Schmid also started the Ceili Club in August 2013, which is Irish Gaelic for kitchen party, and includes singing and dancing. The club's focus is to support Irish musicians in their learning process in a laid-back environment.
When not teaching, Schmid plays fiddle with two Bellingham-based bands. Giants' Causeway is an Irish and Scottish folk band that includes cellist Clea Taylor who has played with Schmid for seven years, plus Sam Vogt on guitar, Zach Bauman on mandolin, and David Lofgren on bodhran. "When Clea and I met, we thought we were the only people in Bellingham that liked Irish music. We played weekly gigs at McKay's Taphouse, Uisce, and the Copper Hog for a year. Then when we met Sam and found out he loved Irish music too, and it was no-b that we would be in a band together," says Schmid, laughing.
One of Bellingham's most popular bands, Polecat, has kept Schmid busy on the fiddle for six years. "Singer and guitar Aaron Guest saw Clea and I at the Bellingham Farmers Market," remembers Schmid. "He invited me to play in his bluegrass band. I was intimidated because I mostly knew Irish music, but I said yes anyway and learned chords and soloing. He selected the drummer Karl Olson, the bassist Richard Reeves, and electric guitarist Jeremy Elliott. He knew what he wanted and he got the formula on the first try. That's very strange for a band."
Polecat started in March 2010 and Schmid and Guest started dating — with the band's permission — in August of that year. "We had a meeting about it. It can really mess things up, but they said okay. We got engaged in September of 2014 and married in October of 2015," Schmid shares. "As my interests and obligations have grown, Aaron has taken on more and more of the Polecat responsibilities. In the band, we're like the mom and dad. It's almost more like a domestic partnership than a business partnership," adds Schmid, laughing.
Now that they've been playing together for several years, Polecat is enjoying the freedom to be selective about their gigs and are able to balance performance with other parts of life. "We're not road warriors. I've been able to have students, manage the festival, the Ceili Club, have Giants' Causeway, and family all at the same time. That balance is important to us," explains Schmid.
Schmid has expanded her experience with trips to Ireland, traveling with pal Clea and other Irish fiddle players in her family. "I want to continue to learn how musicians make better workshops, teach well, and put on better festivals," notes Schmid. "Then I want to find a way to recreate that in Bellingham for all levels and ages here."