It's that time of year again: Time to hunt all the Easter eggs! Grab a basket and your little ones and head to any of these area events for some wholesome family fun.

All of the following events take place on Saturday, March 26, except where noted.
Elks Lodge Easter Egg Hunt
Bellingham Elks Lodge #194, at 710 Samish Way in Bellingham, hosts a free community Easter egg hunt at 11:00 a.m. Children ages 1-10 years old can search for eggs, with each age group being staggered. Eggs will be hidden outside, weather permitting, and the Easter Bunny will be on hand to visit with the children.
BelleWood Acres — Easter on the Farm (March 26 and 27)
Join BelleWood Acres for a whole weekend of Easter Bunny fun, Saturday and Sunday from 10:00 a.m. to 3:00 p.m. On top of a delicious country brunch and continually hunting for eggs (ages 1-12), there will be a petting zoo, pony rides, family photos with the Easter Bunny, face painting, a scavenger trail hunt, and apple bin train rides. The egg hunt is $10 for kids; brunch tickets are $24 for adults and $10 for children under 10. Order tickets online here.
Lettered Streets Easter Egg Hunt
Gather at 10:00 a.m. in Fouts Park at Ellsworth Street and H Street in Bellingham for the 8th annual Lettered Streets Easter egg hunt, which includes a free Easter egg hunt for kids 10 and under, plus a bounce house, crafts, snacks, family photos, and door prizes from local businesses. Sponsored by the Lettered Streets Covenant Church.
The Great Community Easter Egg Hunt in Ferndale
Industrial Credit Union and the Ferndale Boys and Girls Club bring their annual Great Community Easter Egg Hunt to Pioneer Field, next to the Ferndale Boys and Girls Club, at 10:00 a.m. Children ages 1 to 12 years old are invited to search for over 6,000 eggs. Bring your camera and snap photos with the Easter Bunny, who will be available from 9:30 a.m. until 30 minutes after the egg hunting ends.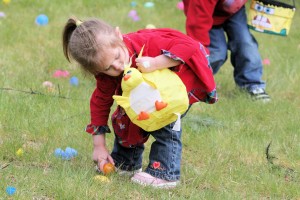 North County Christ the King

Community

Church Easter Extravaganza 2016
Kids will enjoy Easter egg hunts (at 10:00 a.m. and 12:00 p.m.), games, face painting, performance and fun at North County Christ the King Community Church, 1835 Liberty Street in Lynden. Over 7,000 candy-filled eggs will be waiting to be discovered. For more information, call 360-318-9446 x133.
Sudden Valley

Easter

Egg Hunt
Each year, Christ the King Sudden Valley organizes a community-wide Easter egg hunt and hot dog roast at the Sudden Valley Dance Barn, 8 Barn View Drive. Easter egg hunts for babies through 12-year-olds begin at 10:30 a.m., followed by field games hosted by the Sudden Valley YMCA.
Arne Hanna's Egg Hunt in the Pool
Egg Hunt in the Pool – 4:30 p.m. to 6:30 p.m. at Arne Hanna Aquatic Center, 1114 Potter Street in Bellingham. Suit up the kids and let them search for eggs hidden underwater! Children six years and under require an adult to accompany them in the pool. Regular admission costs cover this fun event.
Sumas Easter Egg Hunt
Come meet the Easter Bunny and enjoy a free Easter egg hunt at Sumas Park, beginning at 11:00 a.m.
CTK Ferndale Easter Hunt (Sunday, March 27)
CTK Ferndale hosts its annual Easter egg hunt at 11:15 a.m. in the field next to the church. 5627 3rd Avenue in Ferndale. There will be three age divisions for kids 1 to 12 years old. More than 3,000 eggs will be stuffed with candy, toys, prizes and cash! Free coffee and hot cocoa available.
17

th

 Annual Mount Baker Golden Egg Hunt
Imagine more than 4,000 eggs full of candy and raffle tickets for $18,000 in prizes hidden on the slopes of Mount Baker for kids (and adults) of all ages to find. Find the one Golden Egg and you're the winner of a 2016-2017 Mt. Baker Season Pass. The hunt begins when the lifts open at 9:00 a.m. and ends at 12:30 p.m. For more information, visit www.mtbaker.us.
Boundary Bay Easter Brunch and Egg Hunt (Easter Sunday, March 27)
10:00 a.m. to 2:00 p.m. at Boundary Bay Brewery, 1107 Railroad Avenue in Bellingham. Enjoy brunch and an Easter egg hunt – at 11:00 a.m., sharp! – in Boundary Bay's beer garden, geared toward the little ones. Available to brunch participants only, reserve a spot between 10:00 a.m. and 1:30 p.m. by calling the brewery at 360-647-5593. Cost: $24 per person, $12 kids 6-10 years old, $18 seniors, and free for kids 5 years and under (with purchase of adult meal).