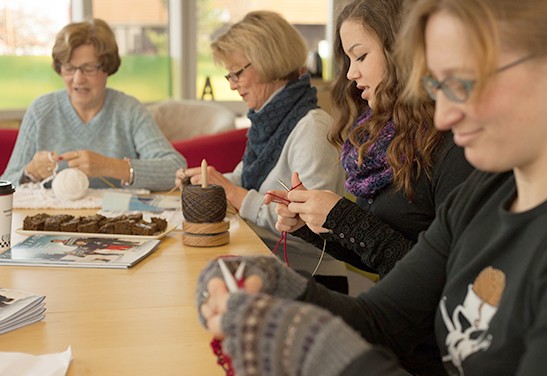 By Laura Rogers
Many of us are already gearing up for hibernation season. Besides a hot mug of tea, a yarn or craft project is about the most relaxing fall experience I can imagine. And after a hectic summer, who doesn't want to curl up with a blanket-in-the-making or a needle felting project?
Luckily, Whatcom County has some pretty outstanding yarn and craft stores to get you stocked up for the cold season. Whether you're brand new to the hobby or a seasoned fiber artist, you will surely find something to weave into a beloved project.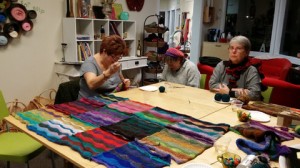 Apple Yarns
Apple Yarns on Iowa Street opened in 2007 by husband and wife team Andrea and Andrew Evans. The couple was looking for a deeper connection to community and something reminiscent of the hardware store Andrea's parents' owned when she was a child. Andrea explains that "what sets Apple Yarns apart from other stores is our 'smile' and how we always want to have a relationship with our customers."
Yarn selection is a main focus at Apple Yarns. Andrea and Andrew are always broadening their yarn horizons with national conferences and their online yarn sales. "We have a greater reach throughout the US and I think that leads to our product quantity and diversity," states Andrea.
Apple Yarns also holds all kinds of classes. From free social knit or crochet gatherings to specialty classes to charity crafting, there are ample options for getting crafty in a social setting. The store's patrons participate in the Knitted Knockers program, which relies on volunteers around the country to knit thousands of prosthetics for breast cancer survivors. They also knit and donate items for the Whatcom Hospice Foundation's event, Light the Night.
Apple Yarns
1780 Iowa St #103
Bellingham, WA
360-756-9992
Hours:
Monday through Friday: 10:00 a.m. to 6:00 p.m.
Saturday: 10:00 a.m. to 5:00 p.m.
Sunday: noon to 4:00 p.m.
NW Handspun Yarns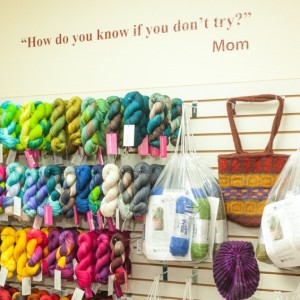 A fixture of downtown Bellingham, this friendly yarn store, has a classic, yet hip, vibe to it. There is always someone willing and eager to help when you walk in the door. In addition to their great counter service, there are several free drop-in classes held in their upstairs loft area. Knit Night happens weekly on Tuesday evenings at 5:30 p.m., and all abilities and styles are welcome, including knit, crochet or spinning. Knit Day is the same format and held Wednesdays at 1:00 p.m. Crochet specific drop-in happens on Sundays at 1:00 p.m. There are also classes held in lace, spinning and weaving, and other classes can be started up upon request. NW Handspun loves to design classes or lessons around their customers needs and interests. There are private lessons available, as well.
What stands out to me about NW Handspun Yarns is their breadth of products and experience. In addition to their super soft, fun yarn, there are spinning wheels of all shapes and sizes and roving galore. Looking through their store or their website feels a bit like a history lesson on spinning, weaving and knitting.
Yarn lovers will appreciate the vast selection of beautiful yarn options listed on NW Handspun's website, but not all of the yarns are carried in the store consistently. Be sure to call ahead to see if the yarn your yearning for is in stock.
NW Handspun Yarns
1401 Commercial St.
Bellingham WA 98225
360-738-0167
Hours:
Tuesday through Saturday: 11:00 a.m. to 6:00 p.m.
Sunday: 11:00 a.m. to 3:00 p.m.
(Closed Mondays)
Wool Station
The Wool Station is another gem located in Historic Fairhaven across from the library on 12th Street. They've recently moved directly upstairs from their previous location. This fabulous fiber arts store carries a lot of high quality yarn. Among their best are specialty yarns imported from France, Italy and Australia.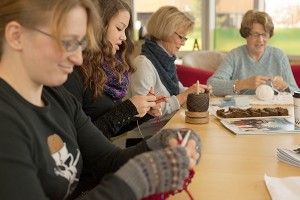 If you happen to be looking for a sure-fire project, Wool Station is the place to go. Fully compiled kits are one of their fortes. Each kit comes with a pattern, a high quality color photo and easy-to-understand instructions, along with all of the yarn you'll need. Especially for beginners, it's nice to focus only on the creation of your project, not all of the details that go into finding the right supplies.
Wool Station
1118 Finnegan Way, Suite 104
Bellingham, WA 98225
360-527-9831
Hours:
Sunday and Monday: noon to 4:30 p.m.
Tuesday through Saturday: 11:00 a.m. to 5:30 p.m.
Beach Basket Yarns
If you live in or near Birch Bay, Beach Basket Yarns should be your go-to shop for all things yarn related. They have a full class schedule set-up and ready for fall. Classes include sock making, quick gifts, how to block, knitted ornaments and more.
Beach Basket Yarns
7620 Birch Bay Dr.
Blaine, WA 98230
360-371-0332
Hours:
Wednesday through Friday: noon to 5:00 p.m.
Saturday: noon to 4:30 p.m.