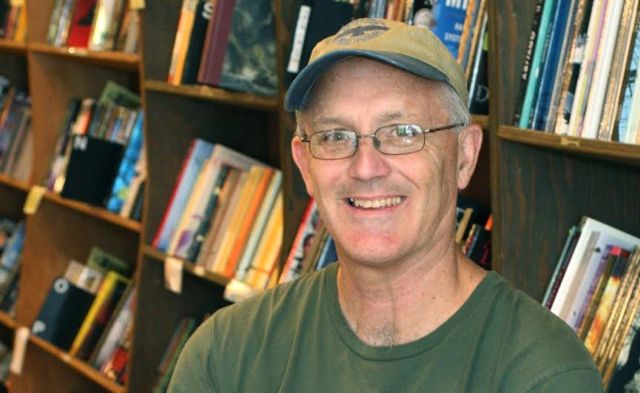 By Stacee Sledge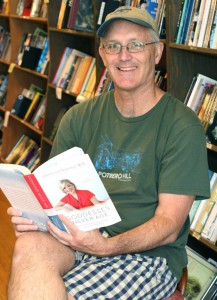 There's no question about it: Village Books has been a Bellingham institution since its inception in 1980, alongside sister store Paper Dreams, which came two years later.
A huge part of what makes both so special is its owners, Chuck and Dee Robinson – and the staff members they've carefully selected over the years to help run the now-combined stores.
Rem Ryals spent 19 years at Village Books. WhatcomTalk recently spoke to him on the afternoon of his very last day on the job – as he reminisced over a span of time that saw him in many different roles, enveloped by a special place that grew and changed around him.
Ryals grew up in Richland, Washington and attended Seattle University. He lived in Seattle for 15 years, until 1992, and then traveled extensively, including a year in South America. When he came back, he was ready to move on.
"I loved Western Washington, so I decided to come up here," Ryals says.
His background included working at bookstores in Seattle and New York City, as well as the public library. "For many years I focused on my own writing, like a lot of bookstore employees – we're all kind of secret writers, I think."
In 1996, he applied to be a bookseller at Village Books and was thrilled to be hired.
"I was very excited, because the bookstore already had a really good reputation," Ryals says. On his first day, he attended the store's then-annual anniversary party – its 16th – where Ryals met all of his new co-workers.
"Chuck and Dee have always hired really interesting people, people with unusual backgrounds, artists," Ryals says. "Just really interesting folks who have traveled a lot and have been fun to work with."
He fit in right from the start.
"I loved the atmosphere," Ryals says. "Chuck and Dee have always encouraged a very creative workplace where people could come up with their own projects."
He loved the building that housed Village Books back in those days, too. "For me, it was hard when we moved into the newer space [in 2004]. Although there have been a lot of advantages with the new building – it's beautiful and has handicap access – I think some of our regulars initially missed the old, quaint space we had before."
It took some time, but Ryals grew to appreciate the new building, knowing that for Village Books to stick around for many more years, expansion and a newer infrastructure were necessary.
"That old building has really got a lot of issues," Ryals says with a laugh. "It was a really smart move."
For Ryals, the two spaces – old and new – prompt a philosophical question about what a bookstore is. "There are two kinds of bookstores," he says. "You walk into one and it's got that cluttered, cozy feeling. And then there's the sort of newer bookstore type, open air and there's lots of other merchandise mixed in with the books."
Village Books has been fortunate to experience the best of both worlds.
Ryals began his lengthy Village Books stint as a bookseller, and then managed direct-to-publisher orders. He also led a program Village Books ran for many years with Western Washington University, providing textbooks for professors teaching human services courses online.
"Gradually, I became a buyer," he says. "First I was a used book buyer over in the old space, and then I moved into buying new books, which I've been doing since about 2003. That's been a blast."
Ryals attended local trade shows over the years, but usually preferred to be more behind-the-scenes.
"I've not done a lot of the author events and haven't been interested in that, though I have met authors over time," he says. "For me, it's been more fun to get into the buying – and I love buying used books to this day."
Buying new books has also been "endless fun" for Ryals, rifling through catalogs and seeing what's about to come out.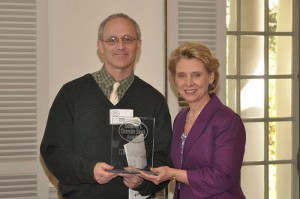 In fact, Ryals' favorite part of the job has been seeing a book before its publication date, falling in love with it, and then being able to promote it. "To get out in front of the critical writing on the book and be one of the first people to say, 'This is a great book' has been fun. Promoting authors I really like has been pretty exciting."
Ryals jokes that nobody buys anything from his employee pick shelf, because he leans toward dysfunctional family stories in the vein of Joyce Carol Oates.
"Jonathan Franzen is another favorite of mine," he says. "And I've always loved reading psychology, writers like Alice Miller."
His favorite fiction writers explore a rich inner life. He's a huge Henry James fan. Ryals says he has recently been moving toward "less dark" authors – "which is probably a good sign."
"I loved Jennifer Egan's book, "A Visit From the Goon Squad," and love Mary Karr and Mary Gaitskill." Ryals worked side-by-side with Gaitskill during his time working at New York City's Strand Book Store.
Ryals mentions another favorite author, Paul Harding, whose "Tinkers," was put out by a very small publisher in 2009. "He came to read here, and then the book went on to win the Pulitzer Prize; usually that goes to someone who is really well-known. I had promoted that book and it was really exciting."
Spend even a short amount of time chatting with Ryals and its clear how important books and writing are to him. He admits that a large part of his social network is found within the walls of Village Books and Paper Dreams.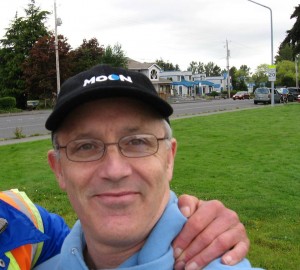 So why leave?
"It's just time," he says. "I'm 57 and realized that if I was going to try something else, this was the time to do it."
He's got a lot of ideas for what comes next. "I think I'm going to teach English," he says, "and of course I want to continue to work on my own writing."
Ryals has no immediate plans to leave Bellingham. "I've already done a lot of traveling and I really love this area."
How does it feel to be just hours away from walking out the door for the last time as a bookseller rather than a book buyer?
"I'm pretty freaked out now," he says, laughing. "When I first made the decision, back in the spring, I was excited, but you know how it is when you get closer to a big decision  – I've never been anywhere as long as I've been here, so I have a feeling I'm going to feel at loose ends and lost for awhile."
He admits to feeling burned out on the retail experience – to be expected after 19 years in the thick of it. "It's only because it's been books that I've lasted this long," he says, smiling. "It's just time to try something else."