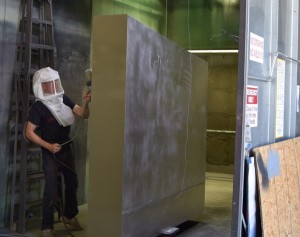 Signs Plus has been a family affair from the very start.
When Jim and Jamie Sutterfield launched the company in 1992, Sutterfield's parents John and Betty Vargas shared their business space and offered plenty of welcomed advice — Betty even cold canvassed all day with her son so he could go back to the shop and make signs at night.
Today, the Sutterfields' 24-year-old daughter Sydney is a Signs Plus Project Manager, and Jim says he'd be thrilled if she wanted to lead the company some day.
From small beginnings creating banners, sandwich board signs, and vehicle lettering to today's lengthy (and impressive) roster of local, regional, and national clients with electric and non-electric signage of all stripes, Signs Plus has grown into one of the state's leading sign companies.
From a Military Beginning to Whatcom County
Sutterfield grew up in Southern California, where his parents were window-tinting pioneers, owning one of the largest companies of the industry's '70s and '80s heyday.
Sutterfield attended community college and worked for his dad for a short time before joining the Marine Corps at age 17. One year later, he asked his high school sweetheart Jamie to marry him and the couple moved to Hawaii, where Jim was stationed for six years and daughter Sydney was born.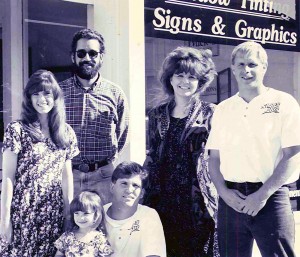 "I had just found out Jamie was pregnant when I left for Desert Shield," Sutterfield says. "I was gone for the whole pregnancy and got back right before Sydney was born."
During their daughter's first year, Sutterfield was gone for nine months. "It changed my mind about being in the military," he says. "I couldn't raise a family and be gone all the time."
Sutterfield's parents had moved to Whatcom County, and after Jim and Jamie visited it wasn't long before the young family joined them.
During a stint working in Seattle doing radiography — his trade in the military — Sutterfield again found himself traveling for work and being away too often; he went to work for his dad at John's tinting business.
The location had previously been a sign shop. Folks still regularly stopped in looking for help with banners, sandwich boards, and such. Sutterfield took note.
"I got to thinking, maybe I should start a sign company," he says with a laugh. "In September of 1992, I sold my truck and bought a vinyl plotter and a 386 computer for $5,000."
With his mother's sales help and additional capital from his parents, Sutterfield initially joined his new company with theirs, creating Tint Plus Signs & Graphics; in 1993, they became Signs Plus, as that part of the business took off.
"We experienced a lot of growth in the first couple years," says Sutterfield, crediting the technology Signs Plus invested in, buying the only Gerber Edge — the first sign-making printer that printed on vinyl — north of Seattle.
"Once we did that, we exploded," he says. "We had three employees by then and I needed more of my parents' assistance — and the working capital."
In 1995, Sutterfield officially joined forces with his parents, who became partners in the company. They bought out a small electric sign company and launched into that additional area of sign fabrication.
After ten more successful years Sutterfield's parents sold their half of the company to Dale Gravning. Though not a day-to-day presence in the company, Gravning offered the capital necessary to take Signs Plus to yet another level. His sister Kim and Kim's daughter Kelly remain integral to the Signs Plus front office.
That same year also saw Signs Plus taking on its biggest project to date, creating an array of signage for Seattle Premium Outlets, from the high-rise sign to tenant signs, directional signs, and much more.
"It was a lot," says Sutterfield. "That was my first dip into the waters of a project that scale."
Playing Ball With the Big Guys
Today the company often takes on enormous projects, from creating and installing new signs for Haggen stores throughout Washington and Oregon to providing nearly 800 signs for the Best Western Plus Lakeway Inn, as it transitioned into a Four Points by Sheraton Hotel.
Much more goes into a project than one might expect, beginning with wading through a convoluted permitting process. Extensive research is often necessary to uncover the proper sign code and site-specific plan development contracts — but it's critical to get the job done right.
"We have to dig to find stuff," Sutterfield explains. A design is often challenged when it goes into permitting, and creating and installing the best possible sign for a customer can be a constant battle.
"Part of our job is acting like a lawyer for our client," says Sutterfield. ""Often it's about just not giving up."
Then there are the signs themselves. In a typical grocery store project, for example, it's not just the sign hanging outside the store, but also the interior décor, the aisle marker descriptions, the slats, and so on.
Signs Plus once had to complete four Haggen stores in one 36-hour period. That's a lot of signs to put perfectly in place and required 28 installers.
Some customers, like Haggen, already have an established brand and logo, which Signs Plus turns into a striking sign on the front of the store (making changes as necessary, according to code requirements). But others look to Signs Plus to create an eye-catching logo, and then turn it into a fantastic sign.
"I think the reason we've been successful is that we have a different design style or look than other companies," Sutterfield says.
No Better Advertising Than Quality Signage
Sutterfield says people often have a fantastic business idea and a great product, but invest their money in the wrong places. "Then they come to the sign guy and say, 'I've got $300 to spend on a sign.'"
If your brick-and-mortar business is trying to draw people in, Sutterfield says, there's no better investment than creating quality signage — professionally designed, built to exacting standards, and properly installed. That sign is the first impression a client has of your business.
"For a restaurant," he says, "their customer is the one driving by who sees a striking sign and says, 'I'm hungry, I'm going to pull over.'"
Sutterfield thinks secondary advertising — print and online — can also be useful, but if you're not investing in a quality sign, you're missing your largest opportunity.
Proof of the power of a Signs Plus project is found just down I-5 at the Skagit Valley Casino Resort. When the casino added a hotel, Signs Plus designed, fabricated and installed a high-rise sign and electronic message board to announce the change.
The month after the message center went up, they saw a 70-percent occupancy increase at the hotel.
"Seventy-percent, month over month," Sutterfield repeats. "Obviously, it's effective."
New Building, New Opportunities
In 2013, Signs Plus moved from its downtown location (now home to Aslan Brewing Co.) to a bigger place on Marine Drive, doubling their square footage to 20,000.
"And that's just indoor space," says Sutterfield. "The advantage for us here is that we have a yard and a lot of what we do can be outdoors. There's no way we could have accomplished that Haggen project in our old space."
Signs Plus has also added a tremendous amount of equipment since moving, always keeping up with the latest in printing and fabricating technology. "We've already filled up this space," Sutterfield says, and then laughs. "I don't know how that happened."
Where Signs Plus Is Headed
Aside from their distinctive, carefully constructed designs, meticulous fabrication, and painstaking installation, what else does Sutterfield think sets Signs Plus apart?
"Our ethics," he says, without hesitation. "We work hard to be ethical, honest, and upfront with every single customer."
"Also," he continues, "we don't feel like we've already arrived. We don't feel like we're the best — but that's where we're going. Because we're always looking for what's happening out there, the industry trends, and how we can do this even better."
Signs Plus
766 Marine Drive
Bellingham WA 98225
360-671-7165
Store hours:
Monday through Friday: 8:00 a.m. to 5:00 p.m.