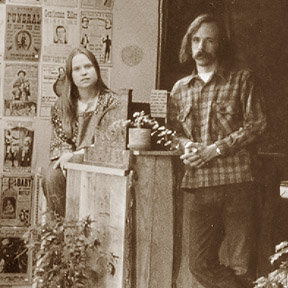 Walk through the doors of Greenhouse, on the bustling downtown Bellingham corner of Holly and Cornwall, and you instantly know you're somewhere special.
First conceived in 1972 as an indoor plant store, the business has grown (pun intended) from selling simply houseplants to an array of stylish items to outfit every room in the home — from gourmet kitchen items and decorative touches to gifts galore and furnishings for both indoors and out.
Husband-and-wife team Chris Foss and Foster Rose, Northwest Washington natives who met while attending Western Washington University, dreamed up Greenhouse after a trip to San Francisco in the early '70s.
"We were nearing graduation and went to visit friends who had just opened up the first retail indoor plant store in that city," says Chris, who comes from a long line of gardeners. "I was completely smitten."
The idea of selling houseplants enchanted the couple.
"Foster had a small inheritance from the sale of a family home and he put that toward the business," she continues, "for the princely sum of $1,500."
With no business experience, the couple forged ahead, securing rental space on State Street near the Up and Up (in the building that would eventually become the infamous 3B Tavern and is now home to Wise Buys). The original Greenhouse squeezed into the front of a record store on the main floor of what was then a kind of '70s hippie mall.
"We were rapidly dismayed to find ourselves in the middle of bad rock and roll," Chris says with a laugh.
Her father didn't initially share the couple's enthusiasm for the idea. "He was like, 'You're opening a what?'" Chris says, still laughing. "He often said Greenhouse's tagline should be: Bet 'em high and sleep in the streets."
She's then quick to point out the fundamental cornerstone of entrepreneurial personality — and the reason Greenhouse became what it is: optimism.
That hopefulness saw Chris and Foster through many years and several moves, as Greenhouse evolved into a successful and highly regarded Bellingham retail institution.
Their first move — to escape the noise — was to the corner of Railroad and Chestnut, where The Woods Coffee now occupies the bottom corner of the Washington Grocery Building. The second move, in 1976, was to Holly Street (now home to the Teriyaki Bar).
"In 1986, the mall was going in and the majors were moving out of downtown," Chris says, "so we felt we needed to be more of a destination location. And to do that, we needed a bigger space and a higher price point."
Enter furnishings.
"We were already doing some small furniture, more of an IKEA-level product," Chris says. "We decided we needed to grow up."
The couple wanted to offer things shoppers couldn't find elsewhere in town — at the new mall or downtown.
"It was challenging," she says, "but it worked. We didn't know a lot about the furniture business and you make mistakes, but you learn and go on."
Adding upscale furniture to its offerings was just part of the natural evolution of Greenhouse. In the '70s, the store had followed the blossoming of the gourmet cooking trend, adding cookware items to help the American masses that were suddenly interested in European-style cooking.
"There was such an enormous cultural shift," Chris says, which included shoppers moving away from heirloom china and Waterford crystal toward everyday items that were beautiful — such as Dansk and Marimekko — but not considered so precious.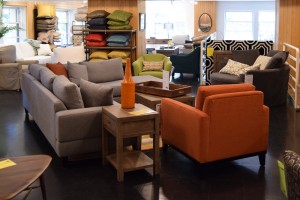 The couple even chose to sell Starbucks coffee back when it could hardly be found in town.
"We just wanted really good coffee," says Chris. "So we said, 'Let's sell that!'"
A couple years after that '86 move — the location in which it remains today — the store expanded into the rest of the footprint of the Mount Baker Building; in 2000, spread even further.
Initially an 8,000-square-foot store, Greenhouse now comprises 15,000-square-feet of showroom and storage space, with a nearby warehouse where all receiving occurs and furniture items wait to be delivered.
The store has always been a reflection of Chris and Foster's own interests, as well as what they saw friends and staff members wanting — but listening to customers has been key to Greenhouse's success.
"It's always about where the customers lead you," Chris says. "They tell us about other stores they love, products they're looking for, and what catches their eye."
She also credits her 25 employees as being integral in making the store what it has become.
"Our staff have always been our great consumers, as well," Chris says. "They're quick to tell me if I'm missing something or bought the wrong thing. It's really helpful, and I love it."
Chris feels fortunate, in an industry that often sees high turnover, to have folks who have been with the store for more than 20 years.
"We try really hard to have our staff mirror the age range of our customers because customers' shopping habits are different at different points in their lives," she says. "They're incredible and always have my back."
Chris is the store's buyer, often traveling to trade shows to see the latest in trends and innovations. These days, Foster works mostly at the warehouse, in customer service. "He also brings me my lunch," Chris says with a laugh.
Being involved in the community has always been important to them both. Chris served on the Whatcom Museum board and has long supported the arts. Foster sat on the City Council for eight years and worked to establish the organization that is now known as the Downtown Bellingham Partnership; he has participated on many boards, was president of Domestic Violence and Sexual Assault Services of Whatcom County, and previously volunteered with the Whatcom Dispute Resolution Center.
Visitors to the store often ask Chris why Greenhouse isn't in Seattle, where it would fit in — and still shine — seamlessly.
"Because this is where we want to be and what's right for us," she says, emphatically. "We want to be in a community where we can make a difference."
She believes strongly that Bellingham deserves amazing offerings (from shopping to food to the arts, and beyond) equal to those found in Seattle or any other stylish city.
"I want this store to be as nice as it can be. There's always more I want to do with it," she says, "but it's important to me that we don't ever settle."
At the end of the day, Chris and Foster feel as passionate now about Greenhouse and its place in our fantastic community as they did in 1972. It's also still downright fun for Chris to suss out and buy the pieces she believes her customers will adore.
"I love the hunt," she says. "I love to surprise them."
Greenhouse
1235 Cornwall Avenue
Bellingham WA 98225
360-676-1161
info@greenhousehome.com
Hours:
Monday through Saturday: 10:00 a.m. to 6:00 p.m.
Sunday: 12:00 p.m. to 5:00 p.m.