By Dana Hubanks
The first time I met Jan Peters I was busking outside the Community Food Co-op. It was the middle of February and my hands were moving sluggishly from the cold. Jan came up, listened for a while, then pulled a harmonica from his pocket and started playing along. Immediately I could tell he had a way with music.
When I introduced myself, Jan handed me his card and told me about an open mic he hosted at the Star Club just around the corner. "You should come," he told me. So, I did.
Since then, I've discovered just how embedded Jan is in the Bellingham music community.
Raised in a musical family (Jan's father is an accomplished trumpet player and his aunt is a jazz vocalist), Jan grew up with music. Though he's skilled with numerous instruments, he primarily plays Irish bouzouki and harmonica.
Jan has spent most of his life working as a musician. He grew up in Ithaca, New York, then relocated to California where he spent some years working as a professional blues musician. Eventually, life led Jan to Bellingham where he has spent the past 17 years making music, cultivating community, and adding to the richness of our music scene. Over the past nine months, Jan has been focusing much of his efforts on the curation of the weekly Irish and folk nights at Boundary Bay Brewery, which I paid a visit to last week.
Amidst the clinking of glass and din of conversation, the beer garden at Boundary Bay is swaying with fiddle tunes. It's Monday night and the sun is beginning to set.
Toward the front of the garden sits a circle of about a dozen musicians. They're all holding instruments including fiddles, mandolins, pennywhistles, dulcimers. I see a bodhrán (a traditional Irish frame drum) in one man's hand.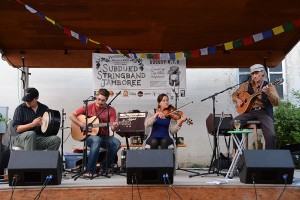 What's happening before me is called a "session." These musicians may know one another, and they may not. Regardless, they have gathered to play traditional Irish folk music. Together they teach each other and learn as they play. Sessions are intended for the sharing and trading of song.
The session at Irish Night was born spontaneously, Jan tells me. One night, interest was expressed in the potential and soon it became "a thriving and growing open Irish session." Anyone interested is welcome to join the session between 5:00 p.m. and 8:00 p.m. every Monday night.
Once the session has run its course, Jan takes the stage with Peadar McMahon, Irish folksinger, storyteller, and co-host of Irish Night. "Peadar is a great man of song from Limerick, Ireland," Jan tells me. "His knowledge of the history and story behind the songs he sings is of neverending interest."
As Peadar starts to sing, his voice booms through the garden and out into the night like the wail of a curved horn. The songs he shares transport us. Suddenly we are across the ocean, watching the moonrise from a hillside. We are listening to an old woman sing to herself while she picks nettles by the roadside. We hear the jangle of coins on the skirts of the Roma as they pass in their caravan.
After this set comes to a close, Gallowglass, the evening's feature, takes the stage. Gallowglass, another one of Jan's musical projects, is a four-piece Irish and folk band made up of Jan on Irish bouzouki and harmonica, David Lofgren on the bodhrán, Brit Keeton on fiddle, and Zach Bauman (the third host of Irish Night) on the guitar. Zach and Jan also sing and write tunes for the band.
As they begin, I'm instantly impressed. The low, driving rhythms of David's bodhrán bring a new energy to the garden. Feet tap on the stone patio. Heads bob. Suddenly, the whole space is alive with a centuries-old, richly emotive music.
Gallowglass plays mostly traditional Irish tunes, but they also slip in some of their own compositions and even an obscure French piece. By the end of the night, I feel full and fed by what the musicians have brought to us.
When I ask Jan what drives him to produce Irish Night, he tells me he wants "simply to turn more people on to really good traditional music."
"I think it's important music, and I want to do my small bit in helping to keep it alive and well," Jan explains. "Where does tradition begin and end? When does an innovation or alteration become a part of the greater tradition, if it does at all? These to me are vitally interesting things."
Each week, Irish night features a different headlining performer. In the past, Jan has brought in world-renowned Irish fiddler Dale Russ, local accordionist Lucas Hicks (Rattletrap Ruckus, Gallus Brothers), Flip Breskin, and Robert Sarazin Blake, to name a few.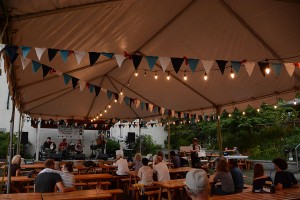 Jan tells me that we should expect Irish Night to continue. Come winter, they'll have to find an indoor home (rumor has it Boundary might be opening up a new space), but through September Jan and friends will be bringing the Irish folk tradition weekly to the garden.
For all the details and to keep up with the weekly features, visit the Irish Night facebook page.
Jan also kindly welcomes anyone with questions to contact him at jansongs@janpetersmusic.org.
Boundary Bay Brewery is located at 1107 Railroad Ave in Bellingham.