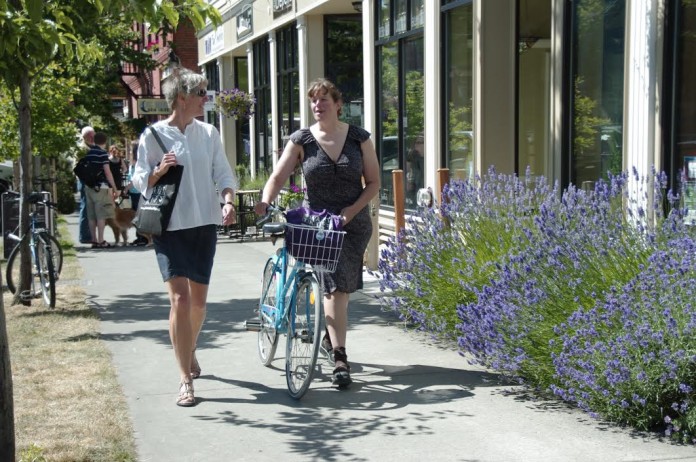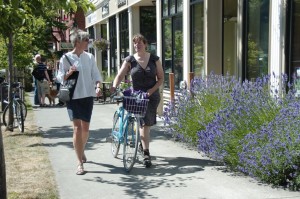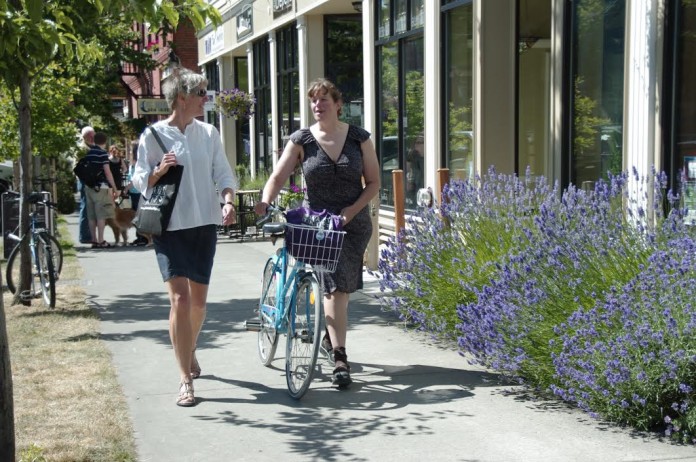 Ah, summer in Whatcom County. We wait all year for this glorious weather—and then we make the best of it.
Whatcom Smart Trips has been encouraging us to walk, bike, bus and rideshare since 2006—regardless of the weather—with incentives and rewards from a plethora of local businesses. For the month of July, they've teamed up with your favorite Fairhaven merchants to get more folks stepping, peddling and swiping their bus pass to get to the Village Green and soak up that quintessential village vibe.
"We have employer partners all over the City of Bellingham and Whatcom County," explains Susan Horst, Smart Trips Program Manager with Whatcom Council of Governments. "When we met with our Fairhaven employee partners we asked what we could do for them."
Fairhaven merchants asked for a promotion that would target both their employees and their customers—and Smart Trips enthusiastically agreed.
"It's very similar to something we've been asked to do by the Farmers Market and Pickford Film Center," Horst continues. "They said, 'We love Smart Trips. Can you do a promotion that tells people to please come, but without your car?'"
As with those two earlier promotions, Whatcom Smart Trips expects the Walk, Bike or Bus to Fairhaven program to be a success.
"There will be very exciting prizes from Fairhaven," says Horst. "We have hundreds of dollars in gift cards from many of the merchants in Fairhaven."
From on an overnight stay at the Fairhaven Village Inn to a massage at the Chrysalis Inn, plus gift certificates from popular places like Village Books, The Black Cat, and so many more, Smart Trips participants can look forward to an array of possible prizes.
Village Books has offered an employee incentive program since 2008, adding money to paychecks for those who bike, bus, walk, or carpool to work.
"This, along with the great incentives of the Smart Trips program, has given me the extra push I need to bike to work along the Boulevard Park trail almost every day," says Rem Ryals, Village Books buyer. "Great exercise, fresh air, and a chance to savor the beauty—it's not much of a contest with sitting in a car and paying for gas."
"We sometimes hear how difficult parking can be in Fairhaven," Ryals continues. "We hope more people will discover how easy it is to get here by bus, bike, or trail."
Colophon Café co-owner David Killian has been a Smart Trips employer partner for several years.
"We all care about Bellingham," says Killian, whose 33 employees nearly all walk, bike or bus to work already. "When we make Smart Trips, it's healthier for the environment, the community, and the individual—especially if we walk or ride our bikes."
Robin Bigelow, co-owner of Fairhaven Toy Garden, is looking forward to participating in another Smart Trips promotion, as her shop has done in the past.
"In addition to all the other benefits of conserving natural resources, enhancing community, and encouraging exercise," Bigelow says, "the best part of the Smart trips program from a retailer's point of view is that it frees up parking spaces in the district."
Village Books, the Colophon Café and the Fairhaven Toy Garden are three of many businesses donating gift certificates and prize packages to the lucky folks who enter the drawings.
The program runs the entire month of July, so every time you make a smart trip to Fairhaven by walking, biking or riding the bus for any reason—going to work, shopping, lunch or dinner with friends, even if you live in Fairhaven and walk across the village to run an errand—all of those trips count.
Simply drop a paper entry form into the Smart Trips shopping bag you'll find at the cashier counter of participating businesses. Maybe your dentist doesn't have a spot to drop your entry? No problem. Simply go to another business and record your Smart Trip there; it doesn't have to be at the exact place. All Smart Trips to Fairhaven count.
Participating merchants include Advanced Medical Massage, Alpine Institute, Bellingham Bay Dental, Bellingham Tennis Club, The Black Cat, Blessings Aveda Salon Spa, The Chrysalis Inn and Spa, Colophon Café, Community Boating Center, CreativiTEA, Fairhaven Bicycle, Fairhaven Runners & Walkers, Fairhaven Toy Garden, Fairhaven Village Inn, Fat Pie Pizza, Index Sensors and Controls, Mad Batter Cupcakes and Confections, Mambo Italiano, Peoples Bank, SPIE, Studio 910 Salon, Village Books, and Yoga Northwest.
For a detailed list of all the prize packages that will be given away, please visit the Whatcom Smart Trips website.
Weekly drawings will take place July 14, 21, 28 and August 4 and announced on the Whatcom Smart Trips website. Four lucky winners will receive a mix of gift cards for a wide range of Fairhaven merchandise. You can enter after every Smart Trip, so the more you make, the greater your chances of winning.