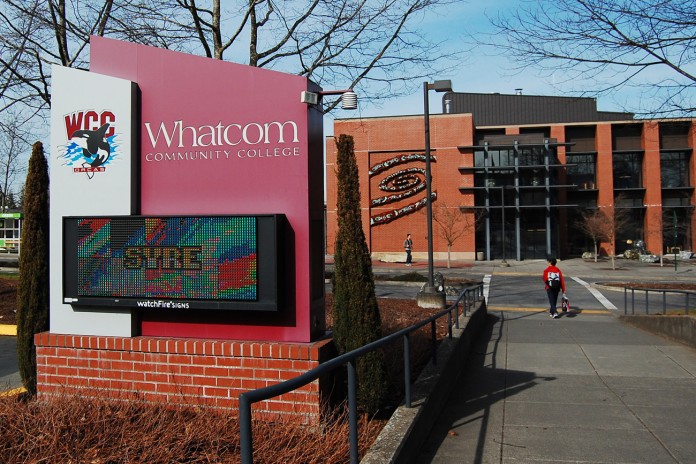 Submitted by Whatcom Community College
Whatcom Community College student Sharalyn Sentinella is one of 90 national recipients — and one of only two Washington state honorees — of a $40,000 scholarship from the Jack Kent Cooke Foundation. The largest private scholarship for community college transfer students in the country, the Jack Kent Cooke Foundation Undergraduate Transfer scholarship is awarded to the nation's top community college students to complete their bachelor's degrees at a four-year college or university. Sentinella will graduate from Whatcom this spring with her associate's degree. She has been accepted to several universities and will decide soon where she will transfer to study molecular and cellular biology. Her goal is to work as a researcher in cancer treatment development.
"Sharalyn is an inspiration to all of us," says WCC President Kathi Hiyane-Brown. "As a non-traditional student, she overcame personal challenges to achieve academic excellence. We are extremely proud of her achievements and grateful that she chose to begin her academic journey at Whatcom Community College."
Sentinella was selected for the scholarship from among 2,061 applicants from across the US. Her application stood out due to her exceptional academic performance, her long-term career goals to help others, financial need, leadership and her persistence in overcoming personal challenges to excel at college.
The granddaughter of Alaska homesteaders and gold miners, Sentinella grew up in an isolated Montana household that honored hard work, tenacity, courage and independence. Her father was a professional boxer and later an industrial mechanic. Her mother trained wild horses. She is the first in her family to go to college.
"I do not regret having a non-academic upbringing," she says. "However, I did always know something was missing and spent most of my life searching for my niche in society." Her searching led her to learn HTML coding at 14. She dropped out of high school at 16 to take a job building websites for a small company. Sentinella eventually earned her GED at Whatcom. She continued at the College because she thrived in Whatcom's academically diverse and challenging environment. "An education helps people get a career, if they stick with it. That's its general purpose, but I think the real value is that it helps you to discover who you are and makes you a well-rounded person," Sentinella says.
Sentinella credits her WCC education, scholarships and grants, and support from Whatcom faculty and staff for what she calls "the opportunity to pursue a meaningful life." She thanks the WCC faculty who "saw me and believed in me — their faith in me helped me grow and fully embrace biology and chemistry from a hands-on perspective." Professors and science lab staff encouraged her and guided her independent research projects. Math center tutors indulged her lengthy questions that helped her to understand the depth and weight of mathematics and its applications. And, dedicated WCC librarians shared "the beauty of information science, which influenced my capacity to be a credible researcher," Sentinella says.
"Sharalyn is exceptional in her vision and drive for learning, probably one of the most motivated students I have ever worked with," says Beth Tyne, coordinator of Whatcom's learning contract program. "Her work ethic is internalized; it comes from her commitment to growth and self-improvement with a desire to serve others.  Other students who encounter Sharalyn cannot help but to be influenced and inspired by someone who does not make excuses, who holds herself accountable for her success, and who uses language like 'I choose to' or 'I want to' rather than 'I have to.'"
Tyne says Sentinella's pursuit of independent study in addition to required classes is remarkable for the number of credits and breadth of interests. By the time she graduates from Whatcom, Sentinella's credit hours will include 18 credits earned via learning contract and honor's projects, which may well be a record for the College. The work includes projects in advanced creative writing, chemistry and biomedical research.
"Sharalyn's desire to learn must be described as remarkable," says WCC adjunct faculty member Cathy Hagman, who taught Sentinella's philosophy 101 course. "This desire shows itself in a wide range of subjects, and yet she can focus successfully on each subject that she takes on.  She is a natural role model and leader due to her engaging and sincere personality, organizational skills, intelligence and empathy for others."