By Stacee Sledge

WhatcomTalk's first list of six Bellingham breakfast places worth waking up early for was a smash success with thousands of views and countless shares on social media. (Find the first list here.)
That's a lot of early-morning eating inspiration!
We received great feedback from that article and some super suggestions for other places that didn't make our first list.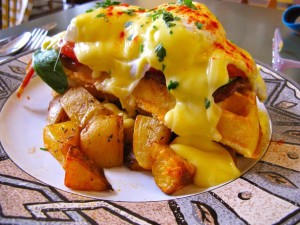 Well, you suggest and we listen. Here are six more delicious Bellingham breakfast places that serve up a mean meal—plus a new place on its way that you may have already seen on Food Network.
Enjoy!
The Daisy Café
114 West Magnolia Street in downtown Bellingham
360-733-8996
From breakfast basics to creative dishes, downtown Bellingham's Daisy Café works hard to make items by scratch and in-house—and it's a difference you can taste. You'll also find popular local products from Tony's Coffee (at its neighboring sister company, the Union Coffee Shop), Farmer Ben's, and Avenue Bread.
My favorite (though it's difficult to choose) is the Hoppel Poppel, a combo of crispy country potatoes, bacon, garlic, red onions, and mushrooms scrambled with two eggs and finished with a generous dusting of cheddar cheese. Omelets more your thing? Try the smoked wild salmon omelet with dill cream cheese, diced tomatoes and fresh herbs, or the Baja omelet with bacon, avocado, pica de gallo and pepper jack cheese.
Really, you can't go wrong at the Daisy Café, so pop in often and try several different breakfast dishes until you discover your favorite, too. And soon you'll have a second downtown Daisy Café location to love on State Street, next door to Belle Flora in the old Koi Café spot.
The Mount Bakery
"Best bennis in town." That simple comment left on our Facebook page had us scrambling to The Mount Bakery Café for breakfast—after all, it's long been one of our favorite places for desserts and baked goods and sandwiches, so how had we somehow missed the first meal of the day there?
Mount Bakery's eggs benedict is served over a fluffy Belgian waffle rather than the traditional English muffins. But that's not all: It's all piled atop crispy roasted potatoes, perfectly poached eggs, and made-from-scratch hollandaise sauce. Good luck choosing between ham, roasted portobello mushroom, spinach/tomato/basil, smoked salmon, and seasonal Dungeness crab with asparagus—they all sound divine. I went the traditional ham route, and can't wait to go back and try all the others.
Everything is made from scratch at Mount Bakery, so don't fill up completely on eggs benedict (and its many other to-die-for breakfast options) or you'll miss out on their flaky, golden croissants and cream-cheese-frosting-drenched cinnamon rolls, among other delights.
"Our chefs pride themselves on serving creative and delicious daily specials using only the finest local ingredients," says Morgan Peters, Mount Bakery General Manager. Yes – the attention to quality and detail shows.
Marlins' Café in Nelson's Market
514 Potter Street in Bellingham's York neighborhood
360-734-2448
Tucked into Bellingham's York Neighborhood is the charming corner store Nelson's Market. And tucked inside that is the delightful Marlins' Café. You've never been? You might want to fix that.
There are plenty of traditional breakfast favorites on offer: omelets, scrambles, pancakes, French toast, and waffles. Like breakfast burritos? They've got that, too—choose from meaty (bacon/ham/sausage/cheese), veggie (onions, peppers, mushrooms/cheese), or the full-on everything option.
If you like to keep things light, you can also grab oatmeal, a fruit plate, or granola.
Rhodes Café
1046 Lakeway Drive in Bellingham
360-714-9743
Rhodes Café is a simple, clean, unassuming spot in the Lakeway Center, next to Whole Foods. A recent breakfast of two eggs, bacon, hashbrowns and toast left me completely content.
Sometimes it's something more than good food that makes a restaurant experience pleasing. In this case, I had popped in around 11:00 a.m. on a weekday, too hungry from having skimped on breakfast. My food came fast—and, as I said, was quite tasty. But the impression I left with was that of a friendly wait staff, quick service, and—thanks to a group of elderly ladies who chatted happily with the owner and gave the impression that this was their regular meet-up spot—a welcoming, warm, and comfortable spot.
Hilltop Restaurant & Catering
5645 Guide Meridian
360-398-2462
The last time I was at the Hilltop Restaurant on the Guide was before a new building was constructed in 2004, so I was in for a surprise. The Hilltop has been serving up traditional American-style meals since 1959, but the newer space—while still giving off a pleasant, warm-wood, country-kitchen vibe—is bigger and much better than its predecessor.
The breakfast menu is vast, including all the usual egg-based suspects—from omelets to frittatas to eggs benedict (weekends only)—as well as corned beef hash, breakfast burrito, chicken fried steak, ham steak, buttermilk biscuits and gravy, French toast, hotcakes, Swedish pancakes. What I'm saying is: You won't be wanting for options.
Arlis's Restaurant              
1525 Cornwall Avenue in downtown Bellingham
360-647-1788
When I first moved to Bellingham 20 years ago, a friend regularly invited me to breakfast at Arlis's Restaurant. It instantly reminded me of my Midwestern home: solid diner food in simple, bustling surroundings. They're still serving up breakfast—all day long—complete with great service and reasonable prices.
Over Easy
Over Easy is a sister restaurant to the original, located in Scottsdale, Arizona, which gained fame after appearing on Guy Fieri's popular television show Diners, Drive-Ins and Dives and The Best Thing I Ever Ate.
2430 James St, Bellingham, WA 98225
360-656-6586