"Our goal is to try to step into each patient's life for 40 minutes," says Dr. Mark McEathron, owner of downtown Bellingham's Binyon Vision Center. "We figure out how they use their eyes during their day—and anything we can do to help enhance that for them."
Of course, an exam at Binyon also includes assuring the eye is healthy and that patients understand preventative and wellness measures. "We let them know what they can do for their eyes, over the course of their life, to slow down those birthday changes," says Dr. McEathron.
Binyon Vision Center has been in Bellingham since 1935. Dr. McEathron joined the practice in September of 1980, working alongside Leroy Freeman, nephew of founding optometrist James R. Binyon. Within a few years, Dr. McEathron took over the business.
"It had been in Bellingham for 45 years and everyone was familiar with the name—and they have a hard time spelling or pronouncing my name—so we decided to keep it," Dr. McEathron says, with a laugh.
Binyon called several downtown Bellingham spots home over the years, once occupying spaces that are now the Horseshoe Café and Taco Del Mar. The current location has been home for 20 years.
Dr. McEathron grew up in Wisconsin, attending the University of Wisconsin before moving to California to attend optometry school.
"I met my wife-to-be in California and I took her back to Wisconsin one winter – and she let me know that she would never, ever live there," he says with a smile.
Bellingham was a nice compromise between California and Wisconsin; the couple had visited on their honeymoon, driving up the coast from Los Angeles. "Bellingham was our favorite spot," he says.
Dr. McEathron's interest in optometry was sparked early.
"I've always had bad eyes and I wore glasses as a young child," he says. "I always thought it was such a neat thing to be able to see better."
The majority of Dr. McEathron's staff has been with the practice for many years—including his daughter, Caitlin Bruno, who spent her high school summer breaks filing, and now serves as the practice's office manager.
"Our entire team wants to give the most thorough eye care based on the best service and the highest quality of products," Bruno says. "And building relationships—both with our patients and with each other—is really important to us."
Dr. McEathron recently brought on Dr. Luke Hoekstra, who graduated from optometry school in 2013, allowing the practice to expand its hours to 7:00 p.m. on Tuesdays and 9:00 a.m. to 4:00 p.m. on Saturdays.
"We've got a few employees that have been here near and over 20 years," Dr. McEathron says, underscoring the reliability of his team.
Sarah is Binyon's receptionist. "She's got a great welcoming presence," says Bruno. "Plus, she's got that knack for remembering names."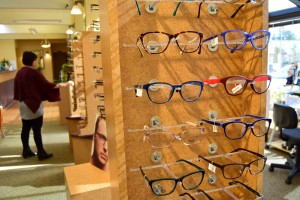 "Terri our bookkeeper has been here for 24 years," Bruno continues. "She's seen a lot of changes and is just a great, solid rock." Terri knows insurance inside and out and helps explain the ever-changing and -confusing topic to patients.
Frame buyer Christie does a fantastic job of keeping their inventory interesting. "She has a real flare," says Dr. McEathron. Christie travels to Vision Expo in Vegas ever year to meet with frame vendors and keep up on all the latest trends.
Licensed opticians Jim and James have patients who return again and again to be fitted by them for glasses. Bruno describes their work with customers as gentle and attentive. And Christie often brings Jim and James into the discussion of new frame options to stock, to get their perspective. "They work as a team," says Dr. McEathron.
James's wife Nikki—who comes from an optical family—has recently joined Binyon as its Saturday receptionist.
You'll always find a slew of fantastic frames to choose from at Binyon—and staff members who are genuinely excited to show them. Eyeglasses are now more of a fashion accessory than ever before.
"There are very few items a person will wear every day for two years—there's really nothing else that we wear that often," says Dr. McEathron. "It's got to be something they like, that complements them—there's that fashion aspect—but at the same time, durability is so important; this is something they'll be taking on and off every day."
The trick is finding something that looks nice, functions perfectly, and will hold up to the rigors of daily wear.
And Binyon knows that if you love the look of a pair of glasses, but they aren't completely comfortable, you're not going to wear them.
"We've been trained to know that even if it looks great on you—'Look, it's pressing against your temples right there and you're going to feel that in two hours, I promise,'" says Bruno.
"That can make for a difficult discussion sometimes, when someone falls in love with a frame, but we want them to wear them – so that's a huge part of the conversation."
A visit to Binyon Vision Center means a thorough, thoughtful exam by Dr. McEathron or Dr. Hoekstra and impeccable customer service from his staff, from glasses that look and fit fantastically to contact lenses you love.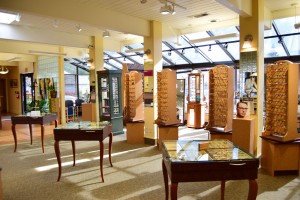 And Binyon is also tied tightly to the community, giving a portion of its sales every month—beginning in 2003—to 12 different charities over the course of the year.
"They all do such great things for our community, and they're all fighting to make it work," says Dr. McEathron. "We just want to contribute—to give back and help them and our community."
This year's charities that Binyon is contributing to are: Blue Skies for Children, Meals on Wheels, the Opportunity Council, Brigadoon Service Dogs, Whatcom Community Foundation, Interfaith Community Health Center, Whatcom Hospice Foundation, the Bellingham Food Bank, Lydia Place, Kulshan Community Land Trust, the Bellingham Salvation Army, and the Lighthouse Mission.
Binyon Vision
411 East Magnolia Street
Bellingham WA 98225
360-647-2020
www.facebook.com/binyonvisioncenter