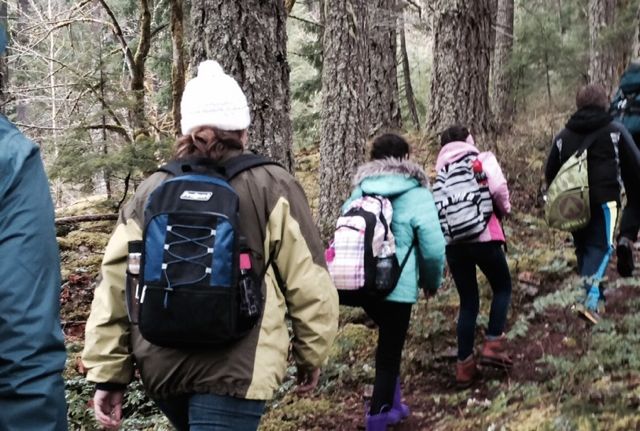 By Lauren Fritzen

Being a fifth-grader in the Bellingham School District comes with a coveted perk: three days at the North Cascades Institute's (NCI) Mountain School, where students spend their time outdoors, learning about the North Cascades ecosystem and the roles they play as stewards of the environment.
"For the next three days, these trails, this beach and these mountains will be our classroom," says Mountain School instructor Dylan Klinesteker, as he greets a small group of students from Sunnyland Elementary – known now as the Ravens – on the first morning of their program. I'm tagging along with the Ravens on this day, and we don't waste any time getting outside and experiencing nature first-hand.
Mountain School celebrates its 25th anniversary this year. It began as a camping-based program in 1990, and moved to NCI's Environmental Learning Center when it opened in 2005 on the shores of Diablo Lake. Various Bellingham schools have participated since the early days, and in 2013 it became part of the science curriculum and is funded jointly by the school district and North Cascades Institute donors. Since it's inception, Mountain School has served 27,000 area students. Each year, around 2,500 4th – 12th graders participate in either the "Ecosystem Explorations" or "Field Science and Leadership" programs.
Instructor Dylan gathers the Ravens together. "Take a moment, be quiet and listen. Make one observation about our classroom," he requests. We all ponder the lake in front of us, the forest around us and the mountains above us – the gorgeous setting of the Environmental Learning Center, located 65 miles east of Sedro Woolley on the North Cascades Highway.
"There's a crisp, moist smell to the air," observes one student. "Is that a glacier on that mountain?" asks another. "Yes! Excellent observations," exclaims Dylan, and the experiential learning begins. Our theme for this day is "abiotics," and we talk about things in the ecosystem that are not (and never were) alive. We make "mountains" out of rocks on the beach, then learn about erosion and glaciers with buckets of water and blocks of ice.
Sunnyland 5th grade teacher Bill Steele, aka "Mr. Bill," accompanies our group. This is Mr. Bill's sixth year attending Mountain School with his class. "It's amazing how much they learn here. Getting out of the classroom and being outdoors makes a huge difference," he says.
The second day is spent learning about the biotic (living) aspects of the ecosystem, and the students take a long hike to a waterfall. "It was probably the longest hike most of them have ever been on," said Mr. Bill afterwards. "They had to persevere to make it to the top. But you could definitely see the sense of awe and accomplishment on all their faces."
The final day is spent tying it all together with a focus on community and culture. Mountain School program coordinator Chris Kiser describes the finale to the program. "Each student shares an unselfish wish with their community at the closing ceremony, and we lead a thoughtful discussion about how we are all connected to the environment, to special places like this, and to the natural spaces in our home communities," she says. Wishes from Sunnyland students include "I wish other kids would have the same opportunity to come here," and "I wish we would protect places like this, and the animals that live here."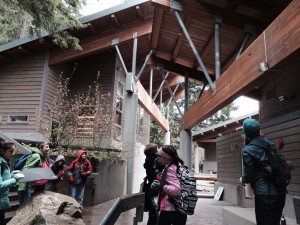 Back in their Bellingham classrooms, the students finish the journals they started at Mountain School. They become experts on different topics, and share their knowledge with each other. And before long, they reunite with some of their Mountain School instructors for a day of local stewardship. Sunnyland students will weed out invasive plants at adjacent Memorial Park and replace them with native species.
Bringing home the lessons learned at Mountain School is one of NCI's key goals. "We encourage students to continue learning from and exploring the wild nearby, and to be stewards of these places that they know and love," says Kiser. Her thoughts are reflected in the words of student Aidan Bartlett. "Something that I learned at Mountain School is to be careful of the environment. It's fragile and we need to care for it," he says.
I come home from my day with the Ravens full of enthusiasm and ready to learn more. Luckily, NCI also offers a range of adult and family programs, both at the Learning Center and around northwest Washington, led by local naturalists, scientists, writers and artists.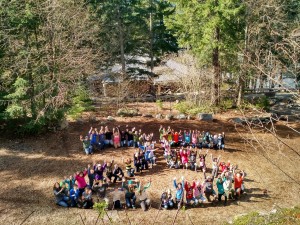 Mountain School has become a rite of passage, and Mr. Bill's students often ask if they'll get to go back in middle or high school. And while they fondly recall the campfires and the camaraderie, he believes they come away with much more. "I think that the Mountain School experience plants seeds within our students that may one day grow into further longings to go out and enjoy wilderness, as well the motivation to help protect such places."
810 State Route 20
Sedro Woolley, WA 98284
360-854-2599