Submitted by Sustainable Connections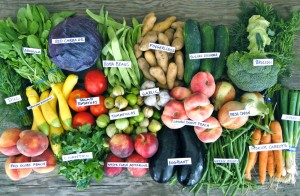 Sustainable Connections announces the release of the 2015 "Whatcom Food and Farm Finder." The guide, which became available on the opening day of the Bellingham Farmers Market (April 4), is produced and published by Sustainable Connections. It is available for free and made possible by support and contributions from Whatcom County, the City of Bellingham, Community Food Co-op, Bellingham Farmers Market, and Haggen.
A comprehensive map and guide to local food and agriculture, the "Whatcom Food and Farm Finder" will be distributed to over 250 locations throughout Whatcom and neighboring counties after it makes its debut at the Bellingham Farmers Market. It will also be available online at www.eatlocalfirst.org.
The "Whatcom Food and Farm Finder" is the go-to resource for Whatcom County residents to find local food. "Explore local farms, taste wines, or try a new restaurant!" said Sara Southerland, Sustainable Connections' Food and Farming Program Manager. "It's a great resource for residents who want to know where their food comes from and visitors too."
Inside the "Whatcom Food and Farm Finder," 123 local businesses offer everything from apples to zucchini, locally made spirits to heritage animals and specialty cheese, fine dining to casual fare and one-stop shopping locales. It also contains a fold out map for easy navigation and helps residents:
Eat with the seasons
Seek u-pick and farm stands
Celebrate at local food & farm events
Find organic farms and meet farmers
Learn about Community Supported Agriculture (CSA) shares
Source from fishers and ranchers
Learn about the importance of  local food and agriculture
Sustainable Connections also provides a list of local farmers providing CSAs. A CSA (Community Supported Agriculture) is a partnership with a local farm where customers pay upfront at the beginning of the season and in return receive a weekly box full of fresh food directly from the farm. The directory is available online or at both locations of the Community Food Co-op.
In addition, employers interested in becoming a Farm Fresh Workplace and having fresh food delivered right to their place of employment can find an online toolkit complete with details about how to organize a workplace CSA, policies to consider, how to select a farmer and why a CSA champion might be beneficial. Most farmers will drop off CSA shares to any destination with five or more members, so churches, neighborhoods and small businesses are encouraged to pool their resources together to form a drop off site. "We want to make it as convenient as possible for consumers and farmers to connect with each other," said Southerland.
While those publications are geared toward Whatcom County residents, out of town visitors might be interested in another new publication by Sustainable Connections: "The NW Washington Culinary Agritourism Map." Distributed regionally from Seattle to Vancouver as a destination guide to visiting all things food related in Washington's northwest corner, the map will be available in May. It is designed to help connect visitors with local farm adventures, farm-to-table dining options, farmers markets, wineries and breweries, lodging and more. Whether visitor are looking for a romantic weekend or an action packed vacation with activities for the whole family, "The NW Washington Culinary Agritourism Map" can be a useful tool in planning their adventure.
For more information about Sustainable Connections' "Whatcom Food and Farm Finder" or "The NW Washington Culinary Agritourism Map," visit Sustainable Connections website here.