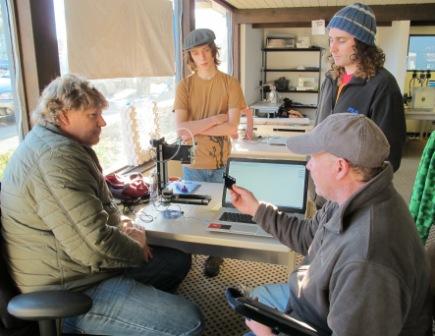 By Lorraine Wilde

As children we paint, draw, and sculpt, displaying our masterpieces proudly. But as we grow up, for many of us, that time spent "making" falls prey to paid work and responsibility. The masterminds behind Bellingham's new Foundry Makerspace, co-founders Mary Keane, Jason Davies, and Troy Greig, believe that the creative spark of childhood need not fade with maturity, but instead, should be nurtured and shared.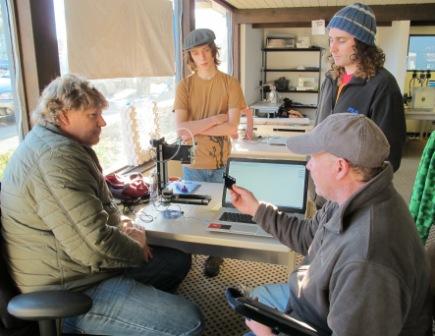 "The Foundry is a community skill-share with cutting-edge and traditional tools to help you make whatever you can dream," explains Program Director, Mary Keane.
Their inspiration stems from the nation-wide "maker movement" that has grown rapidly since the mid-2000's. The movement, led by a community of creative Do-It-Yourselfer's (DIYer's), prefers to design and build something rather than buy it from industry and big business. "You no longer have to get an engineering degree or go to college for years to learn or use a computer-aided design program. Open source software and tutorials are readily available for little or no money. With a little curiosity and ingenuity, you could be making a part for your car that is no longer available or printing your own board game. The possibilities are endless," asserts Keane.
Located in Bellingham's downtown, the Foundry Makerspace offers 3,000+ square feet of work space in the North Forest Street building formerly occupied by Wilson Motors. Some of that space is home to state-of-the-art digital manufacturing tools, including a laser cutter, 3-D printers, sewing machines, and wood-working and metal-machining equipment.
Funded by membership dues and fees from small classes, the makerspace is focused on providing a collaborative environment and access to more tools than one person could afford or store in their garage. "The Foundry works by helping you leap-frog your own thinking farther and faster than if you'd been home working alone." They also offer workshops and groups for everyone from elementary-school-aged beginners all the way up to experienced artisans, craftspeople, inventers, and businesspeople. Subjects range from basics like soldering and glass etching to specialties like Arduino, Computerized Numerical Control (CNC), and Drupal.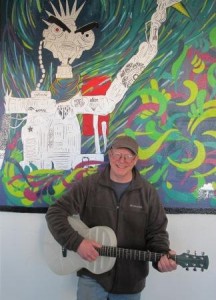 Bellingham design consultant, Dr. Jeff Kerr, has become immersed in the Foundry community since its opening in September. "I use the Foundry as a hang out. Because I work from home alone, this place is a great way for me to connect with people who share my interests," notes Dr. Kerr. And connect, he does. In addition to teaching Foundry workshops, Dr. Kerr mentors students in Sehome High School Applied Physics courses and supports them with their annual FIRST Robotics Competition (FRC) entry, as well as working on his own pet projects.
Perhaps the most unique of Dr. Kerr's endeavors is a functioning guitar made almost entirely from 3-D printed materials. "There are a couple hundred thousand object designs already available on-line for free. No project is too big or small," observes Dr. Kerr. The Foundry's 3-D printers can accommodate an incredible range of materials too, from recycled water bottle plastic, a wood or metal amalgam with plastic, and carbon fiber to name only a few. "I'm currently working with Foundry staff to develop an affordable 3-D printing kit that they can sell to the general public. We'll host build nights so buyers can assemble and learn to use it."
The Foundry also supports a number of local entrepreneurs, including craftspeople who sell their wares in on-line venues. One 25 year-old inventor and Washington Engineering Institute student, Kyle Schores, has a successful Etsy.com business affectionately known as BomberAudio. Schores fashions a marine-grade waterproof stereo system inside ammunition cans using the Foundry's laser cutter and metal machining tools. "Jason here at the Foundry helped me with my Etsy site and figuring out pricing. Troy taught me how to use the laser and vinyl cutters, with which I had no experience," explains Schores. "Before their help, my prototype was functional but it looked pretty rough. Now I have a professional product that's selling well. I've sold about 30 units since the Foundry opened." With help from the Foundry, Schores has streamlined his production and now has time to pursue his other creative ideas.
Keane and her co-founders have big plans for the future of the Foundry. "We like to provide curriculum support for Science, Technology, Engineering, Art, and Mathematics (STEAM) to the homeschool and public school enrichment communities," notes Keane. She and Davies are currently teaching a 3-D modeling class to Ms. Shirley Prichard's fifth grade class at Happy Valley Elementary.
"Project-based learning is ideal for kids. If you provide them with an end goal, an environment with the right materials and tools, they're hungry for the knowledge, they are active participants, and the learning sticks with them because it's engaging and fun," explains Keane. Foundry workshops catered to kids include Lego Robotics, Minecraft, and Kid's only beginner classes in a variety of crafts.
With education and broad outreach as their focus over the coming year, the Foundry will offer space, tools, camaraderie, and inspiration to Whatcom County's skilled hobbyists, tinkers, and craftspeople. "Almost anyone can come in with no experience and a healthy curiosity and hit the ground running here," beams Keane. The founders and members of the Foundry are eager to share and collaborate with peers and help build the next generation of makers.
The Foundry Makerspace in Bellingham
1515 North Forest Street
Bellingham, WA 98225-4539
360-305-8587
Hours:
Wednesday through Friday noon- 10:00 p.m.
Saturday and Sunday noon to midnight
Closed Monday and Tuesday