Submitted by Snapper Shuler Kenner Insurance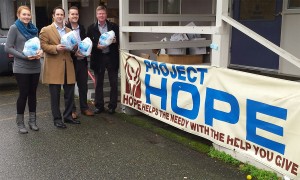 A holiday drive to help local families in need resulted in 230 turkeys being donated to the Bellingham Food Bank and Lynden-based Project Hope.
Snapper Shuler Kenner Insurance (SSK Insurance), with offices in Lynden and Bellingham, offered to match donations of up to 100 turkeys (valued at $15 apiece). The third-annual drive exceeded that goal by Friday's deadline.
"We're grateful that so many members of our community joined us in helping make the holidays a little better for so many families," said Paul Kenner, executive vice president of SSK Insurance. "We encourage everyone to be generous with their support of Project Hope, Bellingham Food Bank and other nonprofit organizations in our community."
An independent agency with origins dating back to 1925, SSK Insurance has offices at 501 Front St. in Lynden, and 2115 Barkley Blvd., Suite 201, in Bellingham. Donations may be delivered or mailed to either office. For more information, call 360-354-4488 or visit www.sskinsurance.com.