Ashley Fullenwider and Christine Nienstedt met in Seattle in 1997 and became fast friends. They rode bikes together and went on biking trips – usually while donning dresses.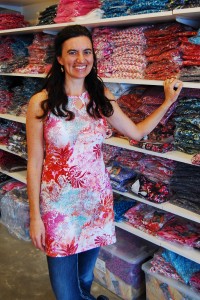 "That was always our thing," says Fullenwider who, with Nienstedt, now runs Nuu-Muu – a Bellingham business crafting fun, functional and truly flattering exercise-and-everything-else dresses. "We'd always go out to dinner afterwards, or go have a beer or a glass of wine, and we wanted to be cute."
Nuu-Muu officially kicked off in January 2008. Each dress is designed right here in Whatcom County, and then printed, sewn and finished in California.
"Christine is the brainchild," says Fullenwider. "She got a bee in her bonnet, came up with the name, and put the website together."
Fullenwider jokes that it was an amazing time to start a business. "Right when everything was closing!"
But Nuu-Muu's sales have doubled every year, and with nearly 100 accounts across the United States and a couple overseas, it seems that trend will continue.
Locally, dresses can be purchased at Jazzercise Bellingham Fitness Center, Bikesport, Paper Dreams, and Blue Horizon Clothing. Nuu-Muu headquarters, at 1715 Ellis, near Bellingham High School, also opens its doors to the retail public every Friday, from 3:00 p.m. to 6:00 p.m.
In some ways, it's been a slow, steady growth for the company, which now has a team of nearly a dozen, with job titles that include "social butterfly," "matchmaker," "shipping fairy," and "explorer."
"There were all these people who wanted us to go big or go home," Fullenwider says of Nuu-Muu's early days. They purposely kept things small and relatively simple, as both have other full-time jobs they enjoy.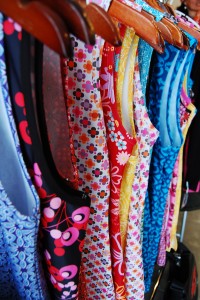 Fullenwider balances working for Nuu-Muu and a job with the Department of Energy's National Labs, which keeps her busy with international travel.
"It satisfies a whole other part of who I am," says Fullenwider, who has a degree in international affairs and speaks Russian. "Nuu-Muu is my fun job and my heart job. I love it and the people who are drawn to it."
Nienstedt, who works as a paralegal in Boise, takes care of all Nuu-Muu website design and updates, and handles all press and promotional materials.
"She writes a lot of content for us, and she's really good at it," says Fullenwider. "The cute language on the website, the email blasts – that's all Christine."
"We both had families and we like to exercise," Fullenwider says of their original plan for running Nuu-Muu. "We weren't really willing to compromise on any of that. So we hired Enid, the mastermind behind a lot of the design work and the day-to-day."
Enid Wilson, Nuu-Muu designer and production manager, handles patterns, colors, graphics, photo shoots – "Anything that involves aesthetics," says Fullenwider. Wilson has also become an important voice for Nuu-Muu on the company's Facebook page, where she regularly interacts with customers.
"Enid has a background in apparel, fine arts – she's done it all," says Fullenwider. "She came up with the pocket design in two seconds."
A pocketed version of the classic dress, dubbed the "Ruu-Muu," features two compartments on the lower back with a no-fuss fabric closure. It allows empty-hands exercise while keeping the wearer's keys, wallet and phone safely close by.
Nuu-Muu releases about seven new patterns every year. Step into their center of operations and a sea of dresses in vibrant colors lining a long wall welcomes you – each packaged in biodegradable bags, ready to be shipped.
The secondary market for Nuu-Muu dresses is hot. "It's amazing," Fullenwider says. "You find them selling on eBay for $60, when they bought it for $70."
An extremely supportive Nuu-Muu online community has cropped up around the company. Team Nuu-Muu is a closed Facebook group (available for any Nuu-Muu fan to easily join) where devotees connect, swap stories and sell or trade dresses.
"There were two women [on Team Nuu-Muu] who knew they were going to run the same half-marathon and got in touch," Fullenwider explains. "The page now has a photo-finish of them holding hands, both in their Nuu-Muus. New best friends!"
Fullenwider's favorite part about this compassionate group of Nuu-Muu followers? "It happens without us. It's humans talking to humans, being nice to each other, building community together."
Again and again, things have fallen into place right when they needed to at Nuu-Muu. Fullenwider thinks she knows why.
"I think it's about not wanting too much," she says. "Being open to the things that are happening."
Having said that, she also stresses that Nuu-Muu pushes new employees to work hard when they want "to join the club."
"It's about you bringing their vision, energy, and passion," Fullenwider says. "And if they can fit that into what we're doing and figure out how to make themselves money, it works out."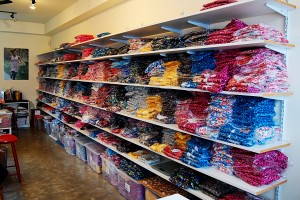 Aside from crafting and selling their popular products, Nuu-Muu has also launched initiatives intended to benefit their customers, fans and followers.
Offered for the first time last year, A Nuu You In 42, guided people through six weeks of intentional living.
Nuu-Muu also pulled together My Very First Bike Tour, a four-day/three-night San Juan Islands biking trip, with participants traveling from as far away as California to take part. A yoga and Nordic ski weekend in the North Cascades Methow Valley is currently in the works.
For more information about these and other experiences built around connecting and empowering community, visit Nuu-Muu's website.
Still a work in progress, Nuu-Muu is also playing with the concept of finding ways to get women outside in a safe, fun, supportive way.
Calling the initiative "Athena," Nuu-Muu's first local event took place last July and brought together folks from the YMCA, Wild Whatcom, Moondance Sea Kayak Adventures, and local bike shops.
Fullenwider is excited about the possibilities of growing Athena. "2015 is going to be interesting!" she says.
"We still don't have a big plan," Fullenwider says when asked about the future of Nuu-Muu. She stops and rethinks that statement: "Our big plan is to keep having fun."
To learn more about Nuu-Muu, visit its business page and Nuu-Muu Team page for the ins and outs, the scoop, and the skinny on this ever-growing Bellingham business that looks to empower women and girls to get outside, get active, get empowered, all while feeling comfortable and fashionable.
Nuu-Muu
1715 Ellis, Suite 102 in Bellingham
www.nuu-muu.com