Bellingham boasts a bevy of mouth-watering burgers, but crowning one the best can prove difficult — after all, everyone has different tastes and opinions.
Instead, we've narrowed it down to eight magnificent burger options of all kinds: thick or thin, piled high with toppings or plain, classic or cutting edge.
Even if we can't agree on the best burger, this list is a fantastic starting point for any burger-lover's tour of Bellingham's variety of delicious options
Boomer's Drive-In
Boomer's Drive-In feels like a true blast from the past with its car hop service: simply pull up and park under the canopy, leave your lights on, and wait for your server to arrive. Want to eat inside or grab it to go? Head into the 1950s-feeling dining room (complete with circular fireplace) and get your grub there. With a diverse burger menu, Boomer's has thought up nearly every classic combination you could want. Don't forget to order a shake and waffle fries, too.
Boomer's Drive-In
310 N Samish Way
Bellingham, WA 98225
360-647-2666
www.boomersdrivein.com
Bob's Burgers and Brew
Bob's Burgers and Brew has been a Whatcom County burger institution since Lynden native Bob Kildall opened his first one in 1982. There are now a dozen Bob's Burgers and Brew restaurants throughout Washington. Bellingham has two locations – downtown and in Barkley Village – and at both you'll find an extensive menu of charbroiled burgers topped with everything from bacon and an egg, to ham and pineapple. Want a hot dog with your burger? Bob's does that too, with its Double Dutch Burger, which includes a cut-and-curled foot-long hot dog.
Bob's Burgers and Brew
Downtown location:
202 East Holly
Bellingham, WA 98226
360-734-1350
Barkley location:
2955 New Market Street
Bellingham, WA 98226
360-647-3355
www.bobsburgersandbrew.com
Click here for other Bob's Burgers and Brews locations in Whatcom County
HomeSkillet
It's not just for breakfast – but oh, what a breakfast they do dish up! Sunnyland staple HomeSkillet also does lunch fare, including a one-third-pound burger of ground chuck served alongside hand-cut fries or tater tots. Mmmm, tater tots. For $1 more, you can make 'em sweet potato tots. Even better! Add cheese, grilled onions, grilled mushrooms, bacon or ham to any burger for a small additional price.
HomeSkillet
521 Kentucky Street
Bellingham, WA 98225
360-676-6218
www.homeskilletinsunnyland.com
Pizza'zza
Not only does Pizza'zza make one of the best pizzas in town – located within Yorky's Market, a gas station/convenience store – but they also dish up a fantastic burger. Using Skagit River Ranch organic, pasture-raised beef and Breadfarm buns makes for top-notch burgers – and the price isn't any higher than most other local burger spots. Free add-ons include red onions, mayo, chipotle mayo, and roasted garlic. Hungry now? You can also add bacon for $1.49. Cutting carbs? Go bunless and have your burger served on a bed or organic greens.
Pizza'zza Fairhaven
1501 12th Street
Bellingham, WA 98225
360-756-9322
Pizza'zza Alabama Hill
2418 Alabama Street
Bellingham, WA 98226
360-647-1122
www.pizzazza.com
Five Guys
Sure, it's a quickly growing national chain, but you really can't miss Five Guys if you're a fan of a big, sloppy, phenomenal burger. Made using local and regional ingredients (when possible), you can enjoy shelling and devouring peanuts while you wait for your order – but don't eat too many, because portions at Five Guys are large. Order fries to go with your burger and be amazed at how many arrive in the brown paper bag alongside. The topping combinations are impressive, with all the usual – and delicious – suspects, as well as grilled onions, grilled mushrooms, relish, jalapeño peppers, green peppers, A-1 Steak Sauce, and more.
Five Guys
1301 West Bakerview Road
Bellingham, WA 98226
360-734-8300
www.fiveguys.com
Boundary Bay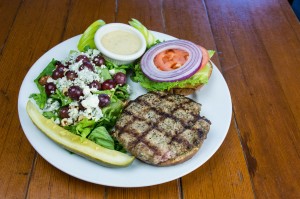 At Boundary Bay you can choose beef or lamb, and either way, you'll leave happy. Their one-third-pound lamb burger has been my personal favorite for well over a decade. And their one-third-pound beef burger uses Squaw Creek Cattle Co., from Everson, WA, so you know you're in for something spectacular. Both are charbroiled and heaped with all the fixings on a Ralf's pretzel bun. Choose roasted potatoes, house salad, or Tim's potato chips as a side.
Boundary Bay
1107 Railroad Avenue
Bellingham, WA 98225
360-647-5593
www.bbaybrewery.com
Harris Avenue Café
Harris Avenue Café has long been a Fairhaven favorite for breakfast and lunch, serving a variety of dishes at either time of the day. Truthfully, I've never gone wrong there, and their burgers are just another example of simple food prepared with thought and care. Misty Isle Farms beef is shaped into a one-third-pound patty, grilled, and topped with a choice of cheeses and the usual toppings, then served on a Breadfarm sesame bun. You can have soup, salad or house-made yam chips on the side. A difficult choice, but I almost always go with the crunchy chips and I'm never sorry.
Harris Avenue Café
1101 Harris Avenue
Bellingham, WA 98225
360-738-0802
www.harrisavecafe.com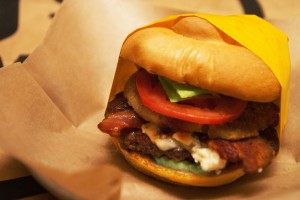 Fiamma Burger
A more modern take on the typical burger joint, Fiamma Burger offers an array of burgers topped with inventive fixings – and you can choose from beef, turkey patty, chicken sausage, chicken breast, lamb and more for your burger's base. Today, our favorite is the B "ham" burger, topped with cheese, prosciutto, egg, shoe-string potatoes, and smokey sauce. Yup. (Yum.) But ask us tomorrow and we might be on to another Fiamma offering. Want to skip the bun? They're happy to put your burger in a bowl atop a bed of iceberg lettuce or organic spring greens with secret sauce on the side.
Fiamma Burger
1309 Railroad Avenue
Bellingham, WA 98225
360-733-7374
www.fiammaburger.com