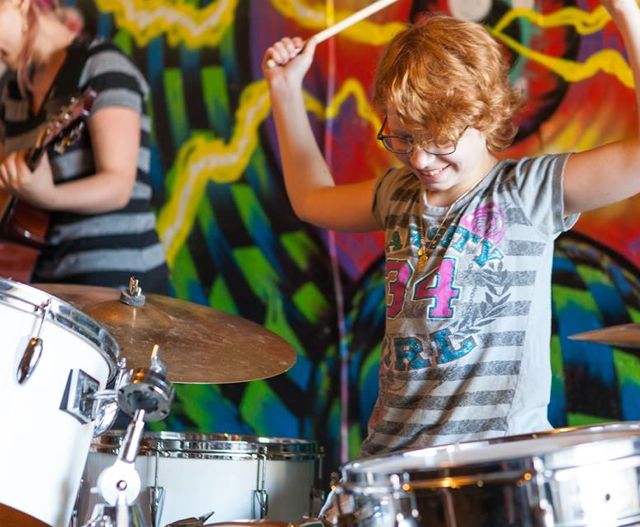 By Stacee Sledge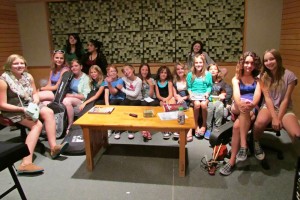 Morgan Paris Lanza wasn't in charge of Bellingham Girls Rock Camp during its first run, in 2012. But she did volunteer – and quickly became a champion of the empowering event.
Lanza took over in 2013, after original organizer Casi Brown – whom Lanza knew from their studies at Western Washington University's Fairhaven College – graduated and moved out of Bellingham.
Now Lanza wants to be the person to grow the camp and make sure this important opportunity for Whatcom County girls sticks around for good.
Inspired by Rock 'n' Roll Camp for Girls, which originated in Portland in 2001 and has evolved into different iterations across the country, Bellingham Girls Rock Camp (BGRC) gives girls between the ages of 8 and 17 the chance to pick up an instrument (no experience necessary), learn to write a song, record that song in a professional recording studio, and perform live onstage.
Workshops about women in music history and a range of other topics round out the camp experience, which is held at downtown Bellingham's Make.Shift Art Space.
"It's half way between summer camp and a rock and roll music school," says Lanza. "Campers can expect to have a lot of fun, but also to work hard."
This summer's camp will be expanded by half a day, starting at noon on Sunday rather than Monday morning.
"We'll do a half day on Sunday because I think it's important that the girls get to know each other and figure out what camp's going to be all about before we just dive right in," says Lanza.
This added Sunday camp session will also include a workshop about women in music, Lanza says, "to give girls an idea of whose shoulders they're standing on as they proceed into this world."
Campers then hit the ground running on Monday morning, breaking into bands, attending more intensive workshops, receiving instruction in their assigned instruments, and jamming.
"Every day they have an hour of instrument instruction – bass, guitar, vocals, drums. This summer we'll be adding keyboard as an option," says Lanza. "They have Monday through Thursday to really write their songs, get some practice, and get ready to go," says Lanza.
The week is basically a crash-course in songwriting and how to play an instrument.
"We give them the instruction, support and time they need to start learning those things that will enable them to write songs and express themselves through music," says Lanza.
On Friday, campers are taken to a professional recording studio to record the song their band has written.
"They get an opportunity to be treated like professionals in that environment, with an intro into microphones and mixing boards," Lanza says. "All these things that are part of your work as a professional musician."
On Saturday, the final day of BGRC, campers are given a compilation of all the recorded. "They can listen to it over and over," Lanza says, "or keep it as a memento."
And then? These new musicians get to hit the stage. Last year's campers performed at the Green Frog.
"The first year we had a group of three younger girls write a song about balloons," says Lanza. "It was really awesome."
On the day of their performance, the singer got stage fright. "She did the classic Miles Davis face away from the audience to sing her song," Lanza remembers, laughing. "It was really great and she was really proud of herself afterward."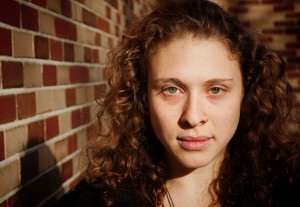 It's not just the campers who leave camp feeling empowered and encouraged.
Katie Weiss volunteered at last summer's camp, though she didn't have any particular musical experience.
"I've always loved music, and have learned to play clarinet, piano, guitar, and have had tons of experience with musical theatre, but I never felt like I was talented enough to actually play anything in a band," says Weiss. "The thought of playing music in a band felt foreign to me. That was for people who were talented and cool."
Weiss watched BGRC campers who didn't "feel talented or cool" get up and make music anyway and, she says, it woke her up. "I realized that I belonged on stage because I wanted to be there, and that making music is empowering for everyone."
Weiss was so inspired by the girls at camp that she learned to play bass and now regularly performs live in Bellingham band Fictions.
"That's one of the most inspiring things for me, in terms of working with volunteers," says Lanza. "I want women across the board to have the opportunity to express themselves through music and to feel supported."
Lanza recently brought on Tasha Kern as a co-organizer for BGRC. Kern was a volunteer in 2012 and 2013.
"In January, Tasha organized a three-day benefit concert at the Shakedown, which was a huge success," says Lanza. "She's great on the ground, organizing events, whereas I'm really good at the more administrative side of things. But what we both love the most is being at camp with the campers and volunteers."
BGRC is always looking for volunteers, people who are interested in music, social justice, empowerment, and working with young girls.
Lanza and Kern are now fully in the planning stages for this summer's coming camp.
"I'm also working to legitimize the organization as a 501(c)(3) nonprofit, putting together a lot of the administrative and logistical things," Lanza says, "but also making sure that the actual camp – which is the important thing – continues to happen, continues to grow."
Lanza's plan is to eventually set up an internal structure so that if she leaves Bellingham after graduation, Bellingham Girls Rock Camp continues on. She wants to be sure the community doesn't lose this service that's been in such high demand.
"I wish I'd had this opportunity as a girl," Lanza says. "I want to make sure that every girl in Bellingham, for 10 years of her life, can go to rock camp – and then for years after can continue to be involved as a volunteer."
To learn more about volunteering or registering for this summer's camp, visit the Bellingham Girls Rock Camp website.
Special thanks to Kevin Lowdon for the photos.