Ah, pizza. That perpetual favorite for dinner. And lunch. And often even breakfast (think cold leftovers).
Lucky for you, Bellingham is awash in fabulous pizza places. We couldn't begin to cover them all, but here are six to consider the next time a craving for cheese-topped crust hits.
200 E. Chestnut, Bellingham, WA 98225
360.647.0060
When my family moved back to Bellingham after a few years away, the first restaurant our 9-year-old son wanted to hit was La Fiamma. This kid knows spectacular pizza. And his little sister appreciates the ball of raw pizza dough that's brought out to play with while one waits for the mouth-watering main event.
It's impossible for me to pare down La Fiamma's myriad pizza offerings to just one or two favorites; I've never tried a pie there that I didn't love. Sound like hyperbole? Trust. It's not.
Scoring high points for originality, taste and a gorgeous presentation, the Spuddy starts with a layer of roasted garlic mashed potatoes, chunks of Hempler's bacon, cheddar cheese, smoked mozzarella, and scallions. The pièce de résistance? A generous spin each of house-made barbecue sauce and sour cream that swirl from the center of the pie out to its edge. Delicious and beautiful!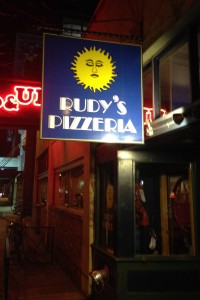 Rudy's Pizzeria
1232 N. State Street, Bellingham, WA 98225
360.647.7547
If you're a garlic lover, get thee to Rudy's Pizzeria post haste. Their Cheesy Rudy is so chock full of garlic goodness that you'll never have to worry about vampires again.
But if you love your pizza pie without a mountain of garlic, they've got loads to offer there, too. Choose any of the usual toppings, plus some out-of-the-ordinary items, such as eggplant, potatoes, cashews, sunflower seeds, and much more.
This downtown pizzeria, which is connected by an interior window to next-door neighbor the Up & Up, also offers vegan and gluten-free options. The crust is on the softer side, not crispy like many other pizza places, so if that's your favorite type of 'za, give Rudy's a go.
Pizzazza
1501 12th Street, Bellingham, WA 98225
360.756.9322
2418 Alabama Street, Bellingham, WA 98229
360.647.1122
You wouldn't think you could get out-of-this-world pizza from a gas station, but here in Bellingham, you'd be dead wrong.
With two locations – one in Fairhaven and another at the base of Alabama Hill – Pizzazza boasts what must be the only gas stations around that also include stunning stainless steel wood-fired pizza ovens.
Dedicated to using local farmers and vendors whenever possible, as well as organic ingredients, Pizzazza crafts amazing pizzas atop thin New York-style crusts that can be ordered in white or wheat. They also offer a gluten-free crust made by local, family-owned Bellingham Flatbread & Bakery.
My personal favorite is the Skagit River Sausage – topped with organic hot Italian sausage, organic Cajun andouille sausage, red onions and Mountain Farm mushrooms. Coming in a very close second is Pizzazza's Rustic Chicken pizza, with WoodStone roasted chicken, caramelized onions, Mountain Farm mushrooms, and Pizzazza's own sundried tomato-hazelnut pesto sauce, topped with a generous sprinkle of chopped fresh basil.
Coconut Kenny's
2220 James Street, Bellingham, WA 98225
360.647.9273
Longtime locals rave about Coconut Kenny's unique pizzas.
And with its Hawaiian theme and tiki-tinged décor, it's no surprise to find pineapple on more than one of Coconut Kenny's specialty pies. Not only can you get a traditional Hawaiian pizza with ham, pineapple, and green peppers, but you can also order a Pake (pronounced paw-kay) pizza, with chicken, pineapple, tomatoes, and crispy bacon cooked in a Polynesian sauce or the Spicy Islander, which pairs pineapple and pepperoni.
Coconut Kenny's most popular pizza is Da' Big Kahuna, piled with pepperoni, ham, Italian and Portuguese sausage, bacon, red onion, mushrooms, tomatoes, green onions and black olives. Whew! That's a mouthful in more ways than one.
Coconut Kenny's also has restaurants in Ferndale and Sedro Woolley and is set to open another spot soon in Burlington.
Cascade Pizza
2431 Meridian Street, Bellingham, WA 98225
360.671.0999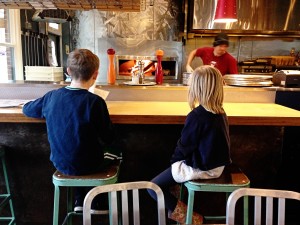 Cascade Pizza is the comfortable sort of neighborhood pizza parlor that harkens back to simpler times. Original owner Nikitas Tsoulouhas opened his first Cascade Pizza in Sedro Woolley in 1974, followed in 1978 by Bellingham's Cascade Pizza in the Fountain District. His daughters and their husbands took over the business in 2011, where they've kept all the original recipes – as well as the welcoming, family-owned and -operated feel.
You won't find anything glitzy at Cascade Pizza – just straightforward pizza pie. But that's what lots of people look for in a family-friendly place.
Prices generally run lower than you might find elsewhere, but portion sizes do not. If you're a fan of pizza that's heavier on the cheese and lighter on the sauce, with a crispy crust that has a bit of chew, Cascade Pizza is worth a try.
Goat Mountain Pizza
215 West Holly Street
Bellingham, WA 98225
360.510.6336
You can grab pizza by the slice two different ways at Goat Mountain Pizza – at their newer downtown restaurant or from their original food truck, often found parked outside Kulshan Brewing Company.
Goat Mountain screams Bellingham in all the best ways; they offer Kombucha on tap, for goodness sake!
Keep it simple and grab a slice of pepperoni or one topped with roasted tomatoes and fresh basil. Feeling creative? Try Goat Mountain's caramelized onions and Stilton cheese with walnuts and arugula or potato and bacon with truffle oil.
Goat Mountain sells by the (square) slice – or you can purchase by the pound, making it super simple to sample several combinations. And each meal comes with a freshly baked cookie. A sweet touch.