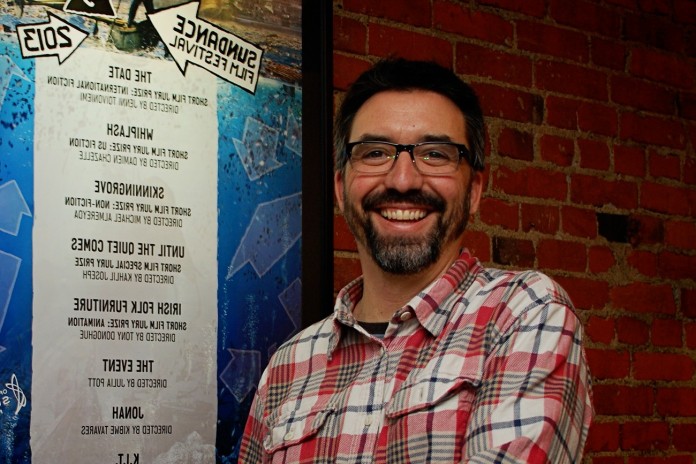 By Stacee Sledge
Certainly, it's a major perk of the job. Pickford Film Center program director Michael Falter attends several of the most influential film festivals each year – all in the name of work.
For instance, when he heads to the Sundance Film Festival in Park City, Utah, every year, Falter gets a sneak peek at many of the greatest independent films produced – most of which won't get distributed or be seen widely anywhere else.
And by doing so, he stays on the inside track for bringing an eclectic, entertaining, moving, informed mix of art house cinema to Whatcom County.
"When I go, there are 120 films I've never heard of. And when I come back, there's 20 films I've seen – but there's also another 30 that I know, from other programmers, will be great to book."
Falter also annually attends the Vancouver International Film Festival, and has been to the Telluride and Toronto International Film Festivals.
He paid his own way the first time he attended the Toronto festival, in 2002.
"I wanted to prove that if you went to festivals and you had better networking and connections and saw some really key films, you could be a little bit of a step ahead," he says.
When he saw Bowling For Columbine that year, Falter instantly knew he had to bring it to Pickford – which, at that time, was at its original, much smaller location and in many ways still striving to secure a solid footing in the community.
"Our early belief in the film – and pestering the distributor – made it happen," Falter says. "And it was huge."
Seven years and $3 million in fundraising in the making, Pickford Film Center  — now a three-screen theater located at the original space (extensively remodeled and now dubbed the Limelight Cinema) and in the gorgeously renovated two-screen building on Bay Street – has arguably become the heart of downtown Bellingham's Arts District.
That first Toronto trip prepared Falter for a big industry festival. It also helped him develop a tolerance for watching film after film after film.
"I saw 55 films in eight days and was in therapy afterwards because it was really tense," Falter says, laughing now at the memory of calling his wife halfway through, in tears, because he'd just watched eight films back-to-back and three featured rape, two involved incest, two had child murders, and one included a dog death.
"The dog death is usually what gets me – that's the coup de grâce," he says, jokingly.
And although it sounds like fantastic fun – wandering around Park City, Utah, mingling with world-famous celebrities left and right – really try to imagine watching 55 movies in a week. Overwhelming, to say the least.
After that inaugural film festival experience, Falter felt better prepared for his first visit to Sundance, in 2006.
"I got a call out of the blue to come to Sundance as an invited theater as part of a group of 14 theaters that were kind of the high-water marks for art house business, which was really nice," says Falter. "They wanted to know what happens to movies after they played at Sundance."
He and program directors from 11 of those art house theaters across the country were able to attend, and have been given free industry passes every year since.
That original core group spawned Art House Convergence, a conference that takes place just outside Park City in the days leading up to Sundance. Falter and other organizers have grown the event – which provides tips about programming, marketing, fundraising and more for art house cinemas – into one that saw 400 delegates this past year and has offered keynote speeches from the likes of Michael Moore and Leonard Maltin.
"I was prepared for Sundance in some ways," Falter says, remembering that first visit. "It's smaller – but when there are 120 films, it's still no picnic. I was not prepared for the sort of 'flash' of Sundance. Main Street is freaking crazy."
As an industry member, Falter is usually funneled into a separate theater for screenings where, he says, "none of the cool stuff happens. It's just the movie. You never get the director or the stars."
One thing he did get that first year was swag galore. "I was like, 'Yes! I'll take that facial moisturizer, that looks awesome,'" he says, laughing. He ended up with a big bag of stuff – most of it, he realized later, he didn't want or need. "I'd show my pass and they'd think, 'You must be kind of important somehow, so we will give you things.'"
This was just before a bit of backlash hit for the excess of giving away tons of products. "It was kind of getting into the Hollywood thing," Falter says. "In the last few years, there's been a lot less of that, which is fine. After that first year, I didn't really care anyway."
Falter loves to make it to the occasional public screenings on Main Street, rather than tucked away with the industry crowd.
"It really gives you a flavor of how those films might work for an audience," he says. "And it's fun to watch the stars in the audience."
He admits that watching with press and industry folks can greatly change the atmosphere of a screening. "They can be a very cynical lot. The films where you know something special has happened is when the press and industry clap."
His most recent Sundance trip found him standing right next to Elijah Wood at one point. It's just one instance of the myriad of celebrity sightings at the event.
After the excitement of Sundance and other film festivals, Falter always returns to his cinematic-centric life back in Bellingham, where he also teaches film as an adjunct faculty at Whatcom Community College.
Clearly, film is central to everything Michael does – and it's a good thing, since he's not only inundated by movies while traveling to film festivals.
"I probably have at least 30 films right now that I have to get to," he says, admitting that it's difficult to find the time for much else aside from working and watching movies.
He receives a mountain of DVDs and online links to preview films and consider them for Pickford Film Center's calendar. He often watches them, absorbed, while sitting alone in front of one of Pickford's three screens.
Just another perk of the job.
1318 Bay Street
Bellingham, WA 98225
Limelight
1416 Cornwall Avenue
Bellingham, WA 98225
Pickford office: 360.647.1300
Movie times hotline: 360.738.0735