Sumas is home to the West Coast's premier motorsports track. Sumas International Motorsports Academy (SIMA), is a family-owned and operated karting facility and full-service kart shop.
Claudia Carpentier, SIMA's operations manager, enjoys welcoming visitors to their track. Her father, 73-year-old Claudio Valiante, came to Vancouver from Italy at the age of 18. In 1977, when Claudia was just an infant, he bought an auto shop and began to build a business that fueled his passion for racing Italian Go Karts. "My father is one of the hardest working persons you will ever know," Claudia said. Her father's passion became a family affair.
Claudia's brother, Michael, started racing very early and eventually became one of the top race car drivers in North America. Claudia trained in earnest to become a ballerina. After injuries as a teen kept her from dancing, she also began racing and competed for a decade. "We traveled to events each and every weekend," Claudia remembered fondly. "It's something we did together as a family."
Today, the family's international business includes both kart racing and retail. The shop, Italian Motors USA, has an impressive warehouse that stocks parts for karts used by racers around the world and for those who race at their track in Sumas. A state-of-the-art garage offers kart maintenance, engine rebuilds and more, with a mechanic staff that has worked on karts for more than 30 years.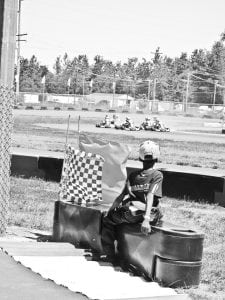 Claudia earned her degree in recreational therapy and, with that background, has added certain values to race programs. "It's important to have recreation and play," says Claudia. "As we age, our imaginations decrease. Racing is a fresh relief from stress."
One of the values SIMA encourages is kindness. The track offers the One of a Kind Tire Draw Program. The tire draw idea was inspired by racers who showed genuine kindness toward their competitors.  Kindness might be in the form of help after a mechanical failure on the track or a "you've got this" pat on the back. A grateful person can express their appreciation for a kindness by submitting a nomination on club racing days. During trophy presentation, one lucky winner is awarded a brand new set of Le Cont Tires in honor of their good deed!
I attended a monthly race day at SIMA and the place was packed. Claudia wore a red T-shirt with her name on the back. With her young son hoisted on her shoulders, she busily managed the many details of the event. As she rushed from one place to the next, she was also wearing a great big smile. There were kids, teenagers, grandparents, dogs, staff and volunteers, all having a great time. The roar of go karts provided a lively soundtrack.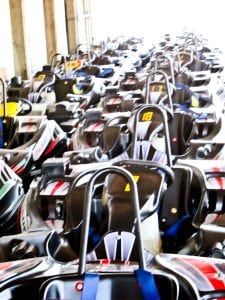 Kart racing changes lives, especially for kids.  One heartwarming example is KJ, an 11-year-old Haitian boy who suffers from Muscular Dystrophy, a neuromuscular disease. Adopted when he was a toddler by Bellingham's Jon and  Jana Buettner, KJ can walk, but not run. He's a shy, slight boy, but his disability doesn't stop him. He's an absolute dynamo behind the wheel of a go kart. "He's just wired to race," says his father.
Driving a kart isn't easy. It takes physical strength and stamina, as well as the ability to accelerate and brake properly. KJ loved watching NASCAR racing from a very young age. Three years ago, he was one of 10 winners of SIMA's Kid Kart Scholarship program.
In March, parents can register their five- to eight-year-olds for a shootout race, with 10 scholarships awarded to participants. An annual scholarship is valued at $4,000 and includes everything the children need to participate in a year of racing.  The young scholarship winners must attend and compete in every local race and one regional race.
KJ won the championship for his age range his first year, and again the next year.  Around the track, KJ became the kid to beat.  This year, in the Junior Rookie One class, he's facing stronger competition. It will take a lot of determination and training for him to win this year.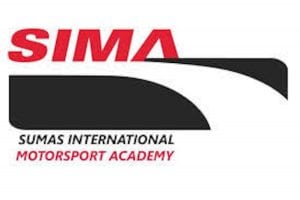 KJ trained last summer with his father. This year he will train with his brother, Jake, and participate in programs offered by track staff. On race day, when KJ isn't racing, he's on the sidelines watching all the other races. "KJ's story needs to be told," says his mother Jana. "He's such a gem and inspiration, and under extreme difficulty, he has found that racing is an authentic way to express himself."
Karting is a family-oriented activity that teaches sportsmanship, safe and responsible driving, and racing skills.  Racers begin driving as early as age five!
Racers can rent karts or use their own. Drop in just for fun, to host a party or come with a corporate group for some friendly competition.  The SIMA driving academy emphasizes cooperation and teamwork, and has leagues for those who don't own a kart but want to experience racing.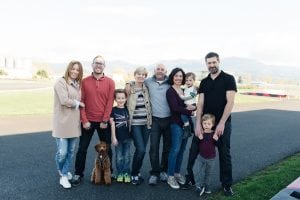 The track offers an exhilarating experience in a safe, professional environment.  The pristine outdoor track is much wider than most tracks, with proper curbing that provides a professional feel and true racing experience for all racers.
The Valiante family invite you to visit SIMA and check out their go kart race track for "the best ride of your life!"
Italian Motors USA I SIMA
529 West Front Street, Sumas, WA
360-988-5104
253-495-1306
www.italianmotors.com
www.simaracing.com
Facebook
Instagram