You don't see senior citizens racing go-karts every day. But today isn't just any day. Pedal to the medal, Agnes Remson and Margaret Santi zoom around the track. They're clearly enjoying every minute of being back behind the wheel at Birch Bay's Miniature World Family Fun Center.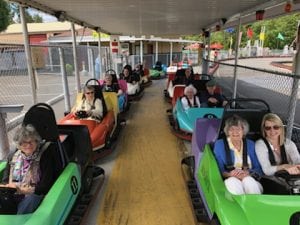 The two racers arrived with a group of 10 excited seniors from Solstice Senior Living in Bellingham. Some are instantly ready for the challenge, while others decide it best to watch their friends live out their NASCAR aspirations. Whether driving or watching, one thing is for certain – everyone is having a blast.
"Living the Dream" is a nationwide program that Solstice offers in all 300 of its communities. This is an opportunity for residents and their families to present a dream or life experience which they have lived already and want to do again, or have desired to do and never had the chance. Solstice Senior Living then does everything they can, working with the family, to make this happen. Connie Streubel, vibrant life coordinator at Solstice Senior Living, organized the go-kart racing event as part of their Living the Dream program.
When Living the Dream was presented to the residents, many wanted to drive again – something several could no longer do. This was an opportunity for them to get behind the wheel once again and drive. Both Agnes and Margaret were ready to burn rubber.
Connie Streubel, vibrant life coordinator at Solstice Senior Living, organized the event as part of their "Living the Dream" program. This innovative program offers residents the opportunity to participate in a variety of new and engaging activities throughout the year. When Connie suggested the idea of go-kart driving, both Agnes and Margaret were ready to burn rubber.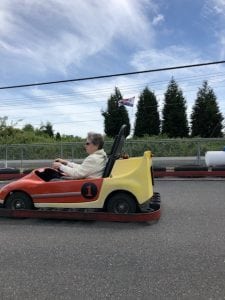 Agnes is fiery and confident. "I've been driving for 65 years and never gotten a single ticket, so why would I mess up driving a go-kart now?" she says.
She's the new kid on the block, having only moved to Bellingham a year and a half ago. Originally from upstate New York, Agnes moved here to be closer to her son and his family. He attended Western Washington University and decided to stay in Whatcom County. This part of the country tends to do that to people.
"I've been looking forward to this day all year," Agnes says as she grips the steering wheel of her orange go-kart, preparing to take off.
Some participants want to feel the thrill without getting behind the wheel. Connie's go-kart, for example, is co-piloted by a resident. She makes sure to take a group selfie as the drivers rev up their engines.
The young man working the go-kart track announces the safety rules, "Alright you all, no bumping, swerving or cutting in front of each other."
The horde of drivers in front of him chuckle. None of these folks want to get a reckless driving ticket, especially Agnes – she has a perfect record, remember?
As the start signal sounds over the intercom, eager go-karters file out of the pit one by one. Some are more eager than others. Agnes and Margaret are taking the course faster than some of their friends.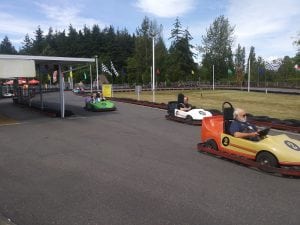 One of the spectating residents can't stop laughing; each time her friends complete a loop around the track she lets out a hearty guffaw. "I can't believe they're actually doing it," she says with a smile." I haven't driven in so long, I wouldn't know where to begin."
If the drivers are rusty, it's hard to tell. They're zipping around the track in a manner reminiscent of Jeff Gordon's early days.
Then, just like that, it's over. Even though the activity lasted only 10 minutes, the participants' radiant smiles are immense. Everyone is glad they came. That's what Solstice Senior Living's Living the Dream program is all about: creating those smile-worthy moments.
Margaret exits the track and says what everyone's thinking, "Here are we are – all in one piece! How about that?"
The experience is one of joy, friendship and adventure. The seniors head back to their bus, with new memories to cherish. When asked if she's surprised there weren't any fender-benders, Agnes says, "Of course not; I haven't gotten a ticket in 65 years of driving, remember?"
Sponsored