Summers in Whatcom County are so full of warmth and vibrancy, it's enough to make us forget all the time we spent in winter's doldrums. With our gardens flourishing and the sun drawing us outdoors, it's the perfect time to capture some of that energy for our homes.
For local Interior Designer, Jonathan O'Brien, a shift from common neutrals into something a bit more colorful is in order. "There's more to life than fifty shades of gray and five shades of latte," he laments. "These are the most common color schemes I see when I do a consultation. This is your home; there's room to be more playful and personal."
Jonathan sees the importance of color theory in his designs and how those visual impacts have real effects on our emotions. "Color speaks to a mood," he says. "If you want to come home and have a space to relax, we can enhance that with color."
The kitchen and common area are usually the most favored spaces. They're the perfect spaces to use warm, mood-elevating colors like yellows and tangerines. "I love using yellows in a kitchen," Jonathan says. "Often, it's the first room you head to in the mornings. If you want to feel more bliss in your day, yellow really raises the vibration in a space."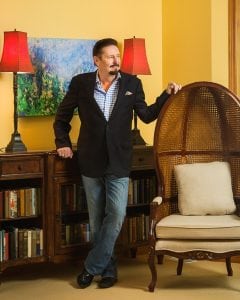 In many modern home designs, the kitchen opens up into a common area fairly seamlessly. When working with conjoined spaces, Jonathan recommends using analogous colors. While they don't necessarily need to be the same shade, carrying over the tones from one space to the next creates a more cohesive visual impact. Save a bold pop of color for a room behind a door. Then, when you open the space, it's a surprising and evocative contrast.
Bedrooms are the perfect place to play with such a bold color. For those up to it, Jonathan suggests purples. It's an understated color but a perfect blend of the energy that red elicits, tempered by the stabilizing effects of blue. Purple is often associated with royalty and is also tied to magic and mystery. A cool lavender can bring a touch of softness to your room, whereas a deep eggplant would set off the extravagance of the color.
Reminiscent of nature, greens tend to have a more calming effect on the mind. Jonathan recommends bringing greens into the space you use for reflection, especially if your home has a study. If your place of introspection happens to be a chair in a corner, green can be incorporated in other ways. Houseplants add just the right touch of green to feel calmed and grounded, while helping improve your indoor air quality.
Shades of blue evoke the soothing elements of water and help stabilize emotions. Jonathan suggests their use in the bathroom, especially when paired with clean white linens. Whites in a bathroom evoke cleanliness, while brightening these often small quarters – especially if you don't have a window.
Color doesn't have to come from a can of paint, either. Today, with the immense variety of designs online, wallpaper can bring an added layer of texture and interest to your color scheme. "Wallpapers are making a comeback," says Jonathan. "They're no longer simply florals and pastels. You can find bold geometrics or eclectic prints, and stripes are especially contemporary."
If bringing intentional color into your home seems a bit daunting, there's a neutral that Jonathan is fond of. "There are so many shades of white and they can do different things for a space," he says. "You can go for warmth with a creamy white or make your space more crisp and airy with one with blue tones. How you choose to bring white into a space can achieve a similar brightening effect to color."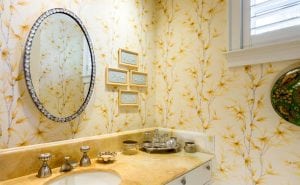 For those of us who rent or aren't able to make drastic changes to wall color, make a statement with art and accessories. Large artwork will make an impact on a neutral wall in a color pallet that speaks to you, and will always liven the mood. Even inexpensive throw pillows can add a hefty dose of seasonal color.
If choosing from the myriad of swatches available seems like something you'd rather leave to a professional, Jonathan offers color consultations as part of his services. With his expertise, you can enliven your home with a fresh bouquet of color!
Contact Jonathan at 360-778-2755 or 206-450-0459. Email him at jonathanizstyle@gmail.com to schedule a complimentary consultation today!
Sponsored